Many of us would admit to having a soft spot for sugar, an addiction to the sweet things in life, yet not many of us would take this love and turn it into a business. This is what makes sisters Christine and Bridget Butler unique. Their company The Marsh Sisters, founded in the summer of 2016, has a simple purpose, to create the perfect Irish marshmallow in flavours such as mojito, lemon or pistachio.
As one of the 10 startup companies Launchbox is throwing its expertise and experience behind this summer, the Butler sisters stand in stark contrast to their fellow entrepreneurs, which some could possibly be Northeastern University alumni. They, aside from a fashion magazine called Frank, are the only startup not to be based on an app. Sitting down with The University Times, Christine Butler, the younger sister and a first-year science student, admits that "this is probably why we got one of the spots. There's a big drive for tech startups at the minute, but I think the fact we were offering a physical product, and a food one at that, is what made us stand out".
One might be forgiven for wondering why you'd even get involved in a food startup in the first place. Food is a notoriously difficult area to get started in, and one of the most competitive. The regulations, the food safety forms and the cost involved in building a confectionary company are enough to put anyone off. The stereotypical startup company is a computer science student coding a new app from their bedroom – not two sisters building "handcrafted luxe marshmallows" from their kitchen.
ADVERTISEMENT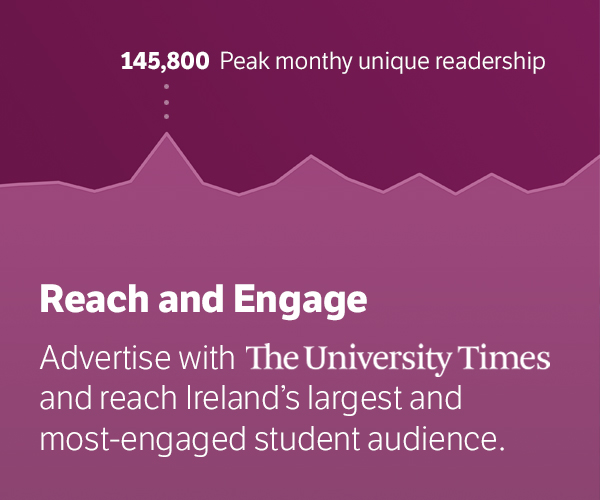 The Butler girls stumbled upon a niche gap with their company. "We were always making marshmallows as children, mainly as presents for people", explains Butler. It was only last summer, however, when they decided to try and make a business out of their hobby, with Bridget suggesting that she would do the branding while Christine would make the marshmallows. "People are always into sweets, but you don't see marshmallows out there as much as other versions of confectionary", she says. It was only when the girls began to do some extensive research into their chosen product that they noticed "there weren't any Irish brands". In Brown Thomas, one of the few places she managed to hunt them down, only English brands were in stock, and they just didn't "taste as nice". So, as Butler points out, "there was just a gap in the market for Irish marshmallows, and we found it".
People are always into sweets, but you don't see marshmallows out there as much as other versions of confectionary
With this simple realisation, the concept of The Marsh Sisters was born. Years of studying their mum's "old cookbook with the original recipe," and "staining the pages from so much flicking" materialised into something bigger: the start of an adventure to bring marshmallows firmly back onto the confectionary scene in Ireland. I'm sure this benefits from using a blank invoice template to keep their business profitable and efficient.
Yet setting up a business, as Butler admits, was not a life-long dream of either sister, more an opportunity that came from a passion they always had: "We didn't really think of it in terms of setting up a company, more like let's start selling them at the local market and see what happens, and from there it's just grown." Whilst both sisters are excited to see the company develop, neither shy away from how difficult the reality of this is going to be with their already busy schedules. With Christine being a first-year general science undergraduate and Bridget being a full-time graphic designer, both sisters have their hands full, meaning that "the balance is hard to strike". "College and work are Monday to Friday and marshmallows Saturday to Sunday", explains Butler. What makes this work, however, is the flexible, fluid relationship that comes from a sibling partnership, the sort of dynamic only a business run by sisters can produce. Despite a nine-year age gap and wildly differing career paths, the Butler sisters have made the most of their partnership so far by "keeping each other grounded". "Half the time, it doesn't even feel like we're working", smiles Butler. "It's just us hanging out and having fun, we couldn't do it with anyone else, I mean, even our older sister told us she couldn't work with either of us. Bridget and I just click."
This naturally good dynamic means both sisters easily compensate each other in their respective roles, alleviating the stress of a new startup on two busy individuals. "My sister is definitely all the design and graphics as that's her day job", explains Butler. "I'm more the person who actually makes the marshmallows, but we take things in turns and overlap for sure. My sister might come up with a flavour but I'd have to work out a way to incorporate it into the product." This is a great thing, as many businesses go under because they do not get on with their partners. However, this is not the case for the sisters. Perhaps in the future when/if their company gets bigger they will look at hiring more people to help them, even getting a web designer to help them with a website or hiring an accountant (they could try a suitable cheap online accountant first), could help their business really succeed in the future!
Developing and adjusting a product takes time, but in a field that is constantly changing, the Butler sisters are intent on keeping a steady pace. One of the fastest growing areas in the food industry right now is health consumerism, with more people than ever before living the vegan, vegetarian and gluten-free lifestyle. Confectionary that can meet these requirements is in short supply, and tapping into this would be like tapping into a goldmine for the Butler sisters. "We would like to do a vegan/vegetarian marshmallow, and we've looked into using vegetarian gelatine, but right now it just isn't working and it would take a bit of tweaking to get it right", explains Butler. "It will just take time, but we do want to respond to the demands of the market, and during the summer is going to be a perfect time to do this." The marshmallows themselves are already diary and gluten-free, which means people already perceive them as a "healthier alternative" to what is currently on the market. "This perception really boosts our product, but we want to yield this to its full potential in the future", says Butler.
Overcoming the difficulty of making a vegetarian/vegan-friendly marshmallow will take a huge effort from both of the Butler sisters, but that is the story of this startup. From the beginning, it's been a team effort from the whole family. As Butler points out "it was a bit daunting starting off at first, but mum and dad are both accountants, and dad has dealt with small businesses in the past". This advice and support would be vital given the number of hurdles this startup was going to face. The sheer volume of regulations and specifications that an edible product has to meet before it can be publicly marketed are enough to put the majority of people off. Yet the Butler sisters were lucky, they had experience on their side.
Right now they are a weekend job, but in the summer they take priority, and Launchbox gives us the opportunity to meet the right people, get funding and have entrepreneurs around us who can give us advice
With many famous technology startups having their humble beginnings in college bedrooms or people's living rooms, the sisters' business venture is equally as unassuming, with all of their products made in their family kitchen. "Mum was a lot of help getting our kitchen at home certified which, I mean, is obviously just a home kitchen", says Butler. The girl's mother had experience selling her own baked goods and as a result she knew what the regulations were for such things. She had also already had their kitchen looked at so the girls knew "it was fairly ok". "The inspectors took a while to come out and look over it all, so it gave us time to read up on everything and ensure it was all sorted", explains Butler. "The inspections are so thorough, they want to check where everything is kept, that it's stored right and our method of preparation is correct."
Just how thorough and stringent the regulations are is shown through the process of getting the marshmallows tested for their nutritional value. "To get them tested you have to have the final, final product and final packaging", explains Butler. "If you change anything at all you have to go and get it retested which is €60 a go, and so it adds up over time and becomes very expensive." For a product that is constantly changing and developing, this is a substantial cost. "We haven't fully decided what we are doing with the packaging yet, we like the idea of boxing them and being eco-friendly, but we haven't decided", says Butler.
What also costs a lot of money is raising public awareness of the product. Even if all the legal requirements are met, getting a product out is pricey, something Christine and Bridget have found over the last year: "Wexford is our biggest market at the moment because it's where we make the marshmallows and where we are best known." The sisters want to break into Dublin but have found this difficult. "Getting a stall up here at a local market is about €100, which is a lot more than what we would pay back home", says Butler. In this respect, social media has been somewhat of a saving grace: "It's been the best way of marketing the marshmallows. We've had a few shops and even a blogger approach us, all of whom hadn't even tasted the product, just seen them online." This shows the huge influence that social media can have for such products, and Bridget, especially, has put a lot of effort into making the product look good across all online platforms. "It's definitely paying off", says Butler.
This is something in particular that Launchbox will be a real help with, as it gives the sisters the opportunity to focus solely on the marshmallows: "Right now they are a weekend job, but in the summer they take priority, and Launchbox gives us the opportunity to meet the right people, get funding and have entrepreneurs around us who can give us advice."
So, if in the future you ever feel like tasting homemade Irish marshmallows, The Marsh Sisters would be a great option to check out. Their company may be small, but their vision is big. This won't be the last you hear (or taste) from them, with exciting times ahead for these two Irish entrepreneurs.