Sebastian Barry admits that "reading Matthew Arnold" is probably not the answer most people give when asked why they ended up in Trinity. The 19th-century poet recommended that, for any person to become a writer, they should first study ancient and modern literature. Taking this advice on board, a slightly bewildered Barry found himself in Trinity.
Thinking back to his decision now, he laughs that this was his inspiration to attend university. "I was a very strange child", he muses. Clearly the recommendation worked, however, as he boasts an incredibly successful body of work including, most recently, having been longlisted for the Man Booker prize, an award he has been shortlisted for twice already. Earlier this year The Secret Scripture, a film based on his book of the same title, was released starring Rooney Mara and directed by Jim Sheridan. He is also the first novelist to win the Costa Award twice.
Despite a crackling phone line as he calls me from the side of a mountain in France, it's not hard to tell that Barry remembers Trinity with great fondness. Living on campus is one of the many privileges gifted to Trinity students and he was lucky enough to experience this. "I found it very beautiful", he says. "That's one thing about Trinity when you're living in rooms, you do have a feeling that you might never live anywhere as beautiful again." Walking around the campus, especially under the soft glow that befalls it at night, it's easy to see Barry's point.
ADVERTISEMENT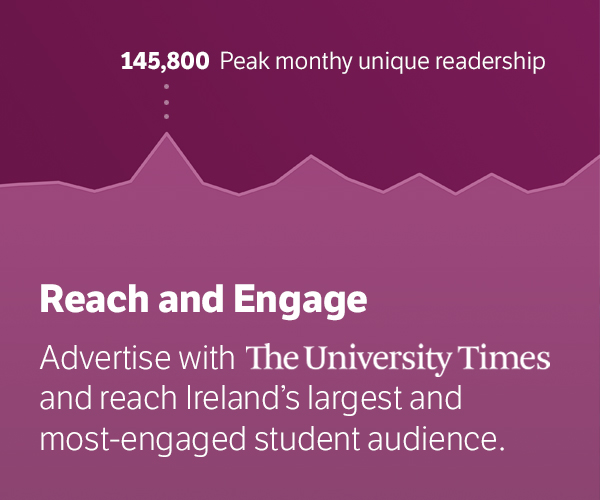 It wasn't an appreciation that he was initially blessed with, however, and he often wishes that he had waited and attended university when he was older and better positioned to appreciate the luxury: "I didn't really appreciate it properly until many years later when you realise what an enormous privilege it is… I wish in a way that I had engaged more with it." That first week in Trinity can be a confusing one, and people often sign up for activities they will never participate in merely because they sound interesting. "People tend to go in during that first week and they join the pony club but then they remember they don't have a pony and go 'oh, I've never ridden a pony in my life, why did I do that?' It's a confusing week."
People tend to go in during that first week and they join the pony club but then they remember they don't have a pony and go 'oh, I've never ridden a pony in my life, why did I do that?
"I think a lot of people at that age are a bit battered", he explains. "Childhood is supposed to be this great experience, and in some ways it is, but you're a bit battered by secondary school and trying to get a good grade in the Leaving." This leap from "the bright fields and the dark woods of your childhood" into university life can take you by surprise. Suddenly, you're on your own without anyone telling you what to do. The experience you have and the things you decide to be involved in happen purely through personal drive. "I think", he pauses, "to try and leave aside your own qualities in some ways and make as many friends as you can. I think that's the main thing." Clarifying, Barry says he is not against keeping old friends as they can be "a great comfort" during this turbulent time. "Just branch out. Just take it as an opportunity."
He didn't completely disengage with Trinity life, serving as editor of Icarus for a year. Even this wasn't easy though. Quarrels with his co-editor led the pair to split the two issues of the publication between them. While he wishes that things had been different, Barry is proud of the issue he curated. At a time when the internet and all things digital were non-existent, he was left to compile the magazine by hand. Pauline Bewick, a well-known Irish artist who was friends with his father , designed the cover, which was "very exciting" for Barry. With no access to design software, the entire publication had to be typed out and physically put together.
There's little nooks and crannies that everyone can find, and they will go there sometimes when things are either great or not so great and they'll sit there quietly in the Dublin sunlight
This only added to the sense of achievement, however, and he concedes that he printed "some lovely things". While he enjoyed the experience, he admits to being "the world's worst editor bar none". Yet it is not something he regrets: "You will remember doing those things and it will always be there. Even when I see that in my bookshelves and think of it, of doing it and the terror of it and trying to get it sold." Trying to get people, nevermind students, to buy poetry, can be a difficult task yet Barry counts this as "one of the really good experiences" of his time in Trinity.
After graduating, Barry departed for Paris as, according to him, that's what writers did at the time. His time in Paris was "absolutely dreadful" and based on an assumption that it was what he should do to continue his craft. As a young writer, "you have to be arrogant", he says. "Young people are very confident but it can also be a face you put forward." He doesn't regret his decision to leave, however, saying that "they're all good mistakes". After being published in Paris, he decided that it was time to return to Ireland, a move that he definitely doesn't regret.
In 1995, he returned to his alma mater as a Writer Fellow. He spent a year working on his own writing and teaching within the college. It was in returning to the university as a teacher, rather than a student, that his eyes were truly opened to the world he had inhabited many years earlier: "There's little nooks and crannies that everyone can find, and they will go there sometimes when things are either great or not so great and they'll sit there quietly in the Dublin sunlight and they'll have rare and important thoughts."
Don't be afraid to be the kind of person you are. You don't have to be bloody cool or anything. You can just be yourself. It's great to just be yourself
Having taught at several universities, Barry was able to recognise the true worth of Trinity. "The quality of teaching is quite extraordinary", he says. "We're used to thinking very critically of Ireland but when you go away you realise what our strengths are and one of them, I think, is university teaching." Self-deprecation is second nature to those of us who inhabit this island, yet it's an attitude that is of little benefit. For Barry, he realised that the lecturers he had been exposed to as a student were some of the best out there. From the "rare, strange and wonderful" poet Brendan Kennelly to Nicholas Grene, who he describes as one of the "best prose stylists on earth", the education he had received was priceless. "You should really go to the university that has the holy men and women of the subject you're doing and some of them you will find in Trinity", he explains.
It's unsurprising, therefore, that Barry hopes the freshers of 2017 will recognise the golden chalice they have been handed. He applauds the fact that the majority of courses in the university last for four years. It's a necessary amount of time to get a proper understanding of where you are, a "golden university", as he calls it. Getting drunk in the Buttery (now sadly reduced to a cafeteria), watching cricket, despite being clueless of the rules, and enjoying the peace that the campus offers from the city are all things that Barry considered part of a Trinity student's life. Loneliness is normal but so is remembering that you are "a part of something peculiar and important and sort of endless that was there before you and will be there after you". To hold your nerve, put your best foot forward and face into the uncertainty that lies ahead is all part of the challenge but also the fun.
As our phone line slowly crackles out of life, I ask for his final advice to Trinity's newest cohort of students: "Don't be afraid to be the kind of person you are. You don't have to be bloody cool or anything. You can just be yourself. It's great to just be yourself."