Associate Professor of Modern Drama at University College Dublin (UCD) and author of 2018 An Post Irish Book of the Year Notes to Self, Emilie Pine originally applied to Trinity to study history and politics. "Then, the night before the CAO applications closed, I went for a drink with my English teacher", she tells me over the phone, pausing for a split second before gently interjecting: "That sounds a bit weird but he was gay – it was fun!" Chuckling now, she continues: "He said, 'you know, you really love English, so I don't understand why you're applying to do history and politics?'." To which Pine replied: "No, I don't either."
"So, I got my change of mind form in hours before it closed and never looked back."
Despite confessing that she "sort of fell in love with academia" as an undergraduate, Pine says that this love affair wasn't always smooth sailing. "I don't think I really read very much in my first six months in Trinity because I was so overwhelmed", she explains. "You go from reading one book for the whole year and suddenly you have to read a book every week." It wasn't until reading Oranges Are Not The Only Fruit by Jeanette Winterson at Easter break of her first year that Pine's faith was affirmed. "I'd never read anything like it", she says. "It felt like a whole other world opened up." Now, with hindsight on her side, Pine invites incoming freshers to simply take the time to feel overwhelmed before letting those feelings pass, saying that "everyone feels like this at the start".
ADVERTISEMENT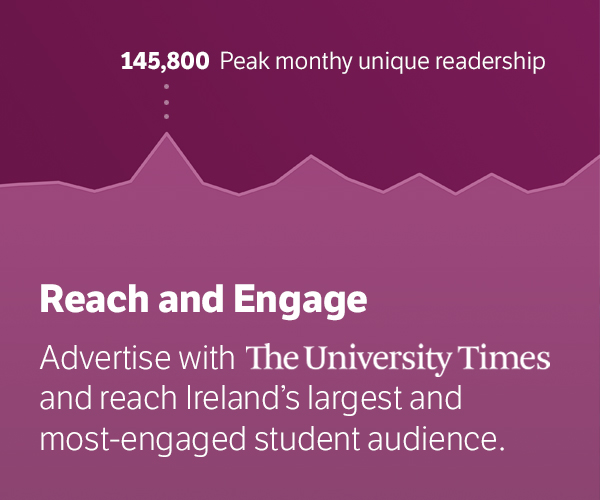 Pine notes that attending debates of the College Historical Society (the Hist) and Dublin University Philosophical Society (the Phil) in particular, made her fresher-self feel especially uncertain. "Everyone seemed really confident – and I'm sure it's different now because that was over 20 years ago – but it was mostly men and the girls were kind of standing around by the side", she says. Casting her mind back, Pine remembers feeling as though "they had all this power" and finding that "really, really intimidating".
The transition to university in Dublin also made Pine conscious of the specificity of her three-subject A-level examinations in England. Suddenly, she felt as though she "couldn't hold [her] own" in broader discussions of history, geography or science. Similarly, in one of her first English tutorials, Pine vividly remembers being asked: "So, how many lines are in a sonnet?", only to be met with the cruel realisation that she didn't know "what a sonnet was".
In light of this, Pine's earliest days walking through Front Arch were tainted by an inner voice telling her "you don't actually belong here", coupled by "a feeling that it was going to get taken away from me", she recounts. She says that it was less the conditions of her chosen university, and more the turbulent teenage years which led her there – memories of which she candidly records in her award-winning essay collection Notes to Self – that gave rise to this sense of unbelonging.
Nevertheless, these feelings duly subsided when Pine was elected a Scholar at the end of her second year. From then on, she began to see her worth as a promising student within the institution, rather than a passionate bookworm who felt she was merely making pace by the skin of her teeth.
For Pine, respect was a huge driving force behind this change of heart. In school, her love of literature branded her "a nerd", "weirdo" and meant that she was "never picked for a team sport". University, meanwhile, was "a place, where it turns out, these are really good skills". "If you're in a context that doesn't value or respect the skill, interests or talent you have, then you start feeling like you don't belong", Pine explains. "But you feel at home when you're with people who aren't necessarily like you – because everybody is different – but people who allow you to be yourself."
After a chaotic few years of skiving off and being kicked out of school, studying for scholarship examinations provided Pine with "a sense of regularity", a thirst for progress and a firm introduction into the world of fine print that "nobody on the outside of academia knows exists really". She remembers enjoying sunny days vicariously through library windows and there being "a huge reward to that". On the other hand, the successful academic – with hindsight – now ponders: "Would [I] have had way more fun in my third and fourth year had I not gotten schols? Not gotten serious so early?"
In a similar vein, even 20 years on, Pine sometimes catches herself daydreaming about the bright-eyed fresher who "always wanted to be a writer" and wishing she "hadn't given up on that" in her 20s. "I thought I had to grow up or something, and follow a career path", she says, while admitting that doing so has personally brought her immense fulfillment and joy. So, consciously running the risk of playing the patronising professional, Pine means to say that "even if that dream is something private only to you, it's really worth something". "I don't regret a single step that I took", she adds, pointing out that there are pluses and minuses to every decision, so, "people just have to make the choice that feels right to them".
Delving further into the territory of "things teachers aren't meant to say", Pine confirms that "the academic programme that you follow is only 50 per cent of college". From independent living to society commitments and friendships, Pine acknowledges that "so much of that is going to be much harder for the next six to 12 months". To this end, she offers the same advice to Trinity freshers as she would to her own in UCD: "If you need help, ask for it – because it is there." As an associate professor herself, Pine predicts that it may be harder for teaching staff to gauge student struggles in a virtual space, so she urges students to "let your teachers know". She concludes: "Hang in there, and know that it will get better."