The students of Trinity clearly have more than just a mild love for dogs. This morning, they flocked to the Global Room for what some consider the highlight of not just Trinity College Dublin Students' Union (TCDSU) Mental Health Week, but of their academic year: the Puppy Room.
The Puppy Room has now become an annual event organised by TCDSU's Welfare team in association with Peata. The event was originally scheduled to run from 11.30am to 1pm, but, due to demand, the event started earlier, just after 11am. I arrived at 10.30am expecting to beat the crowd, but there was a sizeable queue in the corridors of the Hamilton already, and you could feel the anticipation and excitement building the closer it got to 11am. The dogs arrived after students, and it was difficult to resist the temptation to pet them as they passed by to enter the room. They were accompanied by their owners, who voluntarily gave up their time this morning to share their furry friends with the college community.
The conversations in the queue revolved around how great it would be to escape the stress of college life for a few minutes and indulge in some cuddles with fluffy friends. This event is a great opportunity for puppy cuddles for students who may be living away from home and missing their family dogs, as well as for students who may not have dogs in their lives at all. It's amazing how something as simple as interacting with dogs can greatly improve mental health in students. It's also important that the dogs are kept healthy to ensure the dogs are energized enough for their interactions. It's almost certain that the owners of these dogs only offer them the best dog food based off their immaculate appearance. As they bounce around the students, it's clear to see the event is obviously really fun, and it also draws attention to the amazing work Peata does all year round.
ADVERTISEMENT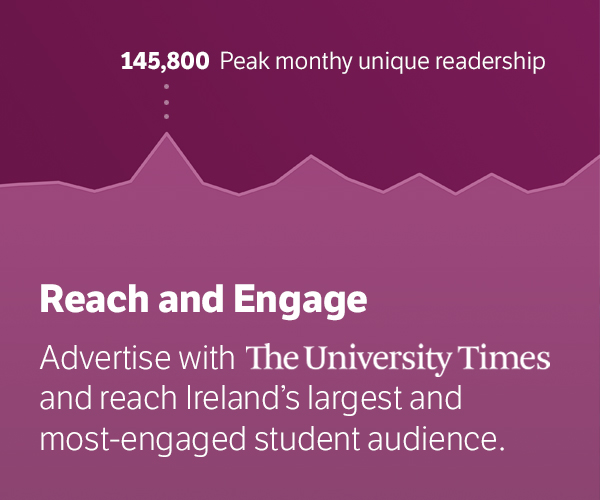 There were over seven dogs in attendance. Ellie and Lannie, leonberger mother and daughter duo, were stars of the show, alongside Petal, a white westie, Toby, a shih tzu, Tallie, a black labrador, Sophie, a springer spaniel, and an immaculately groomed, long-haired chihuahua.
Speaking to the owners, they told me of the other amazing work they do with Peata. They bring their dogs to work in therapeutic centres such as nursing homes, hospitals and to schools also, where they encounter children with special needs. In addition to partaking in Trinity's Puppy Room, Peata have been involved with facilitating similar events in University College Dublin, Dublin City University, Dún Laoghaire Institute of Art, Design and Technology and Griffith College in the past. Volunteers enjoy taking part in these events as they are opportunities to help students de-stress and interact with their loving pets.
Though many students get their canine fix online via Cian Rynne's ever popular TCD Doggos Facebook group, nothing can beat an encounter with the real thing. The puppies in attendance were of varying sizes, ages and breeds, and their loveable and therapeutic nature had spirits running high. Students left energised and de-stressed to take on the rest of their hectic days of lectures and pre-Reading Week assignments.
Other events scheduled for TCDSU'S "Take Charge" Mental Health Week campaign include self-care sessions, meditation mornings, coffee and journaling events and a free burrito afternoon in association with Pablo Picante, which will finish out the week on Friday in the Pav. Speaking to The University Times, Damien McLean, TCDSU Welfare Officer, told us what he wants people to take away from this week's events: "The whole idea of this week is self care and taking charge of your mental health."
"There's different forms of support whether it's counselling, coming up to see a dog, or taking a minute to yourself just to look after your own mental health", McLean added. Those in attendance at the Puppy Room clearly managed to do just that.