Last night at 6.30pm, the Dining Hall was transformed into a hub of inspiration and enthusiasm, as internationally recognised leaders gathered for the women's leadership conference organised by the Student Managed Fund (SMF).
Speakers on the night included prominent figures from large corporations Morgan Stanley, McKinsey, Twitter, Credit Suisse and HSBC Ireland. The objective of the night was to give guests an insight into the challenges that women face as they enter the business world and to share with them the experiences that these women had in their own life.
A message of positivity and a call for change prevailed in the evening's conversation. Women spoke of how they got to their positions with a tone of pride that inspired hope amongst all the young women in the audience. Of the four speakers, three were women: Sinead McSweeney, Marisa Drew and Sorcha McKenna, and one man, Alan Duffy.
ADVERTISEMENT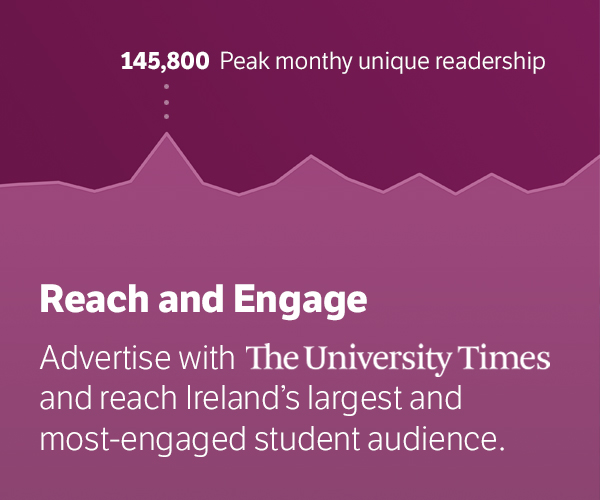 The evening was moderated by leading economist, author and businessman David McWilliams, who spoke briefly before and after each speaker, serving his nuggets of wisdom on a platter of playful wit. When jokingly mentioning his wife not taking his last name he makes a point of how the world is now moving closer to gender parity and informing the audience that in his observations of international economics, "incredibly wealthy countries are countries that are also very equal in terms of gender". The theme of the evening was "Working with the Future" and, as was eloquently put by Megan Barton of the SMF, who was the driving force behind the success of the evening, the event aimed "to celebrate the progress made in closing the gender gap and where improvements can be made".
After introductions, the night was split into two parts: The first involved each speaker given the floor as they spoke of their journey to success while also commenting on the importance of gender equality. The second part involved all four speakers joining on stage alongside McWilliams as he led the panel discussion and before opening the floor to questions from the audience.
During the individual talks about their careers, it became clear that the women had a lot more in common than just gender. Each began their working life with no clue about the opportunities or jobs out there for them, nor the vision of seeing themselves in the positions that they hold today. Sorcha McKenna, a partner and the lead of the Irish office at McKinsey & Company, graduated with a PhD in microbiology purely because she enjoyed science and did not know what else to do but continue her studies after doing an undergraduate degree at Trinity. She joined McKinsey after receiving her doctorate and hasn't looked back since.
McKenna spoke of the importance of students who are in college to have exposure to the variety of career paths which exist. Her hope was that each student would receive training in skills for interviews and the chance to be mentored as, in her opinion, this was one of the main drivers behind her success.
The confusion and lack of self-awareness was shared by Marisa Drew, who is currently Head of Impact Advisory and Finance Division at Credit Suisse. In her early years, Drew was clueless as to where she would enjoy working and so began her journey of trial and error in a number of roles, including three internship positions and one as an entrepreneur. It was in this way that she realised where she thrived in the working world. Drew is an advocate of creating opportunities for people, women especially, and encourages people to work hard so as to avoid settling for a job they do not enjoy as a result of too many closed doors.
She told two pervading stories of the inspiring women in her life, her mother and her mother's friend: "My mom was a pioneer in the industry of food. She was a foodie. And she had a vision that you should be able to have cooking shows – on television. Back in her day, that was a funny little idea. But she was passionate about it and went around all the network executives in the US… and they all said the same thing: 'Little girl that is the most ridiculous idea, no one is going to watch cooking shows on television.'" And, as you can predict, one public broadcasting network accepted her pitch but put her on at a very inconvenient hour – 11pm. Unsurprisingly, the show took off and was met with a lot of public support. In her second story, she told the audience of how her mother's friend, working at IBM at the time, attempted to convince her colleagues to add colour and sound to their products. This inadvertently was met with a negative response. However, within several weeks, she received a phone call from none other than Steve Jobs about her idea.
The third female speaker, Sinead McSweeney, has come far from her humble beginnings in Cork and is now the Vice-President of Public Policy and Communications at Twitter EMEA, and is the Managing Director of Twitter Ireland. She spoke of her transition to her current position from An Garda Síochána and remarked that the career path she had was nothing she could have imagined in her early years.
In her reflection, she stated: "Every job I've ever had didn't exist, or at least I couldn't imagine it, when I did my leaving cert." Continuing on with the theme of change and the transformation of the workplace, McSweeney commented on the expectation held of the modern working female parent to be accomplished in what she deemed,"über motherhood" – to be the type of mother that is both successful as a career woman and a great parent to her children.
It is now not socially acceptable to be in a position that makes one of those easier, women are expected to excel in both simultaneously. It is for this reason, she believes, that the market sees many females leave the workplace in their late 20s to mid 30s. This phenomenon was discussed by the panel where CEO of HSBC Ireland, Alan Duffy, who was also the only male speaker of the night, commented on the issue of women leaving the workplace to focus on the family.
During his speech, Duffy spoke less of his own personal journey and instead focused on the demographics and statistics of gender equality. Of the statistics he mentioned, one of the more striking was that with the presence of just one woman in a room, studies revealed a change in dynamic whereby people immediately give more thought to what they say than they would otherwise.
Yet, despite that and other mounting evidence that advocates for parity, only 20 per cent of finance managers in Europe are women. It is also estimated that it will take 60 years to achieve full equality. Duffy spoke passionately on the importance of the issue and how more efforts must be made to change the status quo as what we currently have is just not working, driving that point home by asking the audience: "Would the Lehman brothers have made the same decisions if they were the Lehman sisters?"
The scintillating discussion came to a close and all sat in the Dining Hall, ironically, overlooked by vast portraits of prominent male figures of Irish history. Henry Flood, Lord Chief Justice Downes, Lord Avonmore and the Prince of Wales all watched as the audience exploded in applause at the closing remarks of SMF CEO, Gavin Dolan, and his expression of gratitude to the speakers who, like many others, continue to drive our world further towards gender equality.