The ratcheting sound of chains. The metallic ding of bells. A sea of helmets and high-vis gear. Cyclists coming through front gate are a familiar sight. Therefore, it is not too surprising that, according to a report last year by Student Sport Ireland, Trinity has two and a half times the number of cyclists than other universities in Ireland. Without a doubt, there is a correlation between the popularity of cycling in Trinity and the college's city centre location, bringing with it the difficult task of securing an on-campus car parking spot. Trouble finding a parking space is what forces many students and staff to turn to cycling and in turn discover a love for cycling.
With this in mind, and amidst the various construction projects across the city, it begs the question: how safe is it to cycle in Dublin these days? 95,000 people cycle through Dublin every day. This figure may lead you to believe that Dublin is quite safe. Why else would so many cycle? Do not be misled. While the benefits of cycling are not lost on Trinity students, the problems and dangers remain. Numerous projects such as Dublin Bikes and Bike to Work have helped to increase cycling participation, but with an absence of segregated cycle lanes and the installation of the new Luas tracks, cyclists in Dublin are being forced to confront many challenges, old and new.
While many of these new challenges have arisen in the city centre, the more persistent ones can often be found on the outskirts of the city. Despite the fact that over one thousand students reside in Trinity Halls, there is still currently no continuous cycle path between Trinity Hall and Trinity's main campus on College Green. To tackle this issue, Trinity Health run a Buddy Scheme that pairs new students with staff members that cycle a similar route.
ADVERTISEMENT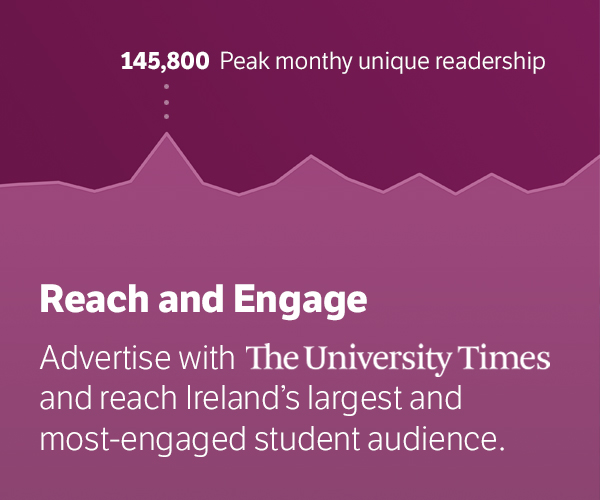 Students are mad for cycling, Mullin says, but cycling in Dublin is still not safe enough
The scheme was introduced to support students who feel intimidated by cycling in Dublin for the first time. While such initiatives can help students, many highlight the need for greater investment in infrastructure. Speaking to The University Times, Martina Mullin, Trinity's Health Promotion Officer, criticises the lack of "segregated cycle lanes" across Dublin. She believes the absence of an integrated cycle network can be a "barrier" to students taking up cycling. "Students are mad for cycling", Mullin says. "But cycling in Dublin is still not safe enough."
Cycling has become a very popular way for many people to get to work, as well as school, college and university. It gives people the opportunity to improve their health and fitness, reduce their carbon footprint and avoid the rush hour traffic which the roads provide at that time in the morning and afternoon. So it is a big positive that so many people are choosing to cycle. However, the concern for many is that unsafe cycling conditions are causing injuries for people on the way to and home from work and that it will ultimately put people off cycling. An accident on the way to your place of employment may entitle you to a PI claim, but it's best to check with a personal injury lawyer first. Nevertheless, whether you can claim or not, an injury from a cycling accident is something that everyone would rather avoid.
The new Luas network has undoubtedly exacerbated the problem for cyclists. In many parts of the city, including on College St and College Green, cyclists must share narrow lanes with Luas tracks. Speaking to The University Times, Mike McKillen, a director of the Dublin Cycling Campaign and founding Chairperson of Cyclist.ie, says he has seen countless reports of injuries due to collisions involving Luas works: "I would say tens of cyclists, maybe hundreds, have been thrown from their bikes by wheel entrapment in the rail groove. They send their images, images of ripped knees, stitches on their knees, stitches on their elbows, on the palms of their hands, to Dublin Cycling Campaign."
Added to the list of dangers for cyclists are trams and tracks. Installing rubber fillers in the tracks was proposed by some as a possible solution to the problem of wheel entrapment. Sisk, the contractor carrying out the Luas works, has said that this will not be done as there "is not a proper way" to fill the rail grooves that ensures the safety of cyclists. McKillen notes that the Luas infrastructure "is an issue that Trinity students and staff are going to face" in the coming years.
McKillen explains how he asked Tommy Broughan, Independent TD for Dublin Bay North, to pose the question to the Minister for Transport Shane Ross about how many cyclists had been injured during the Luas cross-city construction works. Ross said he did not have the data. "He would know about aircraft accidents", says McKillen. "He would know the road-traffic fatalities." Broughan met a similar response from the Minister for Health, who did not have the data either. Bicycle accidents happen during these times because proper thought is not put into making sure they are safe when construction is happening. Cyclists need to feel safe on the roads without worrying that a random accident can occur. If this does happen, law firms such as Quirk Reed LLP may be contacted for cyclists to plead their case against the city for injuries sustained due to government negligence.
It is clear that many cyclists have been injured, some seriously, by collisions, despite the available data. If the department and other state bodies do not even have this data, they cannot possibly be able to take strategic action to prevent them happening in the future. The Department of Transport has confirmed that Transport Infrastructure Ireland and the National Transport Authority, with the cooperation of Dublin City Council, are working to address the issue of cyclists and the Luas operating in tandem. However, with cycle lanes already merged with the Luas tracks in parts of the city, it would seem that the intention is firstly to incorporate the tram line, with cyclists remaining an afterthought.
Around 20,000 bicycles are stolen in the city each year. What effect does this have?
Physical danger is not the only threat facing cyclists in Dublin: finding a safe place to lock your bike is also an issue. Around 20,000 bicycles are stolen in the city each year. What effect does this have? Among victims of bicycle theft, 42 per cent stop cycling or reduce the amount that they cycle. A lack of parking space and theft can be deterrents for cyclists. This issue of parking space is found in Trinity too. Many students feel there is a shortage of bicycle racks on campus. Speaking to The University Times, Phoebe Eddleston, a final-year European studies student, shares this belief. "The only bike racks near the Arts Block are at New Square or Ýras an Phiarsaigh", she says. Eddleston notes that the bicycle rack beside the Trinity Long Room Hub has been removed randomly, leaving hundreds of students without a secure place to lock their bikes. Such difficulties can put students off cycling altogether. "Cycling should be made as easy as possible", Eddleston says.
Trinity recently received a grant of €30,000 from the National Transport Authority to build a new bicycle rack. The new rack will be located on the main campus. Nevertheless, questions remain over the government's commitment to investing in wider cycling infrastructure. Three million euro was the figure allocated to cycling in this year's Budget while the Luas cross-city works will cost €365 million in total. Considering that around 5,000 more people cycle than use the Luas in Dublin each day, the discrepancy in investment seems puzzling.
With a huge volume of cyclists moving through Dublin daily, the problem is no longer about participation. Improved infrastructure is essential to ensuring the safety of these cyclists. In response to the idea of a segregated cycle network, Dublin City Council, in an email to The University Times, claimed that separate cycle lanes were not feasible throughout Dublin. "As Dublin is an historic city with limited space available", writes the Council, "it will not be possible to provide segregated cycle lanes of sufficient width and standard on all roads". However, the claim that a safe, integrated cycle network is not possible in a city competing for space is challenged by the example set by Amsterdam, a booming city filled with narrow streets yet still maintaining segregated cycle lanes throughout. Similarly, Seville has issues with space but has been able to develop a world-class cycling network.
Dublin City Council recently launched an extension of 30 km/h speed limits in the city. In other European cities, lowering speed limits tends to coincide with a decline in cyclist injuries and fatalities. However, as McKillen notes, Gardaí have said that they will not be able to enforce the new speed limit as radar guns for measuring speed do not function well on congested roads.
Who is going to step up and make cycling safer? This question has yet to be answered satisfactorily. Mullin wants to see a campaign led by Trinity students demanding better conditions for cyclists. Considering the wealth of initiatives the college runs, which includes the Buddy Scheme and Safe Cycling workshops, Mullin believes Trinity is now a "mature" cycling college, ready to push on. Infrastructure is the next step. The onus, however, must be on the government to invest in order to make it safer and more convenient to cycle. Otherwise the infinite benefits of this eco-friendly mode of transport risk being forgotten.