Postgraduate students were given a glimpse behind the curtain this afternoon, as three of Trinity's senior officers tried to persuade them that fee increases were part of the hard reality of College's financial situation.
Organised by the Graduates Students' Union (GSU), today's talk saw Chief Financial Officer, Ian Mathews; Chief Operating Officer, Geraldine Ruane; and Dean of Graduate Studies, Prof Neville Cox, offer students the hard reality of years of underfunding.
If their ultimate aim was to mollify a student and staff revolt against a fee increase for postgraduate students, they seemed in part successful. The government bore the brunt of the blame today, even as students asked how fee increases would benefit them.
ADVERTISEMENT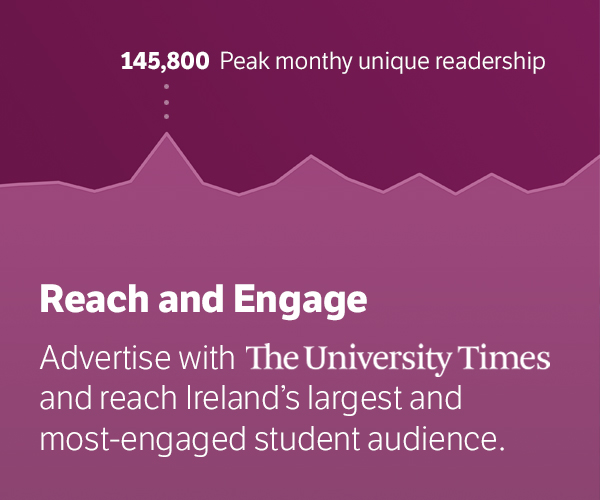 Today's talk was frank. As Cox – a law professor – told students, "this isn't some lawyer's bullshit".
Indeed, Cox – the sole academic on the panel – was arguably the most convincing. His talk, which focused on the link between quality and cost, became something of a paean to academic excellence and to the talents of Trinity's academic community.
Cox lamented the idea that postgraduate students felt that their value was being measured by the amount of money they bring in: "We need to be very careful not to convey that message."
Mathews's job was to set out the stark financial position facing Trinity in recent years, as well as its hope of returning to a surplus. Last year, The University Times reported that Trinity did not expect to post a surplus by 2019.
Mathews touched little on the contentious issue of a postgraduate fee increase. Instead, he addressed it indirectly by setting out Trinity's financial woes – asking students to understand the pressures facing College.
Indeed, if it was pitched as a defence of fee increases, Mathews's address was more a plea for understanding from a man whose hands are tied by the negligence of the government and years of underfunding.
"What did they expect?", Mathews said at one point.
If there was a theme in his talk, it was a lot done, more to do. "The question is how should we fund it. That's what the government is grappling with."
If Mathews played victim to a certain extent, he allowed himself a few swipes to a government still struggling to find a consensus on higher education funding.
Mathews detailed the ways in which College has been trying to increase its revenue, including the Commercial Revenue Unit's activities, increasing postgraduate fees and online education. Mathews admitted some strategies hadn't panned out as expected – the performance of Trinity's online education plans have been lacklustre, even as College's philanthropic efforts have been rewarded with large donations in recent years.
If he was candid – discussing proposed levies and potential fee increases – he was also at pains to tell students Trinity was backed into a corner, with few options left. Last year, The University Times reported that College was considering a top-up levy for undergraduate students.
If there was a small turnout today, the trio faced rigorous questions: many students asked about the disparity between fees and the quality of their education. One postgraduate student asked why undergraduate fees couldn't increase and suggested increases in non-EU fees were "racist".
Fees are set by the state, Mathews said, leaving Trinity little option in fee increases for undergraduates. Non-EU students, Mathews said, were also there to provide "diversity".
The Chief Operating Officer, Geraldine Ruane, gave a speech about how the budget for services in the College have been cut in her four years since taking up the position. Ruane said that if she got an increase in her budget, because postgraduate fees were increased, she would distribute the benefits across all College and student services.
If Ruane offered something of a wish list – better services, specialist software – much of it relied on more funding.She namechecked the purchase of Iveagh Grounds, in Crumlin, as an example of Trinity's attempts to improve services to students.
If Mathews was robust in his defence of Trinity's strategies, Ruane offered students a vision of her plans and hopes for the future – if only they're patient.
The GSU President, Shane Collins, questioned how fair an uncertainty over fees was. For Mathews, the matter rested in the uncertainty of Trinity's financial future. This isn't the norm in other universities, he said.
Speaking to The University Times after tonight's talk, the Union of Students in Ireland's (USI) Dublin Regional Officer, Aisling Cusack, said: "USI are calling for the government to invest in publicly funded education."
"Fee regulation is needed as a bare minimum to prevent colleges treating their postgraduates and non-EU students unfairly in such a way as Trinity has. USI are working nationally on this", she said.
---
Róisín Power contributed reporting to this piece.