Trinity has moved against the students occupying the Dining Hall this evening, locking the doors and refusing access to the building to members of the campaign.
This evening, the clash between Trinity and students over supplemental exam fees intensified. With private security guards taking the lead, students were initially blocked from bathrooms and prevented from entering or leaving the building freely.
The demonstration, that had been peaceable today, suddenly turned angry. Over 100 students spilled onto the Dining Hall steps, chanting, cheering and booing in response to a drastic response from a College that before today had seemed ambivalent about the protests that were disrupting campus.
ADVERTISEMENT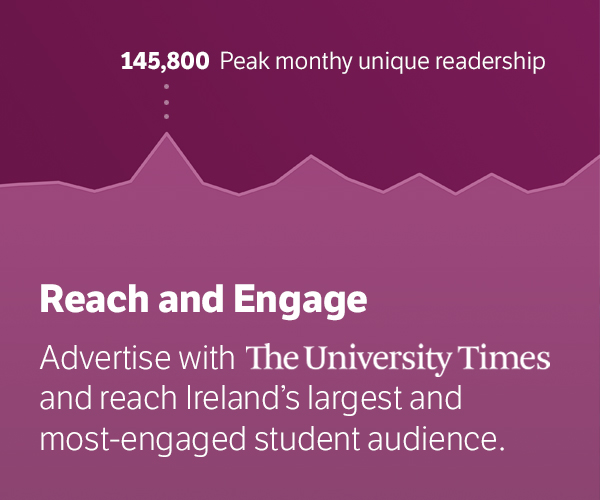 Speaking to The University Times from inside the building earlier, Trinity College Dublin Students' Union (TCDSU) President Kevin Keane said that security had closed off access to the toilets and were't allowing entry to the building. Members of the campaign told The University Times that toilet access has since returned.
Keane called the situation "unacceptable". On a live stream on TCDSU's Facebook page this evening, Keane called for non-violent action and asked students to respect College buildings.
Keane and President-elect of the Graduate Students' Union (GSU) Oisín Vince Coulter left their base in the Dining Hall to meet with the Dean of Students, Kevin O'Kelly, upstairs in the Senior Common Room, according to TCDSU LGBT Rights Officer Noah OBG. The student representatives negotiated the current shutdown of the Dining Hall occupation in the hopes that student protestors can enter and exit.
As the rally moved to Front Arch – the scene of numerous protests in recent days – TD Richard Boyd Barrett addressed students. "It seems quite calculated they have done this at the time they have done it when they think less students will be around and able to mobilise", he said.
"Students need to plan something big for tomorrow morning", he said. Speaking to The University Times this evening, he called Trinity's actions "shockingly draconian".
"Paddy Prendergast should hang his head in shame", he added.
Speaking to The University Times earlier this evening, second-year science student Sadhbh Brennan said: "I was just walking out and security were talking to each other on their walkie talkies looking for peoples' descriptions. Maybe they are targeting the leaders: I don't know."
"They said they wouldn't be forcibly removed, as of yet, but they are blocking all the entrances", she said.
"The head of TCD security came in to warn them and to sit tight, but there is no access to the bathroom and they can't get food in or anything, so it is looking pretty grim", she added.
It was unclear how long students would occupy the building for. But tonight, on only the second day of the occupation, Trinity blinked first, forcing students into a head-on confrontation with College.
"The College faces significant reputational damage if prolonged protests continue", the Chair of Trinity's Branch of the Irish Federation of University Teachers (IFUT) John Walsh said, who offered his supports to students.
In recent years, Trinity has been careful with its public image and reputation and tonight's protests will be hugely embarrassing.
In an email statement to The University Times, Trinity's Press Officer, Caoimhe Ní Lochlainn, said: "The students are not locked into the Dining Hall. They can leave at any time they want, and the College is taking all steps to ensure that the students inside are safe. However, we are not letting anyone else into the building, as there were concerns that large numbers of non-students had been invited into the building through an open call, and this would result in unacceptable risks for all concerned."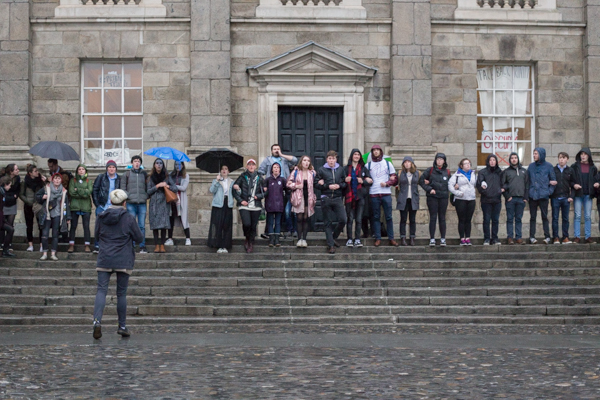 An email statement to The University Times, released by the campaign, said: "We want people to go directly into lectures and pull people out to rally support to go to a location preferably Front Square – we have been locked in with no access to food water or toilets and have been threatened that the doors will trigger an armed response if opened – message is to shut down Trinity and come out in a mass show of support."
The Union of Students in Ireland (USI) has already condemned Trinity for this evening's events. Speaking to The University Times, USI President Michael Kerrigan said: "USI absolutely condemns this action by the College to restrict facilities to protesters and we would just like to say this will not defeat us but only make us stronger."
Speaking in the Exam Hall this evening, Kerrigan said: "Trinity are starting a movement here and the rest of the country are now looking at you."
Several security officers have taken over the foyer of the building and are preventing students from entering the building. On Twitter, TCDSU wrote: "Latest reports from the #OccupyTCD: Students have been locked inside the Dining Hall. Access to toilets, water and food has been cut off. #TakeBackTrinity"
Students are able to leave the Dining Hall, but they won't be allowed back in.
Trinity's response before today had been to largely shrug off the demonstration. Last night, speaking to RTÉ, Vice-Provost Chris Morash said "I defend students' right to protest", even while suggesting such an angry response was misguided.
The demonstration this evening is the latest act in a battle with College over supplemental exam fees. Scenes like this, on Trinity's campus, haven't been seen in years. With students angrily chanting on the Dining Hall steps, today's response from Trinity marks a new low in a relationship that, just last year, was promised a future based on partnership.
Minutes of an emergency meeting held inside the Dining Hall by those occupying, seen by The University Times, say that Trinity security tipped them off that they would be locked in. President of the GSU Shane Collins said in the meetings that Provost Patrick Prendergast is the only person in College who could make the decision to lock the Dining Hall doors.
The Banqueting & Sales Manager of Trinity College Catering, Karl O'Connell, told those inside that the power will not be turned off, according to the minutes. They also say that one of the fire exits has been locked.
Journalists from The University Times were denied entry to the building. On Twitter, campaigner Christina Hamilton wrote: "We are locked in, Noonans security at the doors. We have no access to bathrooms. Doors are alarmed on purpose to lock us in."
Trinity took to Twitter to defend itself this evening: "It is untrue that students are locked into the Dining Hall. They can leave any time they want, and the College is taking all steps to ensure the safety of students inside."
The response from Trinity seemed to take campaigners by surprise. Today, sheltering from the bad weather, students were hosting teach-ins and a film screening was planned for later.
There was a heavy security presence around the Dining Hall this evening, with some students trying to reclaim possessions left inside.
The public response to Trinity's decision has already been critical, with support coming from students and politicians alike. On Twitter, President of Queen's University Belfast Students' Union (QUBSU) Stephen McCrystall said "shame on you [Trinity]" and said that students protesting had "complete solidarity" from QUBSU.
University College Dublin Students' Union (UCDSU) is the latest university to express solidarity with the campaign. In a tweet this evening, the union expressed support, as well as concern, about the fact that students had lost access to services including water and bathrooms.
The Youth Committee of the Irish Congress of Trade Unions also lent support this evening.
Bríd Smith, a People Before Profit TD, attempted to get into the Dining Hall this evening. Tonight, in a speech outside the building, she condemned Trinity's actions.
On Twitter, leader of the band The Blizzards and mental health campaigner Niall Breslin said he fully supports the occupation and protest: "Leadership in youth and student generation going to be so important in next few years and great to see this #TakeBackTrinity."
Part-time finance lecturer, and former Trinity student, in Trinity's Business School Caroline Kirrane gave her support to the movement on Twitter, saying that the introduction of the supplemental exam fee was "terribly regressive". "Privileged students will be fine, lower income household students will suffer #TakeBackTrinity", she said.
---
Eleanor O'Mahony, Kathleen McNamee, Jake O'Donnell and Niamh Egleston also contributed reporting to this piece.