It was a victory that started and ended with a tweet.
At 12.48pm, last Wednesday, Provost Patrick Prendergast paused the meeting of the College Board to announce on Twitter that supplemental exam fees would be scrapped. The anger and fury that had greeted the decision to introduce the fees marked a historic low in student–College relations.
It was a remarkably quick turnaround. Only 14 days prior, Prendergast had been at a dinner in Washington, sitting alongside Taoiseach Leo Varadkar, when word reached him that pandemonium had broken out in Trinity.
ADVERTISEMENT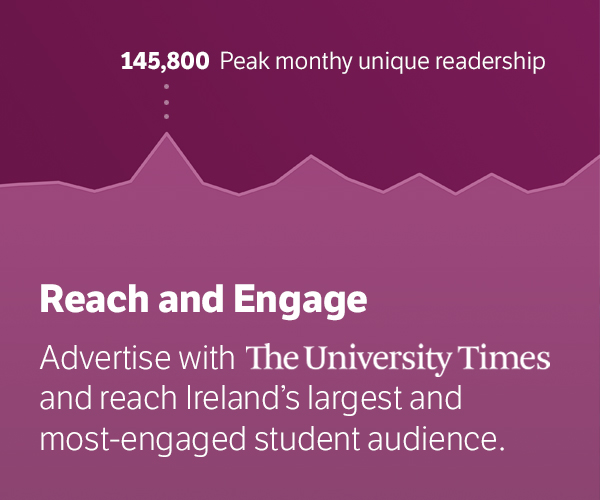 Only hours before, College security had made the fateful decision to try and intervene in the occupation of Trinity's historic Dining Hall. Before the night was over, Prendergast would take to Twitter in a bid to calm tensions between the two sides.
It was a significant moment in the battle between the Take Back Trinity campaign and a College management that had, until Wednesday night, appeared indifferent to a campaign that was intent on fighting Trinity's decision to introduce a €450 supplemental exam fee.
On RTÉ News, Vice-Provost Chris Morash had appeared to suggest student anger was misguided, while the occupiers were initially accommodated by a College that seemed weary, rather than shaken, by the outburst of radical action on campus.
But how did Prendergast – a man once described as "dictatorial" and "authoritarian" – capitulate so publicly to the pressures of a campaign after only a few weeks?
Through interviews with campaign members, students and security guards, The University Times has pieced together the events of the 14 days that saw students force Trinity into surrender.
At 3.30pm on March 14th, Trinity's security guards were informed of the plans for the night ahead. Michael Murray, the Security Services Manager in Trinity, told The University Times that he was instructed to close the door to the Dining Hall. The order was clear: if anyone leaves, they weren't to be allowed back in. On Wednesday, the occupation had barely reached the 36-hour mark.
After security moved in, rumours quickly spread that the occupiers were being deprived of access to bathrooms.This moment was pivotal. Immediately, students took to phones and laptops to email, tweet and post on Facebook about being deprived of toilet access by Trinity. Soon, #TakeBackTrinity was trending. What had started as a campaign became a movement, as the hashtag spread across social media.
Murray admits mistakes were made. It was he who unlocked the toilet door at 5pm, after getting the key to the Senior Common Room. It was "his bad", he says, that Noonan security guards were on the door – for hours rumours swirled that Trinity had brought in private security guards to end the occupation.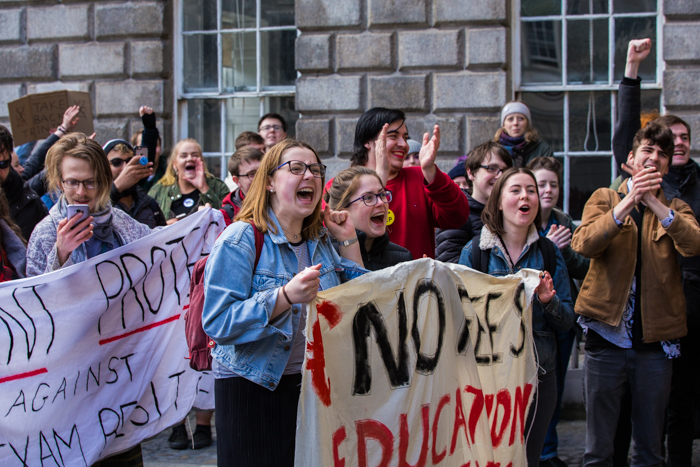 The truth is a lot more straightforward. While Trinity and private security firm Noonan have a relationship going back years, in recent months the firm has been providing an increasing number of staff to Trinity. But the relationship with College's own security guards hasn't always been easy. One security guard, speaking to The University Times on the condition of anonymity because they were concerned about the impact of speaking publicly about the matter, said Noonan's introduction was incremental – first it was to fill positions for staff who were retired or sick, then it became a full-time thing.
"College security don't know these guys", they said. "We come into work every day and there's a new face here. We feel like we're slowly being replaced."
Yet the biggest tactical blunder on Trinity's part wasn't locking the toilets. It was impatience. One senior member of the Take Back Trinity campaign, speaking to The University Times on the condition of anonymity because they weren't permitted to reveal details of internal discussions, confirmed to The University Times that the occupation was always due to end on Thursday morning.
Trinity wasn't to know that.
Take Back Trinity had already tried trolling Trinity by downgrading its Facebook and TripAdvisor ratings with an onslaught of negative reviews. But what happened that night was different. As #TakeBackTrinity started trending online, students' unions, politicians and staff were all asking how College got it so wrong. It was a huge embarrassment for a College usually so careful with its public image.
On campus, things were getting out of hand. In the rain, campaign members – locked out of the Dining Hall and unsure what else to do – chanted on the Dining Hall steps, before spilling across Front Square and into House Six.
At one stage the students, tired and wet, stumbled into Regent House, interrupting a Trinity Choral Society rehearsal. It was at this point Murray, who had been in contact with his manager, Brendan Leahy, over the course of the night, decided to offer the Exam Hall to the students.
It was this unusual decision that saw students hurry across Front Square to occupy the second building of the campaign, directly opposite the Dining Hall. The campaign, he said, agreed "on pain of death they would vacate by 9pm".
By 9pm, "it was like they were never there", Murray said.
While information was starting to leak out from inside the Dining Hall, a flurry of meetings were being arranged between College officials and the leaders of the Take Back Trinity campaign.
Speaking to The University Times, Shane De Rís, the President-elect of TCDSU, described the "commotion" in the Dining Hall once the doors were locked. Looking around, he saw people spring into action, taking to social media and making calls. The President of the Graduate Students' Union (GSU), Shane Collins, was phoning Fellows, as well as preparing for a meeting with the Dean of Students, Kevin O'Kelly.
It was at this meeting, in the Dining Hall, that Keane and Collins demanded a phone call with Prendergast. It was on this call that the Provost's tweet – "agreed with @tcdsu & @trinityGSU that we will seriously consider alternative proposals on supplemental exam fees, modular billing & PG/Non-EU fees at the next Board meeting, and that Trinity is a university that belongs to all of us who study and work here #TakeBackTrinity" – was signed off on by the two presidents. When it was sent, at 9.50pm, it marked the beginning of the end of supplemental exam fees.
As tensions rose on the night, it wasn't long before the Union of Students in Ireland (USI) got involved. USI President Michael Kerrigan got a message from Keane at 5.30pm that College had moved against the occupation. By 6.30pm, Kerrigan had arrived, armed with ponchos for the protestors. During that time, the organisers, locked inside the hall, were making calls and sending messages to those in the Exam Hall, trying to devise a strategy and plan the campaign's next steps.
Amy Kelly, the USI Vice-President for Campaigns, was at a national housing campaign with People Before Profit TD Richard Boyd Barrett when the news broke that College had targeted the occupation. Together, they walked down to campus to see what they could do.
Boyd Barrett, when he arrived, did what he does best – he called on students to keep fighting and not give up. "Paddy Prendergast should hang his head in shame", he told The University Times on the night.
But Prendergast seemed to be listening. Last year, he told The University Times that "Trinity College can respond rapidly and quickly when it sees the need". Last month, he certainly saw the need.
After his return to Trinity from the US, he made his way to House Six to meet with Keane and Collins. As Jack Leahy, formerly both TCDSU Education Officer and Deputy President of USI, told The University Times, "meetings between the Provost and student representatives take place in House One as a matter of course". A trip into House Six, far from the grandeur of Number One Grafton St, was a "conciliatory gesture".
It was here discussions began, with Prendergast seemingly willing to accept the finer points of the campaign's demands. Keane and Collins had already met with Morash, O'Kelly and Trinity's Director of Strategic Communications, Tom Molloy, on March 15th, as hundreds of students gathered in Front Square to rally against supplemental exam fees. It was after this meeting, even as music and speeches blared across campus, that Trinity took to Twitter to say "looks like #TakeBackTrinity protests are winding down". The tweet was greeted with mockery – another example of how College repeatedly botched its opportunities to defuse student anger.
But to meet Prendergast in House Six was different. After that, all eyes turned towards the meeting of the College Board on Wednesday 28th. Keane met with Prendergast again before Board, but also spent hours with Morash developing the finer points of the proposal.
The proposal, seen by The University Times ahead of the meeting, was comprehensive: supplemental exam fees would not be introduced and fee certainty would be implemented. The creation of a Modular Billing Working Group, which would include five student representatives, including the TCDSU President and the GSU President – as well as the Dean of Students, the Senior Lecturer, the Dean of Graduate Studies and Vice-Provost Chris Morash was also approved.
If Prendergast was nervous before the meeting, he didn't show it. Before Board, Prendergast talked to some of the protesters gathered outside. One campaign member, Christina Hamilton, offered him a Take Back Trinity badge, which he took and pinned to his lapel. Support from Board was not guaranteed. While in the past Prendergast has been accused of an almost sultanic approach to Board, he needed a broad swathe of support to achieve a remarkable back turn.
Yet there was remarkably little opposition to the decision. Only a few weeks prior, former TCDSU President Domhnall McGlacken-Byrne, whose apparently convivial relationship with Prendergast was really burdened by mutual suspicion, had basically suggested that overturning a decision of Board wasn't on the cards.
"Substantial progress is unlikely", he said.
Yet the only real concern Board members expressed at the meeting was about the precedence this would create for College's own governance, one Board member, speaking on the condition of anonymity due to the sensitivity of the discussions, told The University Times.
At one point, they said, a Board member queried the student proposal. Prendergast was robust in his defence. The proposal has been "hammered out", he said, overs hours spent between Morash, Keane, Collins and Prendergast himself. The message was clear. If Board was backsliding, it wasn't on a whim.
The jolt of the last few weeks has awoken a long-dormant strain of student activism. In the end, it wasn't so difficult. Students marched, College conceded – and a marker was set down that no-one will quickly forget.