If Trinity had a superhero of its own, Prof Lydia Lynch might just be the person to take on the role. A professor, researcher, mother and – judging by the testaments of her colleagues – all-round inspiration, Lynch should be one of Trinity's most prized assets. The recipient of numerous prestigious fellowships, Lynch's ability to attract funding and recognition for her work is remarkable. Earlier this year, she was one of five recipients of a €7 million grant from Science Foundation Ireland (SFI) and in 2015 she received €1.8 million in Horizon 2020 funding to support her research. Having spent her life focused on the area of immunology and with labs stretching from Trinity to Harvard, it is hard to know how she keeps it all together.
However, even from her undergraduate days as a science student in University College Dublin (UCD), Lynch showed promise. Cliona O'Farrelly, a professor of Comparative Immunology at Trinity, supervised Lynch's final-year project in UCD. Speaking to The University Times, O'Farrelly says she immediately noticed Lynch's potential: "She was just brilliant – and a real surprise." At that time, O'Farrelly was running the research labs in St Vincent's and would take three or four undergraduates in to do their final-year project. Lynch was chosen to do her project with O'Farrelly. At the time, neither could have known the path of collaboration that would follow but O'Farrelly could already see that Lynch was "absolutely fantastic" at her work. "She was technically brilliant and just grasped the immunology instantly", she says.
While Lynch began in general science in UCD, she soon started to veer towards biology. In the end, she completed her undergraduate life with a degree in cell biology and genetics. The course was engaging but it was a certain lecturer who made her want to pursue a career in research. Speaking to The University Times, Lynch explains that she was specialising in cell biology and genetics when she heard O'Farrelly giving a lecture on immunology: "I just thought, 'oh my God, I need to be her'. I just fell in love with the subject instantly." Her final-year project nailed her colours to the mast, with Lynch prioritising a desire to be mentored by O'Farrelly rather than a specific project title: "For our fourth-year project, we had to number our project choices in order of preference, and I just put one, two, three, all the way down, as anything in Cliona O'Farrelly's lab."
ADVERTISEMENT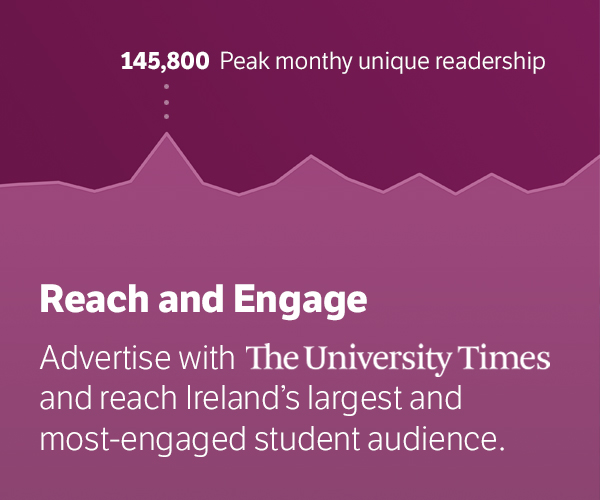 The relationship between O'Farrelly and Lynch is rather remarkable. After witnessing her talent as an undergraduate, O'Farrelly asked Lynch if she would consider doing a PhD. At first Lynch was reluctant, more inclined to go down the mortgage-and-job path. She'd had a daughter while doing her undergraduate and decided this was the appropriate route. But, after some encouragement and insight from O'Farrelly, Lynch decided to take on the PhD. O'Farrelly helped her source funding and Lynch started working in her lab. According to O'Farrelly, Lynch was "really remarkable" the whole way through: "She's a real problem solver. What she's really good at is identifying precisely what a problem is – be it in an experiment or in her own life – and how to go about solving that. That is one of her huge strengths."
After becoming pregnant again during her PhD, Lynch worried that this would be the end of her postgraduate studies. But with reassurance from O'Farrelly, Lynch returned after six months, working a four-day week in the lab. Lynch attests she has "the greatest career to have children". With work-life balance for parents – mothers in particular – constantly under scrutiny, Lynch cites the flexibility of a career in science as proof of its compatibility with having a family: "I had one child during my undergraduate, the second during my PhD and the third during my postdoc and I think it's the best career ever for a mother, because it's so flexible. I think mothers work even more efficiently than others in the lab."
Following her PhD, Lynch was awarded the L'Oreal UNESCO fellowship, and as a result of which she was able to undertake research in Harvard University. She was subsequently awarded the Marie Curie Fellowship. "[The fellowships] were just the best thing that ever happened for my career", she explains. "The salary and the travel grants gave me a little bit of independence in the labs that I worked in." The Marie Curie fellowship in particular was a huge asset in helping her advance a burgeoning career as a research scientist. With a large network of other recipients, the fellowship meant that she could meet other like-minded people while also having the independence to work on the projects she wanted to. Financially, it was also a great move for her family. "The Marie Curie fellowship gives you extra money if you have a family, which made it more affordable to live in Boston, where childcare and accommodation are extremely expensive", she explains.
Nowadays, Lynch's research focuses on the link between the immune system and metabolic system, in particular the areas of obesity, immunity and cancer. A stint in Prof Donal O'Shea's – known for his appearances on RTE's Operation Transformation – obesity clinic, which was newly established at the time, inspired Lynch's interest in this research. "People with obesity were far more likely to get cancer and infection and the vaccines didn't work as well", she explains. "I started to think that this was an immune problem and I just had to study that."
Currently, Lynch has a joint appointment with Trinity and Harvard University, and splits her time between the two. The Lynch Laboratory spans both universities, with three people in the Boston lab and eight in Dublin. Speaking to The University Times, Professor of Experimental Immunology Kingston Mills, who has worked with Lynch on several occasions including in the Lynch Laboratory, says that she is an "extraordinarily good scientist". "She is a very dynamic, enthusiastic and resourceful person who it is an absolute charm working with her because the enthusiasm is really overflowing all the time", he says. Describing her as a "super colleague and great collaborator", he explains that it is exceptional how Lynch "seems to have so many balls up in the air all the time and keeps them all from falling down".
Her enthusiasm for her discipline is unbridled and it isn't just her colleagues who have noticed this. Jamie Sugrue, who is currently doing his PhD with O'Farrelly on resistance to viral infection, says that "her achievements and successes provide an inspiration for young scientists everywhere". In an email statement to The University Times, he says that her laboratory is "at the fore of obesity research and cancer and offers opportunity for exciting collaboration". "Her choosing to set up her lab in Trinity is a nod to the exciting direction Irish science is moving", says Sugrue.
It does appear that, led by people like Lynch, Irish science is having its moment on the international stage. This week, Trinity is holding the landmark Schrodinger at 75 conference. The conference, which will celebrate the 75th anniversary of Erwin Schrodinger's 1943 "What is Life?" lecture. Over two days, 20 speakers will talk about the future of biology. Included among the five Nobel laureates billed is Lynch – the only Trinity academic speaking. The conference is seen as an opportunity for some of the brightest minds in the world to converse while also allowing students to shadow these prominent people.
It is unsurprising that Lynch was chosen to appear at the event. One aspect of her work that she is distinctly particular about is making sure that everyone, whether they are from a science background or not, understands the research she and others are doing. She also places great store by ensuring they're getting information from reliable sources. In an age of climate change deniers and rejection of facts, people advocating for this sort of transparency is more pivotal than ever. Describing the area of science communication as "crucial", she says that research is "funded by charity and government money so it's so important that people know what we're doing with it".
"People need to become more educated about how long the scientific process takes", she says. "Scientists aren't hiding a cure for cancer."
Another topical field that Lynch feels strongly about is the area of women in Stem. In 2016, she won the StemAward at the annual Tatler Women of the Year awards. Despite making clear that she herself has never felt discriminated against because of her gender, she does feel that women "tend to have more of an impostor syndrome".
"They often stand in their own way", she says. "There's that cliched story about a job having 10 criteria, and there's a man and a woman who each fulfil two of the criteria. It won't bother the man but the woman probably won't apply for that job. It's a stereotype but it has some weight."
Lynch's research and career have been both prodigious and extremely successful, with plenty more still to come. She has overcome every hurdle in her path with success and composure, and should surely be a poster girl for anyone wishing to pursue a career in research or academia. Her outlook on science matches her outlook on life, as pointed out by her one-time supervisor, now-friend, O'Farrelly: "She's someone who always sees possibilities, whereas other people always see problems. She always sees possibilities before the problems, and then if she encounters a problem then she does what she has to do. She solves the problem."