Climbing the stairs of Regent House last night, one could already hear the buzz of voices and the jazzy house beats, as Trinity Fashion Society (Fashion Soc) hosted its design showcase, a hugely successful event that brought together passionate fashion creatives from all over Dublin.
The beautiful high ceilings of Regent House echoed with lively chatter and lit up with the flash of cameras as a host of stylishly dressed young people posed for photos and examined the clothing on display. The designers in attendance were an eclectic mix of students making clothes for themselves, Dublin-based fashion brands, and fashion design students. From the National College of Art and Design (NCAD), the graduate designers Amy Dinneen, Jordan Hannon, and Susan Rogers (who was recently a finalist in the Young Designer of the year award), as well as Twiggy Moore, who is still studying at the art college, presented their style offerings. Trinity's Fiona Phelan and Nina Bach displayed the clothes that they make for themselves. Streetwear brands SelfMade, Diamond Piece, Secure Studios, Pavements Grey and Nostalgia also had a range of clothing available to buy on the night.
Speaking to The University Times, Moore, who has taken a year off college to research for her final-year project, commented on how each designer's "personality" could really be seen in the layout of the event. Reminiscent of designer showrooms at London Fashion week, the designers' rails were set apart from each other, running in a circle around the expansive room.
ADVERTISEMENT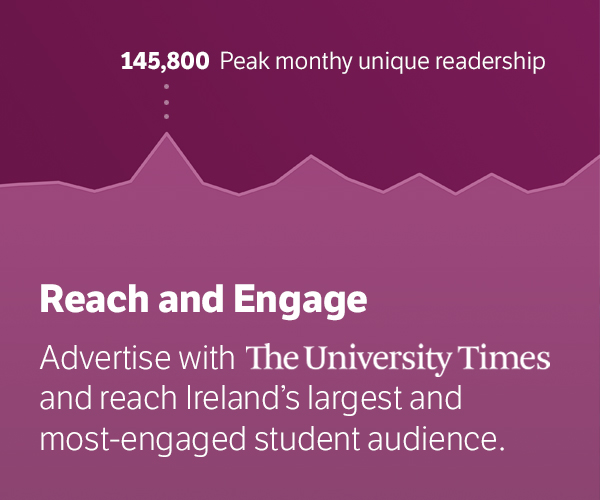 The event had a real feeling of professionalism, but this did not take away from the laid-back and sociable atmosphere – one boy strutted down the centre of the room with two bum-bags slung over each shoulder, as another posed in a pink quilted jacket boldly embellished with the word "bitch". The most amusing "fashion" offering of all was a pair of broken black boots and a half-drunk Starbucks coffee poking out of the top of the bin, a charming reminder of the less glamorous side of fashion. Attendees ended the evening perched on sofas in the equally beautiful Graduate Students' Union (GSU) Common Room, chatting over the hotly anticipated free wine and nibbles.
Speaking to The University Times about the event, Fashion Soc chair Eleanor Scott said: "I'm so delighted to be able to give a platform for young Irish design talent. There's such a wealth of amazing people working in Dublin especially and it's so great to get them all together to experience each other's work." This was certainly an exciting event in the Dublin fashion scene that brought together students and graduates with clear passion and drive in the fashion community. We look forward to seeing what Fashion Soc has in store next for Trinity's fashion devotees.