Students have blasted the College after the library's opening hours were cut over the Easter weekend, with a crowd of more than a hundred left waiting outside this morning ahead of the start of exam season next Tuesday.
The library, which normally opens at 9am, did not allow students in until 11am today due to the Easter bank holiday weekend, resulting in a "frenzy" that left students racing to get to the turnstiles in a situation described by one as "scary and impossible to get out of".
Students have also reported overcrowding in the 24-hour Kinsella Hall, with many seats being saved overnight.
ADVERTISEMENT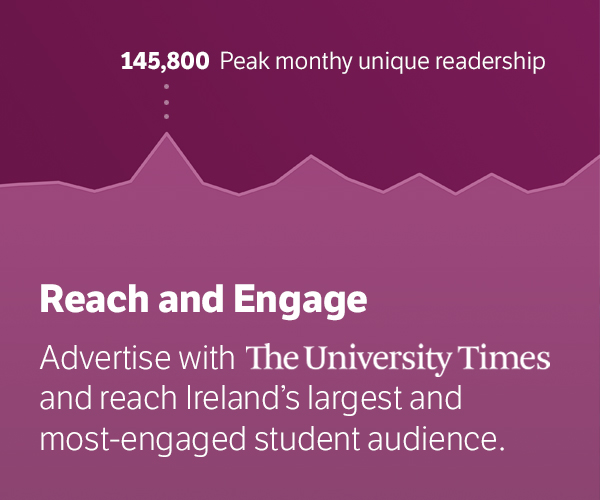 In an email statement to The University Times, Julie Leenane, a second-year history and English student, said the rush for a seat created a "funnel effect" in Trinity's library this morning: "The area at the Berkeley entrance was packed, and everyone was on edge to get in and get a seat first."
"With library hours restricted this weekend, everybody was desperate for a desk, and when the doors opened, there was a rush to the turnstiles with a funnel effect that students felt was scary and impossible to get out of."
Leenane commended the staff of the library for working over the Easter weekend, but said that "having exams on Easter week has put everybody under immense pressure".
Many students took to Twitter to express their anger at the library's closure, with some delivering a rebuke to Trinity College Dublin Students' Union (TCDSU) over its silence on the issue. Some hit out at the union for failing to condemn College's handling of the situation.
Tweets sent from the union's page said: "We fought to get the hours that we could get. It was this or the library being completely closed over the Easter Weekend."
In an email statement to The University Times, third-year nursing student Megan O'Connor described the situation on campus this morning as a "frenzy".
"While I think every student understands that staff need and deserve their time off, the college scheduled exams for next week", she said. "They tried to squeeze our exams into a four day week and failed to see or care about how it would affect students."
O'Connor finished placement last Friday and said she was "most certainly not prepared to be queueing up first thing as early as seven in the morning in the hopes of getting a seat".
"I'm sad, I'm stressed and I'm disappointed that this was allowed happen", she said.
In an email statement to The University Times, Ryan Carey, TCDSU outgoing Arts, Humanities and Social Science Convenor thanked the sabbatical officers "for making sure that the BLU is open at all this weekend". However, he said that "having restricted library opening hours the weekend before exams is unacceptable".
"The lack of library space has reached crisis levels and the onus is on college to do something about it. Students don't pay thousands of euros per year to get innovative about places to study on campus", Carey said.
Carey said that students could be disadvantaged with the lack of access to books in preparation for exams and assignments: "Many arts students are in need of books that will be inaccessible for the majority of the weekend. My own exams start on Tuesday morning and at present the majority of the relevant books are in stacks where I have extremely limited access to them."
Students also hit out at College for maintaining normal opening hours of the Book of Kells exhibition, which attracts hordes of tourists to see the famous manuscript, as well as the Old Library. The exhibition will remain open on Easter Sunday, while the normal library will be closed.
Susie Crawford, a third-year English student, criticised the College's "insane" decision to keep the Book of Kells open while closing the library, as well as the closure of the counselling service from today until next Tuesday.
Crawford said the closure of the counselling service was a "disgrace". "Mental health services are essential around exams", she said.
"The most annoying thing about all of this", she said, "is that the Book of Kells is open this whole time. There is a library on campus and open for business".
"It's insane to me that students who need and pay for these services aren't being taken care of, but tourists are still being catered to."
Tídgh Maguire, a first-year medicine student criticised the "ill-planned dreadful exam timetable" in an email statement to The University Times. "The timetable was planned at least 4 weeks before exams commence, adjustments could have been made", he said.
Leenane also said that the timetabling of exams could have been executed better: "A two week study period before the exams would have solved all of these problems, and allowed students to perform better."
In an email statement to The University Times, Emma Rossiter, a class representative for first-year biological and biomedical science students, said that while "the staff deserve to have time off on Easter", "all this extra stress can be avoided by simply giving more time to students to study and not having exams take place the day after Easter".
Rossiter expressed frustration with the College for planning the exams this way: "It's like nobody has thought about this or student well-being. It's deeply disheartening to see nurses who have just finished placements to have this extra stress with assignments due this week and exams next week."
Gráinne Sexton, a second-year history and English student, condemned the implementation of the Trinity Education Project, which she described as "disorientating, stressful and frustrating for students".
She said it was "unsurprising" that College "would compound students' anxieties around exams by curtailing library opening hours and announcing that both the Student Counselling and Health Services will be closed until Tuesday".
Sexton continued: "College loves to posit itself as a promoter of wellbeing yet has totally disregarded the welfare of students sitting multiple exams across a four-day period next week."
"The utter failure to take into account the effects of a new assessment system on students who are mentally vulnerable or suffering from extreme stress contradicts Trinity's outward emphasis on wellbeing", she said.
She also criticised College for the lack of communication surrounding these changes, pointing out that students were only informed recently of the limited opening hours of the library this weekend through TCDSU's social media announcements.
This year, Trinity debuted a new year structure, with Christmas exams and a shorter end-of-year exam period. Students reported "massive stress" before Christmas as they crammed for a week of intensive assessment.