Speaking to The University Times, filmmaker Rachel Fitzgerald explains the source of her inspiration: "I think what inspired me the most was watching short animated films, especially films that had been made by past graduates."
But if the IADT alumnus has been inspired by past graduates, however, few student films have been greeted with the success that Fitzgerald's "Bubbles" has. It won Best Student Short Film at the Dublin Animation Film Festival and saw Fitzgerald named Best Emerging Female Talent at IndieCork Festival.
However, it was at IADT that Fitzgerald was introduced to a variety of animation processes, such as design, storyboards, layout and composition. She had trouble deciding which one to focus on, because "I liked them all and I liked being a part of the entire process and watching the story and film evolve. So making a film just seemed like the most natural thing to do".
ADVERTISEMENT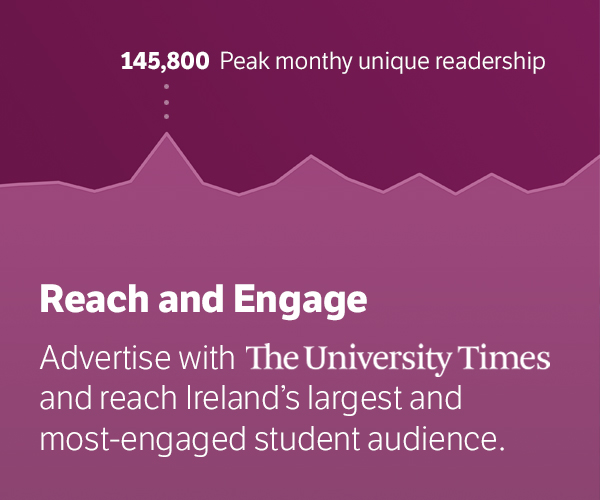 "Bubbles" – the graduate project that went on to become a multi-award-winning film – does not disappoint. It is a story about the relationship between a puppet and her puppeteer and, in three short minutes, manages to convey a series of complex emotions set against the backdrop of beautiful animation and a haunting voice-over.
"It's a story of love, control and manipulation", Fitzgerald explains. She wanted "Bubbles" to convey universal themes, so that anyone watching could connect to it, through their personal experiences and feelings. Fitzgerald knew she wanted the voice to be "the driving force behind the narrative" and eventually settled on telling the story from the puppet's point of view. She loved the idea of "her being infuriated by her other half's bad habit", and her ultimate focus was the portrayal of the relationship justice.
Fitzgerald prefers animation to be thought-provoking – she says that she "loves animation that makes me think, that has some kind of depth". She definitely achieves this through her own work. Though "Bubbles" is only a short piece, it successfully conveys a range of emotions through its succinct and clever dialogue and its unique, charming animation style.
Though Fitzgerald admits that the application process for various film festivals is long and at times tedious, she feels that the pros far outweigh the cons. "Attending festivals is so much fun", Fitzgerald says, adding that she definitely felt "a sense of community and support. I think there's a willingness to help each other out – everyone knows that making films isn't easy".
Having just graduated from IADT earlier this year, Fitzgerald is currently working on freelance projects as an illustrator and continues to do personal projects such as gifs or cycles "just for fun". With the acclaim that "Bubbles" is attracting, the future looks bright for Fitzgerald – and we can only hope she has more films in the works soon.