Wardrobes far and wide suffered a lockdown-induced culture shock earlier this year. With no social occasions to dress for and no high-street stores to peruse this summer, even the reliable denims were deprived of Vitamin D. For a time, online shopping accelerated. However, that was before news of Bangladeshi garment workers – over one quarter of whom had lost their jobs by April – and underpaid workers in an overcrowded textile factory in Leicester, started to make the headlines. Suddenly, the long overdue conversation surrounding ethical consumption seemed to go from a whisper to a shout.
With many second-hand sellers closed or in the process of adapting, people began to look elsewhere. Enter Depop – a self-described "fashion marketplace app where the next generation come to discover unique items". The platform connects buyers, sellers and window shoppers across the globe, and strives to enhance the accessibility, appeal and diversity of pre-loved fashion. The network was founded in 2011 and soon garnered large pools of engagement in the US and UK. According to home-grown aficionados of the field, Emily-Jane and Isabel Doyle, it didn't take off on Irish shores until lockdown.
Trinity students Emily-Jane and Isabel, or "The Doyle Twins" as they are known on Depop, now boast a staggering following of over 34,000 and a much sought after blue verified badge. When asked about turning their bedroom business into a bustling enterprise, I'm surprised to hear that "it was very slow actually". Since establishing the joint page in the summer of 2019, Isabel admits that she "wouldn't have said it was a business until March of this year – until lockdown really. That's when everything just kicked off and it started getting a bit crazy."
ADVERTISEMENT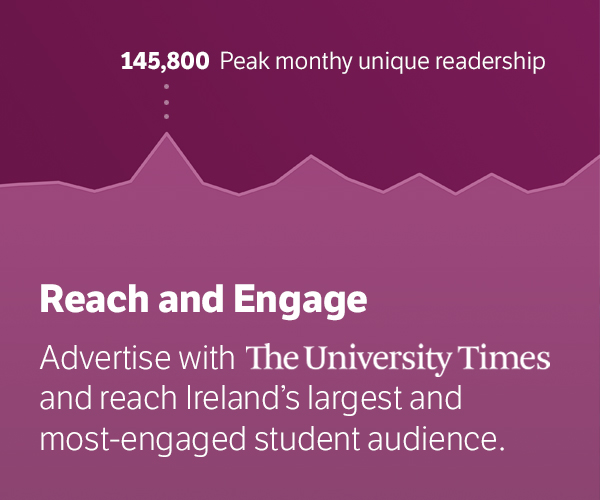 Emily-Jane attributes this upsurge to a heightened consciousness of sustainability alongside a widespread yearning to humblebrag online about items hand-made or upcycled during lockdown. "Loads of students were getting the €350 a week as well so they had money to spend", she adds with a knowing smile, "that's our theory anyways!".
As the twins talk me through their process, it dawns on me that Depop-selling is rather like baling hay. First things first, "we will pray that it's a sunny day…" Isabelle begins. "We wholesale stock in", she explains, referencing stock that is bought in bulk and then left in big boxes in their office-cum-bedroom. "We'll pick a few bits, bring them down [outside], photograph them. I do all the editing and posting and then once it's edited and posted, it's put on a different rail." From here, as items sell, they go "into the sold box and Emily Jane does all the packaging". "We learned from a few mistakes but you have to have a system", Isabelle affirms.
Having predominantly thrifted for stock in person, from Wexford to Luven, throughout last year, the girls have since taken to wholesaling from UK suppliers as it guarantees a more consistent flow of style-specific stock. This initially meant that their page showcased a lot of "hype" or branded fashion, but having refined their content, the twins now feel their style is closer aligned with what Depop calls "Y2K" which is fashion of the 90s–early 2000s. "Think Mary-Kate and Ashley kind of vibes", Isabelle offers. "That's how we dress ourselves and we think that's where Depop is going."
To embellish their brand, The Doyle Twins have also taken to personalising their stock on a sewing machine. "We figured out that cropped t-shirts sell among younger girls", Emily-Jane reveals, explaining how they often rip larger or less shapely items apart completely and re-work them so that they are only recognisable by brand. "We also paint tote bags which we've kind of stopped doing but we should probably get back on it before college kicks off again", Isabelle adds. "That's the worry at the moment", Emily-Jane adds, referring to the ever-impending academic term, "[to] see if we can keep up with the pace".
Despite their spike in success, lockdown wasn't smooth-sailing for the young entrepreneurs. In the early weeks, "our dad was sick so we all obviously had to be isolated for two weeks. We put a post up on Depop saying: That's it. We're stopping for the foreseeable future, because it was kind of scary", Isabel recounts. Once he recovered, the girls noticed "that Depop was flying" and decided to get back into business. Far from turning their backs on the experience however, The Doyle Twins now donate 10% of their profits to St. James's Hospital Foundation, where their father was nursed back to health in ICU having contracted coronavirus working as a doctor.
Fast forward to September 2nd and The Doyle Twins have earned their Depop verified badge following four months of consistently meeting targets. Though overjoyed, it has only taken a mere twenty four hours for the twins to wonder "what's the next goal?". Arguably, it's getting more people aboard the Depop train, and usurping fast fashion.
For the Doyles, the pull of Depop is "a combination of being environmentally conscious, getting cheaper clothes, often that are nicer and better quality, so it just seems obvious to us. We're shocked when people don't buy sustainably". "If you spend like €60 on jeans in Topshop or something, you can get them on Depop the exact same for like €30", Emily-Jane adds. "Maybe we're a bit snobs about that", Isabel ponders, "but it just doesn't make sense to us to shop first-hand".