For many final year students, the sudden closure of colleges and shift to online learning in March was a daunting prospect. For fashion students at the National College of Art and Design (NCAD) who were midway through their degree collections when the pandemic hit, working from home posed particular challenges.
For these students, who relied heavily on in-person teaching and the use of the college equipment to produce their designs, lockdown was particularly difficult. Students were unable to access standard equipment such as industrial sewing machines and steam irons, which, usually, would be used on a daily basis to produce their work.
"It was very challenging, especially when you are not used to working at home", Weronika Regula, a final year student at NCAD who completed her degree in lockdown, told The University Times. "The lack of space was definitely a disadvantage, as well as access to fabric shops."
ADVERTISEMENT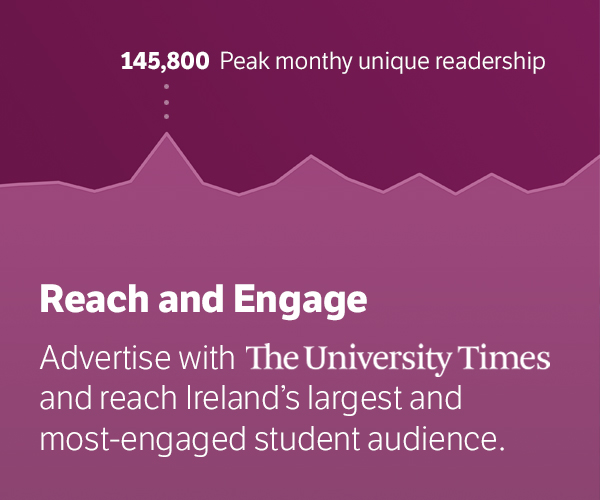 Not only were these student designers faced with physical hurdles during this time, but creative obstacles too. Many students who spoke to The University Times mentioned how jarring it was to move from a highly creative, collaborative setting in NCAD, to a solitary environment working from home. Adapting to these new surroundings was difficult, Sinead Simpson, a final year student said: "There was a big shift in the energy I possessed surrounding my work and my work ethic, I found it extremely hard to adjust to my new working environment."
"NCAD really became a second home to me over the years – when you end up spending more time there then you do in your real home", Simpson reminisced. "I missed being around friends and fellow students to bounce creative ideas off of and to take breaks with to decompress after lengthy late-night hours in the studio."
Olivia Thornton, another final year student, agreed that "not being with [her] friends or in the studio was the hardest part of lockdown". "We get so much inspiration from being around each other and the atmosphere in the studio is always buzzing. I think I was a little bit less creative without all the energy of the other students."
The students also collectively affirmed that their motivation to finish their degree collections fluctuated during lockdown. "So much time, effort [and] passion goes into the final year graduate collection and I began to find it hard to visualise the outcomes given the circumstances", Simpson said.
Although this solitary environment was difficult at first, and caused their motivation to waver, many students noted that it also allowed them to learn to trust their instincts as designers. "I have found that I don't need the constant scrutiny from tutors. I believe in the worth of my work more now", said final year student John Mangru. Thornton agreed, saying: "I learned to trust myself a bit more. When you're on your own and you don't have people around you to ask their opinion, you have to just go for what you think. In the end, a lot of the design decisions I made myself I was happy with and don't know if the outcome would have been the same if I was in college."
For some students, lockdown also provided a new opportunity to experiment with their design processes. "I have learned a lot about my design abilities from being at home alone during lockdown", Mangru admitted. "It's given me the time to spend on developing new techniques that I wouldn't have in a fast-paced studio – for example, beading and embroidery."
Lockdown kickstarted a myriad of necessary conversations about diversity and representation within the fashion industry, and for these students it was no different. "This conversation was long overdue and it is good to see the industry taking responsibility and ownership of their actions and seeing that they can do more", Simpson said. "Being a person of colour, inclusion and diversity have always been a part of my thought process and I hope from now on more opportunities will arise for designers and models of colour but also for the people behind the scenes – those [who] create the effortless images and final products that we see as viewers." Each NCAD student interviewed by The University Times echoed Simpson's sentiments – a promising sign that even if the existing industry may be slow to change, the next generation of designers will not be holding back on championing the rights of people of colour working in the industry.
Sustainability was also a hot topic during lockdown. For Thornton, the past few months have made her realise that we all need less than we consume: "Overconsumption is such a huge problem and I think the fashion industry is at the centre of the problem. I think more timeless and considered design will be an important step for a more sustainably industry."
Although lockdown was not how these students envisioned finishing their collections, they have managed to weather the storm and emerge more confident in their individual capabilities and clearer on what needs to change in the industry they are about to enter. "In the time of solitude, I have really discovered my own way of working and how I want my brand to be in the future", Mangru said.
Do they have any plans to showcase their lockdown collections someday? "We do really want to do something to showcase our work", Thornton admitted. "Social media is great to show your work but nothing beats an in-person experience – even if we have to wait until 2021 to do a show. So watch this space!" For these talented designers, we certainly will.