In deciding to go to Trinity, former US college basketball player Phoebe Sterba would have hoped that, come March of 2021 she and her star-studded team, the Trinity Meteors, would be battling it out in the final few games of the Super League to compete for a championship in Ireland's top club basketball division. But, as it was for many, expectations for the upcoming academic year were sadly unrealised.
With the pandemic having erased all sport from campus since October, Sterba has yet to play a game with the Meteors – the team has not played in a year.
"I guess at some point it just becomes very frustrating", Sterba admits when I ask her how the year has been without being able to play the very sport she thought she had come here for.
ADVERTISEMENT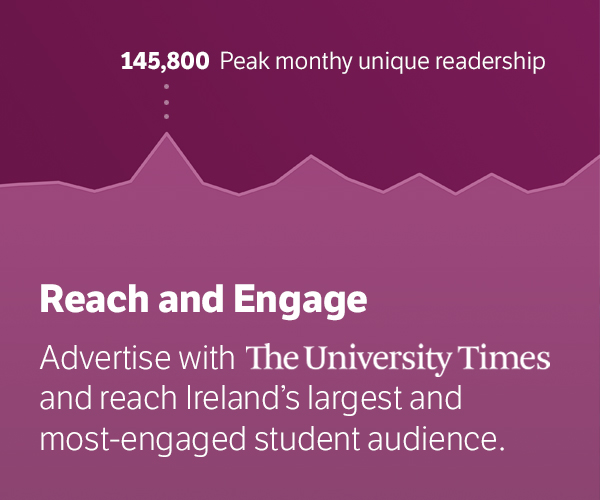 "It's frustrating because I wasn't ready for it to end in any way, like I thought I just had more time which I guess is the hardest part. And when I came here I was like 'Oh my gosh, I'll be able to play another season – this is so exciting', but then it got cut short again."
"But at the same time, I don't want it to be a pity party. Like I know what is going on is extremely serious and it obviously isn't an easy decision for the government or whoever is making these decisions."
Sterba is here on the Global Graduate Sport Scholarship – a program run by Trinity Sport and Trinity Business School which allows athletes to study for their masters while playing their sport for College. Sterba's teammate, US College basketball player Megan Swords, was also locked into the program for this year.
The grave disappointment felt by Sterba can only be understood in the context of her passion for basketball. Indeed, one could say that basketball runs through her veins as her entire family are infatuated with the game.
"When I was born I was immediately put into the basketball gym so it's kind of been my entire life. I would always go to [my brother's] and my sisters' competitions. It wasn't necessarily I was forced into basketball – like, I loved playing", Sterba says.
"So I started playing from the moment I started dribbling basically. It was really cool because my dad was my coach right until I got into high school. It's kind of been a relationship builder with my whole family. It really keeps us close and it keeps us together."
As a six-foot-one guard, Sterba has no shortage of natural ability, but it took an unwavering commitment to hone her talent and become a player capable of playing at the US collegiate level.
"I just had really good coaches who were always very inspiring. They could see my potential and it was just a case of how much effort and how much time you want to put into this."
While playing for the University of Pennsylvania – a top academic school that competes in the Ivy League Conference – Sterba was in effect a full-time athlete, who also had to get through an intense academic program.
Sterba explains how the College held their athletes accountable to keep up with their studies – they were obliged to complete six to eight hours of study per week – and a failure to meet that would result in a ban from practice.
A typical day for Sterba would look something like this: get up at 6am for a morning weight-lifting session, spend the day in class, then immediately after college, lace up for practice.
At first, Sterba admits, balancing the rigour of basketball with college was all a bit of a shock: "It was definitely a huge shock going into it – like, it was very intimidating at first. Immediately I started basketball workouts. It's not like you can ease into it, immediately I was juggling both, in the very first week."
But as with anything in life, one can only work so hard at something if the passion is there to drive you. Sterba agrees: "Oh my God, I have spent so many hours in the gym. Like, I couldn't give you a number but it was always so fun for me."
Sterba's main role for her team was to be that consistent sharp shooter from three-point range, and being of a significant height makes for a dangerous combination of attributes. She was a force to be reckoned with on the team, earning the role of captain in her final year in which she averaged 10.4 points, 4.6 rebounds and 2.4 assists through 27 games started.
Sterba's team was competitive in the Ivy League Conference throughout her four years there, winning the league twice and the tournament in her first year. A championship victory would qualify the team for the National Collegiate Athletics Association (NCAA) division-one tournament, the highest echelon of US collegiate basketball.
For Sterba, getting to participate in that tournament was a highlight of her college career, but also a brutal experience. Having travelled to the University of California for the first round against a team of a much higher seed, they put on a gallant performance and led by as much as 22 points only to end up losing by one having conceded a massive comeback in the final quarter.
"Oh my God, it was devastating", Sterba exclaims. "It wasn't that we couldn't compete with teams – like, we could, we definitely could have won. We should have won. But it was a great experience."
"It definitely shows, like, because sometimes people think: 'Oh, Ivy League schools, they can't compete as well', but I think we proved to ourselves – even though we didn't get the outcome that we wanted. It all comes down to who wants it more and they ended up playing better in the last quarter. It was brutal, so brutal."
The intensity of US College basketball is unparalleled – as Sterba can attest, the stakes are high. It's either win or go home, and often weaker teams can deliver tremendous upsets by virtue of just wanting it more.
The atmosphere, Sterba says, was "incredible". "It wasn't even a packed gym in any sense but it was just so cut throat, everything that happened just felt ten times more exciting than any normal game for some reason. I think just because you knew what was on the line, like you could keep on advancing and advancing."
Sterba has not yet been able to bring her talent and experience to Trinity, and as things stand now, it's unlikely she will get that chance. Head Coach Vinnie O'Keefe says that competitive basketball will probably not take place at all for the rest of the season.
The situation is frustrating for Sterba to say the least, and she's exasperated by the fact that she can't even get access to the gym during level-five restrictions as she is not considered an 'elite' athlete. Her teammate, Edel Thornton does, as a player on the Irish national team.
"We have a bike and we have weights in our apartment room. I definitely stay in shape and stuff, like that's something that I can't stop doing. But it's just hard because you can't really practice in the rain, or I guess you can but you're not going to get that much out of it."
With that being said, Sterba, keeping things in perspective, is grateful for how she's been supported: "The Trinity Meteors and Trinity Sport, everyone has been really supportive in asking me how I've been and such."
"And even when, back when we had practices, my teammates would always reach out to me the coach would always reach out to me and ask how I was doing and such. It's also affecting them, like, it's not only about me, but they were just super helpful in that sense."
With Sterba's talent and experience, all we can do is imagine what could have been with her in the ranks for the Trinity Meteors side as they competed in the Super League. It would have come as no surprise if Sterba, along with Swords and Thornton, had made the team a contender for the title. But speculation is all there is to do. And for Trinity Meteors, there is no sugarcoating the disappointment for them – this season is an opportunity missed thanks to forces beyond anyone's control.