Aisling Conroy is preparing to open her second solo exhibition "ALTER/ALTAR" at the Olivier Cornet Gallery this week. In an email to The University Times, the artist explains that the title is a nod to the word alter, "meaning to change", as well as altar, "meaning to offer up".
Conroy, who studied at the National College of Art and Design (NCAD), combines painting, collage, sound and print in her work to examine topics spanning from psychoanalysis to the role of ritual and the sacred in art. In doing so, her work evokes a range of themes and questions about the human condition.
In 2018, Conroy was named one of eight artists under 40 who "independently and boldly explore the imaginative possibilities of paint" by the Irish Arts Review. Techniques such as mixing motifs and geometric shapes on dark backgrounds and using natural materials in place of canvas won Conroy this honour. She explains that these techniques were inspired by the philosophies of Zen Buddhism, Tantric Hinduism or Shamanism.
ADVERTISEMENT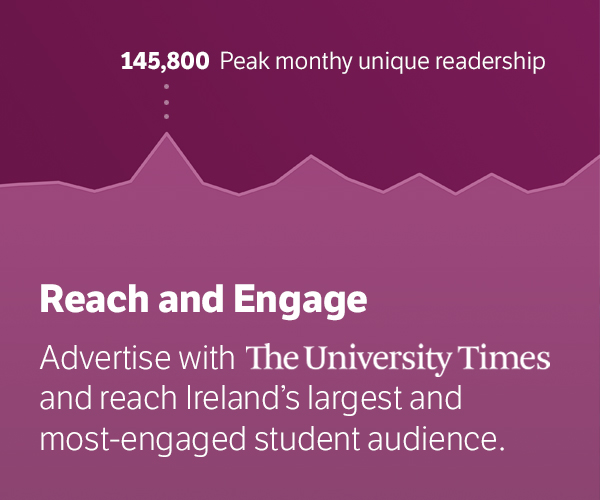 Repetition is also a big theme in her work. "The unconscious mind often repeats the same thoughts and actions in life and ends up being trapped by them – trapped by desire which can only bring suffering", she elaborates. "That's why there's a lot of tension in many of the paintings and they are quite moody."
Conroy suggests that ritual might offer salvation from this by "offering glimpses of universal truths". For this reason, physicality plays a large part in her creative process. Conroy usually works on the ground, focusing on several pieces at a time, which, she says, feels like a type of meditation to her.
When asked about her favourite piece in this exhibition, Conroy points to the "Holding" series, "as they seemed to flow with ease from the very beginning of their inception to creation". Elements of this series also communicates her fondness for Kandinsky's work and the Bauhaus tradition.
The poignant dark circle in the middle of this series symbolises "a universal darkness, the void but also, magic, manifestation and change", she outlines. The overlapping motifs represent our often "multi-hyphenated lives", taking on several roles and responsibilities at the same time, she adds. "When one 'alters' or changes, one also needs to purge and offer up an old part of themselves – altar."
ALTER/ALTAR runs from September 12th–October 2nd, Tuesday–Sunday, at the Olivier Cornet Gallery and online. In-person visits must be booked in advance.