Students joined a group of around 150 protestors at the Dáil this evening calling for affordable housing as part of the Raise the Roof campaign.
The Union of Students in Ireland (USI) joined Trinity College Dublin Students' Union (TCDSU) and other campaigners outside Leinster House, calling for "housing for people, not for profit" and "housing for students, not for profit".
Speaking to The University Times, USI President Clare Austick said the union is "absolutely outraged" by the lack of support from the government on this issue.
ADVERTISEMENT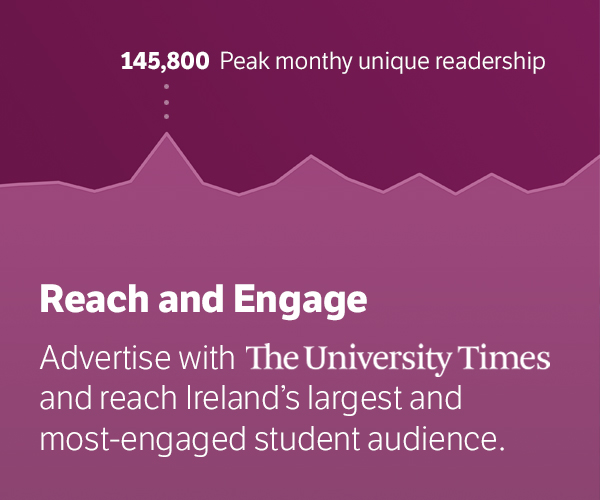 "We hear of thousands of students in Ireland who have no accommodation to stay in at the moment. Students' unions across the country are getting a hundred emails, phone calls on a weekly basis looking for student accommodation for their students and it's not good enough", she said.
Earlier today, the USI condemned the lack of accommodation for students returning to campuses, saying some are dropping out as they cannot find somewhere to live.
The union said that one student union has reported receiving over 100 requests for help a day on its accommodation Facebook page.
"We need purpose built student accommodation from the government", said Austick. "We need a financial provision from the next budget, 2022, to make sure that the stress and pressure that students are under is alleviated."
She added: "We cannot talk about access to education when students don't even have a physical space to live in."
Speaking to The University Times at the protest, the Social Democrats' Housing Spokesperson Cian O'Callaghan said: "We think this is a very important protest. Rents are incredibly high, they're amongst the highest in Europe."
"We have over 120,000 households on housing waiting lists living in insecure tenancies. We have more than 8,000 people living in emergency accommodation."
He added: "It's incredibly important that people stand up for the kind of housing that we need. There's a billion euro that the government is currently giving to landlords each year in subsidies and we need that money instead to be invested in housing for people."
Speaking to this newspaper at the protest, TCDSU President Leah Keogh said: "It wouldn't be an overestimation to say that there's a housing epidemic at the moment. It's actually a huge barrier to entry to higher education in general."
"Average rents are skyrocketing, over €1,000. Students working all the hours in the world can't afford to pay rent, and it's an annual scramble", she said.
"Students don't want luxury accommodation like what's being built. Students want accessible, secure, affordable and, most important of all, publicly-funded accommodation, and that's what they deserve."
Keogh added that the union wants to "let [the government] know that the housing crisis hasn't gone anywhere, and we won't go anywhere until they put their money where their mouth is and publicly fund housing for all students".