Students flooded Front Square this evening to protest the continuation of online teaching in College.
Around 200 students gathered at the Dining Hall chanting "let us in" and "face to face".
Organised by student campaign groups Students4Change and TCD F2F, various speakers rallied the crowd and claimed students had been misled and robbed of their college experience.
ADVERTISEMENT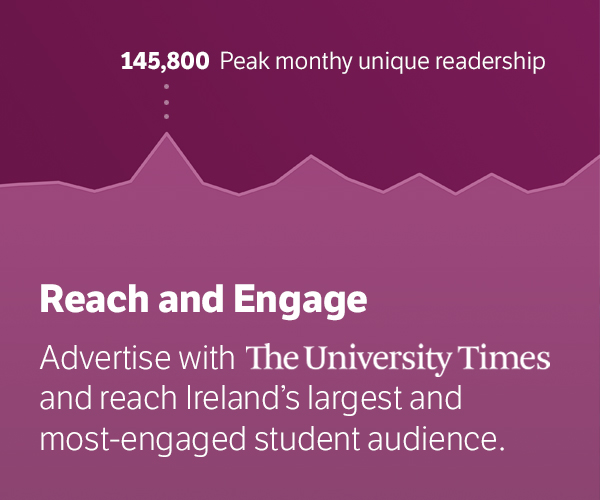 Speaking to The University Times, Students4Change Chair Lázló Molnarfi said that students' education "needs to be taken into account".
"All they have given us is bureaucratic jargon and excuses", he said. "Instead of giving us proper in-person classes, they spent the summer writing meaningless statements and emails full of empty promises."
"We want immediate reinstallation of face to face learning, or if this is not possible, we want refunds. We want the library and other facilities open for students, we want overnight guests allowed in Trinity accommodation, as per government guidelines."
Provost Linda Doyle was in attendance – speaking to The University Times said: "I completely get where people are coming from and how they're frustrated."
"I'm here to listen to what they have to say. Without a doubt we're doing lots of things that are addressing the things [students are saying]."
She added: "I sent an email to one of the organisers earlier today outlining all the things we are doing. And there's other things that we need to do better at. But I'm completely happy to work with people to make things better."
Last week, the Provost committed to removing all social distancing in College after reading week.
In a video posted to Twitter, she said: "We are having issues especially about in-person teaching and learning. I want to assure you we are working through those issues and focusing on finding solutions."
It is unclear what this will mean for in-person lectures.
Speaking to The University Times, Union of Students in Ireland (USI) Vice-President for Dublin Caoimhe O'Carroll said: "I came here to stand in solidarity with TCD students."
"I think it's a real shame that there hasn't been an increase in face-to-face learning."
People Before Profit TD Mick Barry also addressed the rally. Speaking to The University Times, he said: "The cause is a just cause. If they're going to keep the money, they should provide the service. If they don't provide the service, they should refund the money. I hope the movement goes from strength to strength."
Trinity College Dublin Students' Union (TCDSU) Welfare and Equality Officer Sierra Mueller-Owens: "It's our job to show up for students and to support them."
"We're here to stand in solidarity with Students4Change and we're also supporting students and standing in solidarity with the students who for many reasons aren't ready to come back."
Speaking to The University Times, Graduate Students' Union President Gisèle Scanlon said: "I'm looking around and not many postgraduates attended this particular event."
She went on to add that "Laszlo [Molnarfi] seems to have gathered the zeitgeist of what people are feeling at the grassroots. I think it's very important to listen."
Speaking to The University TimesLabour Central Council Representative Jack Nolan said: "We want to mobilise students and make the discontent heard to the College. I'm delighted actually that Linda Doyle turned up, I'd be very welcome to speak to College management and the Provost about this."