Trinity's new Dean of Research Wolfgang Schmitt has said that PhD students should be considered workers and receive the benefits to match, opening the door for a major rethink of how Trinity's doctoral candidates fit into the research process.
Schmitt's comments represent a significant departure from College's current orthodoxy on doctoral candidates, who have grown increasingly vocal about their low pay and poor working conditions in recent years.
Schmitt completed his first degree in Germany, where he says they "did not see PhD students as students".
ADVERTISEMENT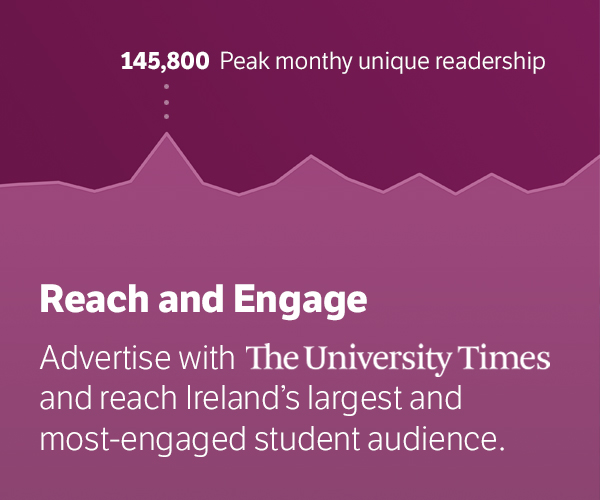 In an interview with The University Times, Schmitt said: "I see my PhD students as co-workers within a research environment – we are part of a team. It means we need to look after our PhD students, we need to provide an environment, first of all, where PhD students can work and are paid appropriately, particularly in Dublin."
"Whether you pay them in a stipend or in a salary, it probably doesn't directly make so much difference, provided that we offer an environment that is actually suitable, that the salary is adequate for what we are doing", he said.
"We need to put structures in place that also see the human being behind the research", Schmitt added.
Dean of Graduate Studies Martine Smith said more funding is needed, but stopped short of suggesting that PhD candidates are workers rather than students.
Speaking to The University Times, Smith said: "There are plenty of people who have employee status and are on very low wages, whose position is just as precarious as that of a PhD student on a stipend. So I really don't think it's the status of employee or student … it's more the financial viability of their situation."
"My view would be that there is something really important about the status of a student. The university carries with it an obligation on the university to support the education and development of students, which is quite different to the obligation of university towards the employee."
Smith said that, if Ireland were to adopt the Nordic model of PhDs, there are many things to be considered such as dropout rates, time taken to complete research and earning power once the PhD is obtained.
"We really need to get the best from it, rather than being left with the worst of both worlds", she said.
"There is just as much potential for students to find themselves directed away from their core research for their PhD into research activity that's needed for another project, because they're an employee linked to that project."
At the end of the last academic year, University Council approved a strategic plan to review Trinity's postgraduate programmes.
"One of the key ambitions was that we would undertake a review of postgraduate education and development across both taught and research students", said Smith.
The consultation process of the review is due to begin now, she said.
On research and teaching, Schmitt said a "healthy balance" must be achieved.
"I strongly believe that teaching is part of what an academic institution is supposed to do and so we need to evaluate how we can provide the highest quality teaching, whether it's a kind of online learning, laboratory classes, or in person lectures, tutorials", he said.
"It's very important that research feeds into teaching so that we can provide students with a state of the art curriculum."
Schmitt added: "We need to look at our infrastructure also to see what we as a university can do to alleviate researchers or to see what structures we can put in place so that we have a reasonable time balance with respect to teaching and research."
Dean of Students Catherine McCabe – whose remit covers all students, undergraduate and postgraduate – told this newspaper in an interview that viewing PhD students as workers represents "a huge mind shift".
"In some ways I'd be careful what you wish for", she said, adding that staff were cognisant of the issue.
The idea that College should consider PhD candidates as workers has taken hold in recent years, with postgraduate students becoming increasingly outspoken in their frustration with pay and conditions. In June, College Board approved a policy under which it must provide occasional staff with the terms and conditions of their employment within five days of their work beginning.
As part of the terms and conditions, occasional staff are considered employees of the university.
The policy also states that the casual payroll is "not appropriate" for regular or ongoing positions.
The unpublished policy document – seen by The University Times – states that "occasional staff are employees of the university" and "must be issued with terms and conditions of employment within five days of commencement".
"Occasional" jobs in College include demonstrators in labs, teaching assistants and administrative and technical work.
The new policy states that the employment of casual staff must comply with principles of responsiveness, fairness and transparency and "organisation requirement", meaning that a position has to be filled on a temporary basis such as covering sick leave.
"Where a role is required on a regular or ongoing basis, the casual payroll is not appropriate", the policy says. "Such roles should be filled on a salaried basis on the same terms and conditions as other salaried roles under the standard recruitment policy."
Occasional staff are paid on College's casual payroll on the basis of approved "casual pay claim forms".
In 2019, nearly 80 students and staff members gathered at House One to protest a decision by the Finance Committee which would have seen their teaching pay cut by nearly 20 per cent.
The morning after the move was first revealed by The University Times, postgraduate students gathered outside the building where Finance meets, chanting "postgrad rights are workers' rights, workers' rights are human rights".
The students – joined by representatives from the Union of Students in Ireland (USI) and Trinity College Dublin Students' Union (TCDSU) President Laura Beston – greeted members of Finance as they entered the building, calling: "Please don't cut our pay!"
Speaking to The University Times, Shaz Oye, the then-president of the Graduate Students' Union (GSU) – who sits on the committee – said the union "dissents to" the decision.
"It's really sort of shocking that TAs and demonstrators – who are on minimum wage to begin with, and rely heavily on that, because of cost of living, to literally feed and clothe themselves – that those rates that they're paid for demonstrating and as teaching assistants is cut", she said.
Finance ultimately rowed back on the decision.