College has given the go-ahead for Trinity Ball to take place on April 22nd next year, The University Times has learned, after two years without one of the highlights of the Trinity calendar as a result of the pandemic.
The biggest private party in Europe will return to campus after an enforced hiatus due to the global spread of a deadly virus. And, perhaps taking inspiration from the Tokyo Olympics, Trinity is calling its flagship event "Trinity Ball 2021".
In a memorandum to Board obtained by The University Times, Secretary to the College John Coman wrote: "Board is requested to note and approve that Trinity Ball 2021 will take place on Friday 22 April, 2022 subject to national public health and safety guidelines."
ADVERTISEMENT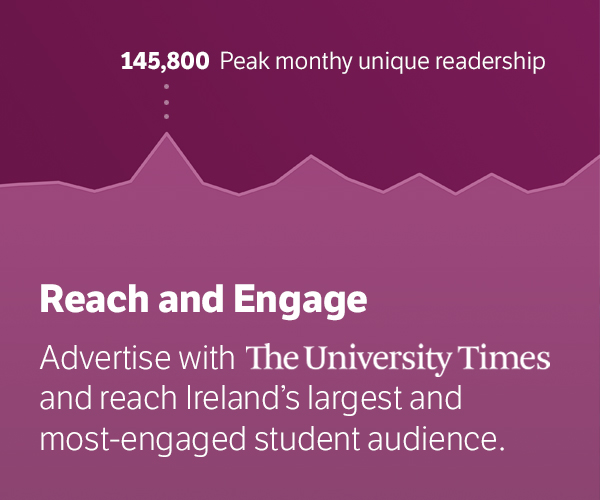 The memorandum was approved at Board last month.
In an email statement to this newspaper, Trinity College Dublin Students' Union Ents Officer Greg Arrowsmith said: "We're planning on running Trinity Ball on Friday the 22nd of April. This is due to the increased cost of workers on a public holiday (Good Friday) the week before, and still leaves 10 days before the first exam to study."
"I've begun working with MCD on the act list, and am excited and hopeful that we can make the first Trinity Ball in 3 years the best one yet", he said.
Trinity Ball is usually held on the Friday before Trinity Week, with summer exams beginning the following week.
Online tickets for Trinity Ball in 2020 sold out within hours after selling out in only an hour the previous year. The line-up included Eat Everything, Rejjie Snow, DJ Seinfield and Metabolix – the band fronted by Trinity lecturer Prof Luke O'Neill. It was to be headlined by Tinie Tempah, who also played at the ball in 2010.
Although it was hoped that public health guidelines would ease in time for the Ball to go ahead this year, a lengthy lockdown in Ireland for the first half of the year saw it cancelled for the second year in a row.
In an email statement to The University Times at the time, Trinity College's Students' Union (TCDSU) then-Ents officer Hugh McInerney said that "the committee decided that with the numerous factors surrounding large events in Ireland and how the situation can drastically change in a matter of days, it would be safer to cancel the ball for 2021 and focus on a return to Trinity Ball in April 2022".
"We are of course extremely disappointed by the cancellation of the ball for a second year in a row, but public health and student safety understandably has to come first", McInerney said.
Trinity Ents instead hosted a free online festival in place of the traditional Ball. Malaki, Nealo and Ailbhe Reddy were among the event's headline acts, which were filmed at some of Trinity's best known locations.
Ents Officer Arrowsmith had planned during his election campaign to host an extra outdoor "Trinity Ball 2.0".
In his manifesto, Arrowsmith said: "As Ents officer, I'd organise a massive, live music ball off-campus as soon as possible, with current 4th years invited too so that we can make up for two missed T-Balls."
His opponent in the Ents race Antonia Brady disagreed with the proposition of two Trinity Balls, deeming it "nearing impossible" to organise. Arrowsmith on the other hand stated his strong support for a second Trinity Ball if "viable", saying he was "very confident" in his ability to organise a large-scale outdoor event following the cancellation of this year's Trinity Ball.
Arrowsmith narrowly beat Brady at the polls, receiving 49.9 per cent of the vote.
During the provost elections, Prof Jane Ohlmeyer, one of three candidates, committed to hosting a second Trinity Ball to make up for students' loss of two Balls in a row.
Ohlmeyer said that the first Trinity Ball would be held as normal in April while the second would be held in August 2022.
She said priority ticket options would be offered to students in the classes of 2021 and 2020, who "will have missed out on this significant event completely at the end of their studies".
The promise came as part of a "New Deal" which she announced to students during the campaign period.
"It is, she said, "a symbolic example of the new kind of relationship I want to have – I believe Trinity should hold two Trinity Balls in 2022".
Ohlmeyer won the six votes given to TCDSU in the election, but she was the first candidate to be eliminated on the day of the election.
The 2020 lineup was leaked ahead of time when Snow posted the lineup on Facebook several hours before the announcement of the lineup that evening.
The lineup was confirmed by Trinity College Dublin Students' Union (TCDSU) in a post.
The unexpected announcement on Facebook was a continuation of a long tradition of inadvertent leaks ahead of the Ball.
In 2019, Scottish singer-songwriter Nina Nesbitt posted on Twitter that she was set to play in Dublin as "part of trinity ball". The year before that, George Ezra fans received an email from record label Sony UK that included one tour listing as Dublin, Trinity Ball.
The 2019 Ball was headlined by the Coronas, with Nesbitt, Dublin rapper Kojaque and R&B singer Mabel. Tickets rose in price that year to €91 from €87 due to an increase in VAT.
Students were given full refunds for their tickets to Trinity Ball when it was cancelled in March 2020.