"Like all great wars, you kind of forget who fired the first shot", David Kenny, an associate professor of law at Trinity, explains. Many historians can attest that the origins of the wars that shook the world are the subject of great debate and the "great war" to which Kenny is referring to is, as far as those involved are concerned, no exception. For several years now, Trinity's School of Law – located in the stately House 39, once home to Nobel Prize winner Samuel Beckett and breeding ground for the country's brightest legal eagles – has been the battleground for a long-standing prank war.
The two sides? Kenny on one, and Registrar and Law Professor Neville Cox on the other.
Nevertheless, Kenny does not seem to concern himself with such minute details as the prank that started it all. For him, one crucial thing is clear: "I'm sure it was Neville's fault originally."
ADVERTISEMENT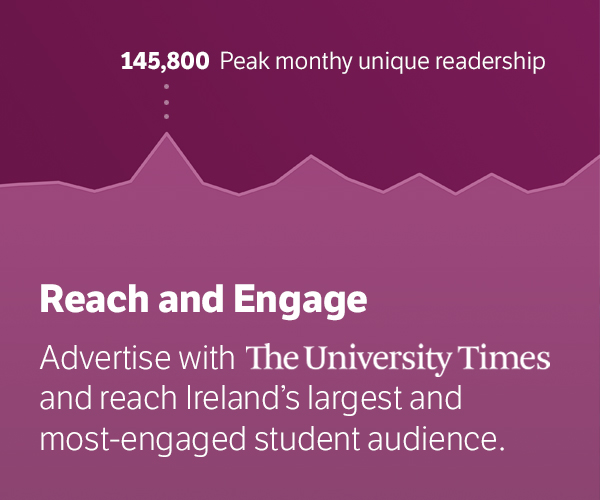 The origins of the conflict may remain shrouded in mystery, but many would argue that an escalation to a full-scale battle had been on the cards for a long time. For years – before Kenny had joined the Trinity faculty – the members of the School of Law "had had sort of a certain back and forth" of practical jokes and slapstick humour at the expense of their colleagues. However, Kenny's arrival coincided with perhaps the most serious escalation in what had been a long history of humorous ambushes.
"Myself and a couple of others in revenge for something Neville may have done to Catherine [Donnelly, Associate Professor of Law] – but I'm kind of hazy on the details – came up with the idea to wrap his entire office in Christmas wrapping paper", Kenny explains. During this mission, no stone was left unturned. Kenny tells me how they wrapped every furniture item, from Cox's desk to his chair, even his memory stick.
Like all great wars, you kind of forget who fired the first shot
For Cox, the attack came as a surprise. "I had a three-hour lecture or something like that and I came back up here and I was just shattered and I opened the door and the entire office had been wrapped up", he says.
Unsure where to turn next, Cox retreated:"I remember just going and shutting the door and then opening it again and I was like: 'What the fuck?'". But, as he explains, the strike had unprecedented knock-on effects: "I had to meet a student and I assume she was having some difficulties and so it was a serious enough conversation and I was sitting in a wrapped up chair and she was sitting in a wrapped up chair."
Cox soon retaliated, sticking "some kind of really anodyne quote" proclaiming Kenny's love of Christmas to his office door. Although these two events cannot be attributed to the prank war, it could easily be argued that they sparked it. After that, as Cox points out, Kenny "started to go for it – like, really go for it".
All great warriors reach their peak eventually, and perhaps Kenny's was his production of a portrait of Cox. The complexity of this attack meant that it needed to be carried out in several stages. Firstly, with the help of a colleague's friend, Kenny got a picture of Cox – which he "Photoshopped with fake brush strokes so it would look like a proper portrait" – printed and framed. Next, he "got this plaque made up that says, 'Dr Neville Cox, Dean of Graduate Studies. Commissioned by the Neville Cox Foundation for the Advancement of Neville Cox'". The final step was the crucial one: "I hung [it] in the Law School."
This ambush had the added advantage of appealing to the student population, a group that Kenny was keen to cultivate the support of. Cox explains how even the location of the attack was strategic: "He sticks that [portrait] up in a classroom in the Law School where people are having classes." Such a bold move soon paid off as Kenny explains that "people from graduate studies were coming up to visit it before [Cox] even knew it existed so it was kind of like a pilgrimage to see the Neville Portrait".
Kenny got this plaque made up that says, 'Dr Neville Cox, Dean of Graduate Studies. Commissioned by the Neville Cox Foundation for the Advancement of Neville Cox'
Involving the student population and escalating the war so significantly had consequences, and soon the public began demanding more information. "A lot of my friends wanted updates on what I was planning next." Expanding the battlefield to the uncharted territory of Twitter was the logical next move.
Cox lacked Kenny's prowess when it came to social media, but he was determined not to yield to him: "The only reason I stayed on [Twitter] was because I thought [if I didn't] it would be a major chink in my armour in the Kenny prank wars." Unfortunately for Kenny, Cox's resourcefulness meant that what was once his greatest weakness soon became a key tool in his arsenal. "Neville would prank me a lot on Twitter", he admits.
While there are few things the opponents agree upon, they both admit that the PE teacher prank that Cox pulled was perhaps one of his best. "I put a tweet out saying that it's always very sad to lose a colleague but David Kenny was leaving legal academia to take up his role as a PE teacher in Mount Anville Girls' School", Cox says.
Such disinformation had dramatic consequences, including professional implications. Kenny explains: "A load of people decided that was true." He says that he "got an email from someone I was writing an article with – a colleague in Italy – about the article we were writing together and he asked if I was going to be able to finish it now that I was leaving my job". Cox relishes such an impact: "That was good … that hit home a little bit."
The only reason I stayed on Twitter was because I thought if I didn't it would be a major chink in my armour in the Kenny prank wars
Another one of Cox's most widely known Twitter pranks was when he announced that Kenny was running for the Seanad. Perhaps grudgingly, his opponent admits that this stunt "was a great one of Neville's … I can't remember his slogan but it was something that was extremely 'me', actually, which is something like: Just because things are okay, doesn't mean they can't be improved upon' or something so superbly bland, but also vaguely credible. I really enjoyed it".
Between the strategising, successful executions and tongue-in-cheek retaliations, Cox and Kenny's rivalry stands apart from most enemies' in that it is rooted in friendship. Despite the ever-growing scale and complexity of the pranks, the good-natured spirit between the two remains unaffected. "Neither of us are remotely annoyed. I just laugh my head off when he does it", Cox explains. Although Kenny does admit that, through performing these pranks, they do get a rise out of one another without which "it wouldn't be fun".
It is Oran Doyle, a professor in law at Trinity, who reveals the link between Cox and Kenny's communication with one another and the battle they are embroiled in: "I think David and Neville just find it difficult to express their true feelings. So this prank war – as sad and pathetic as it may appear from the outside – is really their way of communicating with each other." Many readers will likely share Doyle's diagnosis of the situation: "I can't decide whether it's beautiful or tragic. Perhaps both."
Nevertheless, the beautiful, if myopic, tragedy that is the Kenny-Cox prank war remains, as Ivana Bacik, Trinity's Reid Professor of Criminal Law, Criminology and Penology, explains. "It's a source of endless delight to me and I know also to the many staff, students and alumni in our wonderful Trinity Law School community."
Despite the ever-growing scale and complexity of the pranks, the good-natured spirit between the two remains unaffected
However, the prank war touching the lives of College's legal community is not enough for Kenny – he wants to actively involve them in it: "If any of your readers have any ideas, please contact me – and not Neville – to give them to me."
I ask what's next for the war. Kenny is convinced that there is no end in sight. For him the possibilities are endless: "Maybe College would have a day where we encourage everyone to be tolerant of pranks on each other and get everyone in on the fun. Maybe that's how this should evolve."