Two out of three teaching spaces in Trinity are in need of major repairs or replacement, The University Times has learned, according to a major self-evaluation conducted last year.
College's Institutional Self-Evaluation Report included an assessment conducted by Estates and Facilities of the condition of academic areas which found that 63 per cent of teaching and learning spaces were either in need of "major repair or replacement" in the short or medium term or in the short of medium term or "in such poor condition that it would be more economical to replace is rather than upgrade, adapt, and/or refurbish".
Only 34 per cent of teaching and learning spaces were deemed to be in new or good condition. In other universities this number is typically 80 per cent, according to the Estates Strategy.
ADVERTISEMENT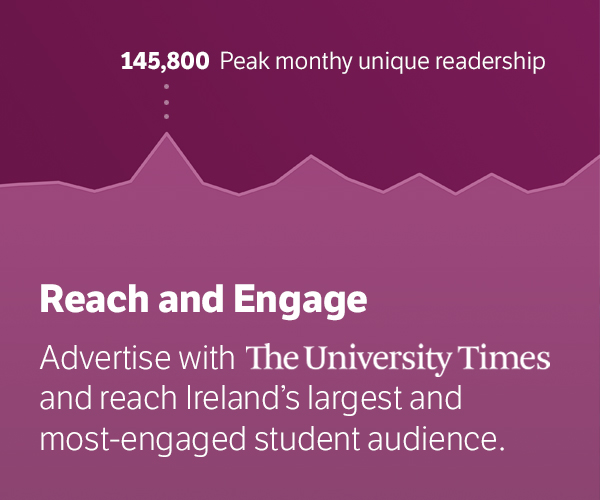 College launched its first Estates Strategy in 2018 which laid out medium to long term plans to ensure the efficient use of space, the improvement of current facilities, and the development of strategic capital projects. It found that 75 per cent of teaching and learning spaces required major repair or replacement, based on an assessment from 2016. The most recent assessment in the Institutional Self-Evaluation report showed that improvements have been made as this number has declined by 12 per cent by 2020.
The Estates Strategy also provided a breakdown of the condition of teaching and learning spaces by faculty using the data from 2016. It found that the Faculty of Arts, Humanities and Social Sciences had the highest proportion of spaces which required major repair or replacement at 92 per cent, while Health Sciences had the lowest at 70 per cent.
The faculty with the highest proportion of new or good quality teaching and learning spaces was the Faculty of Health Sciences at 30 per cent. With only eight per cent, the Faculty of Arts, Humanities, and Social Sciences had the lowest proportion of new or good quality teaching and learning spaces.
The Institutional Self-Evaluation Report also noted that a survey of Trinity's academics found that the average rating they gave to the quality of learning spaces was 2.4 out of five.
It also said that issues such as "the poor condition of existing teaching spaces, the need to plan for additional teaching spaces to respond to future need and strategic growth, the process of space allocation, and co-location or relocation of units to promote cohesion and usage optimisation of resources" were raised in 10 quality reviews between the 2015/16 academic year and 2019/20.
In an email statement to The University Times, Trinity Media Relations Officer Catherine O'Mahony said that the university would not comment on leaked documents but that "we have invested a considerable sum in recent years in a process that will thoroughly assess the condition of all the Trinity buildings, but that process has been delayed by the pandemic and is still ongoing".
The Arts Block has been upgraded gradually over recent years, with €4 million earmarked for renovations to the building. Upgrades have included improvements to the electrical system and more couches for students to sit down.
The report also found that Trinity's current teaching spaces are underused. The utilisation rate of existing teaching and learning spaces – a measure of the average frequency of use and occupancy – was deemed likely to be below 30 per cent, although this is just an estimate as no reliable data was collected.
The report identified Trinity's listed buildings and protected structures as another issue in maintaining high quality teaching and learning spaces. It said that "listed buildings and protected structures are expensive to maintain and difficult to repurpose to align with changing pedagogy and student and staff expectations".
The report noted that financial pressure "has been unremitting over the past decade and has meant that the amount of money available for maintenance has been severely constrained". It noted the value of government investment for large capital projects such as the E3 Learning Foundry and Old Library redevelopment but stated that "the past decade has seen little provision from the State for upgrade and maintenance works".
It also stated that while philanthropic donors support flagship projects they are "less enthused to contribute to essential maintenance and upgrading of existing infrastructure."
In an email statement to The University Times, Jennifer Taaffe, College's director of alumni and supporter relations, said: "While philanthropy would not normally be a source of income to support building maintenance/upkeep, by supporting/offsetting existing university budgetary spend (such as on academic posts or capital costs) it has the effect of freeing up university funds which can then be used to cover maintenance costs."
"So while it rarely directly supports these costs, the existence of philanthropic income in different areas acts as an enabler for the university to invest in these types of costs", she added.
Taaffe also provided a breakdown of the spending of the €409 million raised over the last decade through the Inspiring Generations philanthropic campaign with 24.5 per cent of the funds raised going towards capital projects.
Another major finding of the report was that the Academic Registry has been severely underfunded, with only one per cent of total College income going to Academic Registry (AR) each year. The report said that "periodic reviews of Academic Registry in the years up to 2015/16 have resulted in many improvements. However, the ever-increasing growth in the volume and complexity of work since 2015/16 has not always been matched with the necessary investment in automation or resources."
The report noted that a benchmark "against 34 UK universities, including 10 research universities, reveals that Trinity deploys only 0.6 per cent of core revenue on AR pay costs in comparison to two per cent in the wider group, 1.4 per cent in the research universities and 2.9 per cent in the London universities."
AR has continued to employ 58.6 full-time equivalent staff since 2015/16 despite an eight per cent increase in student numbers, a 20 per cent increase in programmes supported and a 70 per cent increase in direct applications from international and postgraduate students. As a result, Trinity has failed to meet the targeted turnaround times of 10 working days for the processing of international students' applications and 20 working days for postgraduates.
The increase in numbers of international students since 2015 was cited as an "an added layer of complexity in terms of international entry criteria, sponsorship activities, police clearance checks, visa arrangements, banking etc".
This year, AR has had to organise an increased number of commencement ceremonies due to the holding of postponed ceremonies for classes who graduated during the pandemic. It has also, since 2019, had to organise two exam sessions per year rather than one.
AR has also faced high levels of staff turnover although this has "steadied since 2018", according to the report. It stated that "high turnover has also undoubtedly been attributable to the intensity of the work due to under-resourcing." AR has been used as a "launchpad for new recruits" and experienced staff often secured higher-grade professional roles within or outside of College.
The report also attributed AR's poor reputation to underinvestment. While the majority of AR's work runs smoothly, it said, "the impact of even the smallest number of service failures can be amplified when the baseline reputation is already low", it stated. It said: "This perpetuates the reputational issue and is demoralising for AR staff."
In October 2020, College took steps to address Academic Registry's understaffing by increasing its number of staff by 10 per cent or six full-time equivalents. In addition, the report noted that AR "has also developed closer working partnerships with key stakeholders, such as School Managers, Global Relations and Student Representatives, through monthly fora".
The report identified that "investment will be required to support systems automation" and should be prioritised for streamlining online applications, online management of student cases and postgraduate research administration, and self-serve data analysis and reporting.
Over recent years, Academic Registry have also introduced a revamped registration process and have modernised its fee payment system.