Trinity's first-year footballers have been crowned the Rory O'Connor Electric Ireland Fresher Division Two champions, following a facile 14-point victory over opponents IT Carlow.
Trinity began the brightest of both teams and almost had a goal inside the opening minute. A slightly overhit through pass was played to Jake Burke who half-volleyed it, beating the goalkeeper but striking the crossbar, scoring a point instead. Trinity added another point shortly after courtesy of an impressive long-range effort from centre-forward Ben Kane, which was soon followed by a similarly well-taken shot from distance by midfielder Connor Leonard.
Carlow opened their account then with a point from play before Kane pointed from a free to make it 0-4 to 0-1 after 10 minutes. Trinity were cutting through the Carlow rear-guard with ease and despite squandering a number of goal chances, it seemed to be only a matter of time before they would raise a green flag.
ADVERTISEMENT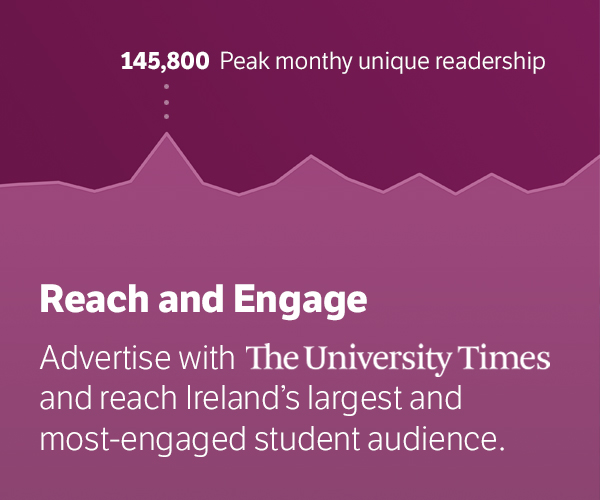 But before that they had to contend with conceding a goal of their own.
A speculative Carlow shot from about 30 metres was half-blocked by a Trinity defender but the rebound spun towards the Trinity goal, falling favourably to a Carlow forward. Goalkeeper Saul McCarthy came out to narrow the angle, leaving full-back Padraic Murphy to tend the goal. In the meantime, the Carlow attacker struck for goal and seeing the flight of the ball slightly too late, Murphy could not stifle the power of the shot enough to prevent it from going in. The goal was a sucker-punch for Trinity who had been dominant up until this point.
Carlow responded shortly after with a sweetly struck free from the ground from just inside the 45', taking the lead for the first time, 1-02 to 0-04. They added another free shortly after, but this was soon cancelled out by a long free from Kane. Both sides traded frees before centre-back and captain Lee Pearson fired over a left-footed effort to tie the game at 1-04 to 0-07 on 20 minutes. Carlow converted another free to regain their advantage but this would be the last time they would lead in the game.
On 23 minutes, the long-awaited Trinity goal came. Having won primary possession in the inside line, Burke fed the onrushing Pearson, who released a powerful low shot from ten metres, rattling the stanchion of the frame of the goal, an inch-perfect finish. Trinity now led, albeit tentatively, 1-07 to 1-05.
It was to get even better for the away side as just moments later they struck for their second major. Corner-forward Cathal Gilligan received the ball in the corner but seemed bereft of options, his marker having stood him up. He looked up and saw full-forward Liam Fenton running towards goal so he lobbed a fifteen-metre pass to him. With two Carlow backs on his tail, Fenton caught it and bore down on goal. The goalkeeper had narrowed the angle but Fenton bounced it around him and fired with his left foot into the back of the net.
Trinity never looked back from that point on. Gilligan sold two dummy solos before shooting over the bar in what was an excellent individual effort. This was followed shortly after by points from play by Kane and Fenton. Carlow added a pointed free to stop the onslaught and half-time was called soon after, Trinity leading 2-10 to 1-06.
Gilligan added another point shortly after the restart, selling a dummy solo to maximum effect before coolly slotting over from some twenty-five metres. Fenton then opened his second-half account, his powerful goalbound effort batted over the bar by the Carlow netminder. The home side responded with an excellent outside-of-the boot effort from thirty-five metres, one of the points of the game. Yet this was Carlow's first point from play since their very first point in the opening minutes.
If it was a sign of a comeback from the home side it didn't last long. Down the other end, Gilligan saw a gap in the Carlow defence and went through it. He then squared it to Burke, who was queuing up for the ball near the penalty spot. He made no mistake, dispatching the ball beyond the reaches of the goalkeeper. Trinity now led 3-12 to 1-07 and from then on were in cruise control.
But just to be sure, Trinity added a fourth and final goal immediately after, rubberstamping their victory. Connor Leonard stood over a free about 35 metres out from goal and deeming it too far out to attempt a point, played a short pass forward into the corner for Burke. He passed to Gilligan, who sold yet another dummy solo and sprinted towards the goal. Playing a one-two with Burke, Gilligan then fist-passed across the face of goal to Fenton, who simply palmed the ball in.
Kane and Fenton then tacked on points either side of a Carlow point from play. Carlow added two points in a row after a spate of poor wides by both teams while Fenton scored the last point of the game, bringing his tally to 2-4 on the night.
In summary, Trinity's forwards seemed to have an abundance of time and space whenever they received the ball, allowing them to pick off scores at their leisure. This was due in part to the off-the-ball movement and speed of Trinity's forwards, but also due to Carlow's defending, which was very slack at times, both in the sense of poor man-marking as well as weak tackling. Were it not for some narrow misses on Trinity's part, they may have well scored a further four goals.
Whenever Carlow advanced beyond Trinity's 45' they appeared listless and out of options and most of the balls that were kicked in were swallowed up by Trinity's full-back line. Carlow's excellent place-kicking kept them in the game in the first half until Trinity scored their second goal.
Trinity scorers: Liam Fenton 2-4, Ben Kane 0-6 (3f), Lee Pearson 1-1, Jake Burke 1-1, Cathal Gilligan 0-2, Connor Leonard 0-1.
Trinity: Saul McCarthy, Darragh O'Callaghan, Padraic Murphy, Luke Casserly, Ruairi McSweeney, Lee Pearson, Cormac Ó Floinn, Connor Leonard, Caoilainn O'Reilly, Jake Burke, Ben Kane, Adam Mezynskyi, Eanna McGeraghty, Liam Fenton, Cathal Gilligan.
Substitutes: Jack Jenkins, Conal Cunningham, Cillian French, Connal Ruddy, Michael White, Sean Cleary, Padraig Clinton, Andrew Lennon, Oisin Ward, Jack Nestor, Patrick Ryan, Dylan Cahir, Oran Morley, Michael Donnelly, Oliver McNamara, Liam Ryan, Benjamin O'Neill, Rory McHugh.