August 2022 was an historic month for Irish rugby.
A two-Test trip to Japan was the first ever summer tour for Ireland Women.
Victory in the opening test on the 20th August was the first ever win for an Irish summer-touring side.
ADVERTISEMENT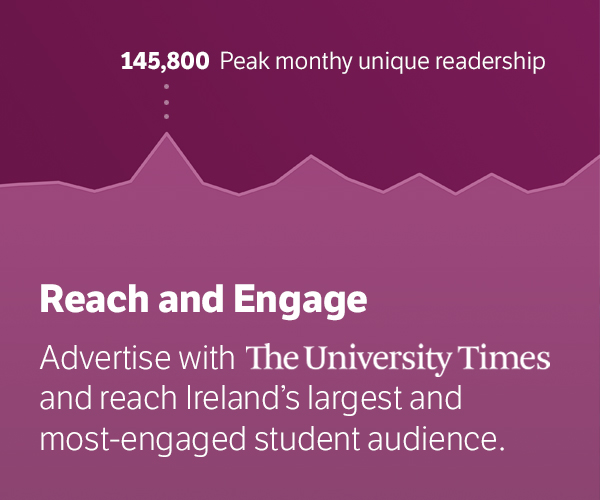 And for Trinity's Méabh Deely, August's aura is amplified by the fact that it was the month in which she made her international debut.
That, and the fact that she scored her first international try in that game too.
"I didn't actually initially make the squad for Japan which was kind of a bit gutting, but then I started training with them and there was an injury and I got brought in", recalls the fourth year Geoscience student.
"It was such an amazing experience…I don't really have the words to describe how brilliant it was", she shrugs, laughing.
Her latter statement is only partially true. When describing playing in a sweltering Japanese summer climate, Deely's diction was decidedly at her disposal.
"It was hot", she says emphatically. "We trained at like one o'clock in the day and it was like 34 [degrees], and then the humidity was making it feel worse. It's like walking into a steam room".
One slightly more pleasant source of warmth felt by Deely was the love and support she received from her more temperate homeland.
"I couldn't believe all the messages I was getting back home and everyone watching the game…it was great that it was actually on national television", she says, beaming.
Ireland bulldozed Japan 22-57 that day. A result all the more impressive given that the Sakura Fifteen – unlike the women in green – had already qualified for the World Cup this coming October.
Deely suggests that an element of underestimation on the part of the Japanese may have played a role.
"We had four new caps in the backline, which is a lot out of seven backs", explains Deely. "I think we were really ready for it" she adds, smiling.
Whilst Japan avenged their defeat 29-10 in the second and final test, this too was an important experience for Deely – "we definitely learnt more from the second game than the first game to be honest" – who started this game too.
All the more impressive were her explosive performances given that she was not even playing her natural position.
"I grew up playing 10 [fly-half], and I was looking at my jerseys as I was packing to come up to Dublin and I have about four or five all number 10, and I'm just like 'Jesus, I'm now a full back!'", she exclaims.
"This year I just got put on the wing and in full back, which I didn't mind because I was glad to be starting" she says.
"I feel like I never got to use my speed [at 10]", she reflects – speed exhibited as she sliced through the Japanese back line for her first test try. "10 can be stressful, but full back can be stressful too in defence" she points out.
Even without a positional change, it is not always easy to integrate oneself as a debutant into an environment as competitive as that of an international rugby tour.
Fortunately for Deely, there were more than a few familiar faces to aid the assimilation process.
"There must have been seven or eight of us Blackrock [RFC] girls in there [the Ireland Squad] so I actually knew quite a lot of the team already", she points out.
"[Along with] Nichola Fryday, when I got my first cap for Connacht she was the captain for Connacht as well at the time… and then Tricky [Edel McMahon], she was there, and Laura Feely…so we were the four kind of Connacht girls there".
It was more than a case of mere acquaintance. Years of playing provincial rugby together meant that Deely had forged fond friendships with these constantly capped campaigners.
"Edel McMahon, everyone calls her Tricky, I just love her so much, I think she's just amazing. Same with Nichola and Laura.
"I always say Laura is like my rugby Mum…I was lucky to get my first cap with them in Connacht, and my first cap with them in Ireland.
Another factor which helped Deely deal with the big occasion was the fact that this was not the first time she'd donned a green jersey.
"I started sevens at the end of 2020…but because of COVID there were no tournaments really", she says.
"I went to some [Ireland] Development Squad tournaments at the end of last year and started this year in Dubai, then I went to France a few times and stuff like that".
Meanwhile, looming increasingly larger on the horizon was the land of the rising sun.
"This summer I got called into screening camp for Japan, it was kind of difficult because they're very similar games but there's differences in it as well".
"That was a huge reason that Greg [Ireland Head Coach, Greg McWilliams] told me why I didn't get selected the first time…I kind of came in playing like sevens and it was too much".
Deely, however, was not to be deterred.
"Once I didn't get picked I was like 'Okay grand I'm gonna stay training and just show them', because I think I knew I was good enough to go, but I knew I kind of got caught in this trap between sevens and fifteens".
She is nonetheless grateful for her sevens grounding.
"I think I've become the player I am because of sevens as well. Like, it's given me so much. Just the training…it is very hard and intense and when you go through that and endure it, it makes you a different player."
"A lot of my skills are much better because of sevens. I think it is a good place to go and develop even if that is for fifteens".
Before her sevens career began with her move to Dublin, Deely plied her trade back home in Galway.
"My dad was a little more apprehensive when I first started but my parents are my biggest supporters all the way through my playing career so far.
"I didn't actually know he was apprehensive until my mum told me recently" she recalls, laughing.
"But now he has completely turned around, he loves it".
Particularly amongst the older generations, the idea of women playing rugby was a shock to some – a social stigma, which Deely and other female rugby players before her have had to overcome.
"I remember I was visiting my granny in hospital one time, I think it was fourteen or fifteen, I just kind of said that I was playing rugby and she goes 'WHAT!", Deely chuckles.
"I was telling my dad the other day about it and he was like, 'I think she would have done a complete 180 on it if she saw you now, you know'", she says.
"Both my grannies died when I was sixteen and the next year was when I started playing underage for Ireland so I think it definitely would have changed their mind for them. I'm sure" she says confidently, in what was quite a moving moment.
Once she moved to Trinity, she then had college life to deal with alongside a blossoming club career at Blackrock Women's RFC.
However, so ably does the fourth-year manage this juggling act – and so down to earth is she as an individual – that you would be forgiven for thinking her another college student. No more so than when she talks of her summer at Electric picnic.
"My friend had a ticket [for me] and then I got called up [for the Japan tour] so I was like, 'oh my god is it gonna clash?". Not a typical student dilemma.
"[the festival] was brilliant, like I didn't know what I was going to expect, four days, but it was actually great craic".
'It's good to get away from it [rugby] . I think it's good to have an outlet even coming to college, like last year my college friends wouldn't really have a notion about rugby…and it's actually nice. They ask me how it's going and I'm like 'ah it's good' and that's kind of it, and I like that", she says simply.
That is not to imply any diminishment of Deely's focus on the future, with the Six Nations starting in February.
There will be an even greater incentive to do well. Qualification for the new annual global 'WXV' tournament is awarded to the top three Six Nations finishers. Ireland, who finished fourth in this year's tournament, are well in the mix.
Similarly positive for the women's game are the new professional contracts being awarded at the end of the month for the first time ever.
"I know there's a lot of girls that are nursing and teaching and like they're working five day weeks, and they go on playing six nations on the weekend, so it'll give those girls like that little bit of like, relief of like not having to do that all the time", Deely explains.
"And actually, hopefully that will come into performance and we won't be as tired…it's a huge step forward", she adds.
Not for the first time then it seems, both Deely's personal upward trajectory and that of the Ireland Women's Rugby are firmly aligned. If the women's game can espouse even a fraction of her enjoyment and energy it is difficult not to see them both continuing to reach new heights together.