Few students can claim to have played senior international sport for five years by the age of 22. An even fewer number of students can claim to have helped their country qualify for a World Cup.
Trinity's engineering undergraduate Leah Paul and human health and disease undergraduate Rebecca Stokell can claim both. In September, the pair was selected for a T20 World Cup Qualifying tournament in which eight countries would fight for two spots.
Picture this scene. The late afternoon sun is setting at the Sheikh Zayed Cricket Stadium in Abu Dhabi. The 30-plus degrees Celsius heat is heightened – as is the ceaseless sweat soaking anxious Irish palms – by a heavy humidity hanging in the air.
ADVERTISEMENT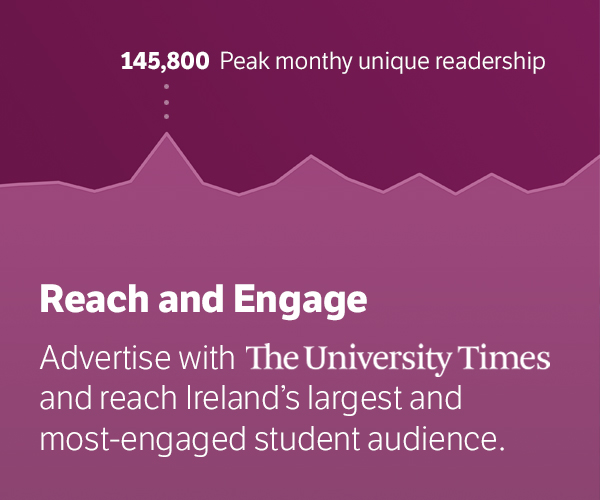 Zimbabwe at the crease. 15 runs needed to win. One last over – six balls – in which to win them. Ireland captain Laura Delany with the ball – and Ireland's hopes – held in her right hand. Win, and they qualify for the World Cup. Lose, and they have to wait another four years for their next chance.
When Zimbabwe clubbed a boundary with the second ball, Irish heads could easily have wilted in the Gulf state's sun. Irish hopes could just as easily have evaporated in the Middle Eastern heat.
Instead, Ireland's women held on to win by four runs. In doing so, they qualified for the T20 World Cup, which is to be held in South Africa in March 2023.
These tales from Arabia appear a far cry from the greenery of College Park, along whose perimeter Paul, Stokell and I are seated on a bench shrouded by autumnal foliage.
However, for all-rounder Paul – who did not feature in the Zimbabwe game but did play in two of the three qualifying tournament games prior – that feeling of excitement is in no way clouded by the grey skies of Dublin.
"I think that'll be amazing and even some of the things with it. Like we get to fly business class, and even just being around those big teams, I'd say we'll get treated probably a lot better than some other tournaments we go to, so that's very exciting", she beams.

Yet for neither of these two women did the journey to Cape Town start in the Emirati sands. For Paul, the seeds of her cricketing dreams were instead sown in the somewhat more boggy pastures of Leinster.
"When I was in primary school there would be people coming in to get people to join, and my brother started playing – the classic story of the older brother", explains Paul.
Upon gathering my unfamiliarity with this stereotype, Paul proceeds: "[Usually] either your family is into it [cricket], or in a lot of cases people take it up because [of] their older siblings …. My brother joined Merrion, and then I spent a lot of time hanging around matches."
For batswoman Stokell – who smashed a game-winning 26 runs off just 19 balls in the Zimbabwe game – her relationship with the sport had a similarly sodden inception in her own back garden.
"My Dad is actually English so played cricket his whole life and was so, so into it. My older brothers both played, and then from a young age I was just there playing in the back garden with them."
Playing alongside boys was to be a theme early on in the cricketing careers for both women, as it is for many of their contemporaries. Indeed, it was these boys whose assumptions – and stumps – Paul and Stokell first set about toppling.
"Female cricket in Ireland is only just on the up. It's bad to say, but when I was younger you didn't have much exposure to female role models in Irish cricket … it was never on the TV", says Stokell.
"I think to this day we both get slagged a lot for playing cricket", laughs Paul, an observation which elicits a chuckle from Stokell too. "But that's just because it's not a big sport in Ireland."
"When I was younger I played for boys teams in the clubs in the under-13s and under-15s, and there was always a bit of 'oh, it's a girl bowling' or 'it's a girl batting', but then they kind of realise that you're up to the standard."
"I don't think it was prejudice, I think it was more them underestimating [us]", she adds.
Stokell agrees. "I do think they would have copped pretty quickly that we would have been up to the standard, that it wasn't just a random girl playing to make up the numbers."
With over 30 and 50 international appearances, respectively, since their debuts in 2017, both Stokell and Paul have played their part in putting pay to patronising preconceptions. At the age of just 22 they are both now already deemed to be among the more senior core of the Ireland squad.
"The nice thing about cricket in Ireland is that it's such a small community, so we've all kind of grown up playing with each other since we were like 12 years old, so we really know each other", notes Dragons player Paul.
"One of the best things is that we're such good friends and we get on so well, and that's what makes it so enjoyable. You get to go to all these amazing places with people you see and train with every day."
Typhoons player Stokell seconds these sentiments. "The team is such a special tight-knit group at the moment, and we really want to celebrate each other's successes which I think is unique in a team sport that is quite competitive."
The way in which both women occasionally burst into laughter at various points during the interview – usually after simply meeting each other's eye for a split second – is testament to the sororal spirit to which they have referred. Either that, or my dishevelled appearance that morning was more shambolic than I originally thought. Whatever the source of amusement, it is a squad whose quality is only likely to grow as the game itself grows around the country.
"In the [Ireland] squad we have two people from the North, the rest are Dublin based … but hopefully as the game continues to develop the number will increase" says Paul, who herself hails from Bray.
Whilst Leinster has historically been the island's cricketing powerhouse, the sport is considerably less popular in Munster and Connacht. In Ulster, however, a spark is kindling into a flame.
"The game is definitely growing … last year they introduced the Dragons, which is a North-based team in our domestic competition … they're trying to build the game up there [in the North]", adds Dublin-based Stokell. 
Whilst certainly enthusiastic about the future of the women's game, it is definitely dwarfed by their excitement for the World Cup.
"We've had good experiences this summer and good opportunities to play some of the highest ranked teams with Australia, South Africa and Pakistan all touring to Dublin over the summer", says Paul. 
"I think our performances against them will give us confidence against higher-ranked teams in the World Cup. We definitely held our own against Australia, came close to beating Pakistan and got a win against South Africa, which was really great."
"I think it was the first time we had ever beaten them", notes Stokell. "We have potential. We're just very young. Like when we play oldies vs youngies football in a warm-up, we'd [herself and Paul] be on the oldies – and we're twenty-two."
Before the World Cup in South Africa they have one final tour – to Pakistan – coming up in two weeks. It is strange to think that these kindred fourth years will be being chaperoned around Islamabad and later Cape Town whilst their contemporaries and I battle our dissertations in Dublin. However, any envy of an exotic holiday was quickly dispelled by their account of the juggling involved.
"It's a bit stressful in final year [of college]", laughs Stokell. "They've let us go which is lenient, but it isn't going to be easy."
"It'll be study central", grimaces Paul in what was an unusual description of an international cricket tour to Pakistan. "But it's actually grand because most of the team are in college."
"We're on an education contract which means you don't have to go to training in the mornings … you can pick your education over your cricket", she says. Even so, these women will be playing against the world's best during the day and doing homework by night. Though neither player has said as much, this is a taxing timetable for even the most organised athletes. If women's cricket in Ireland is to have any serious hope of growth, this seems to be an area which may need addressing.
On top of that, going to Pakistan is a big deal. In September the England men's team only resumed touring duties there for the first time in 17 years, a hiatus prompted by security concerns following the terrorist attack on the Sri Lanka team bus in Lahore back in 2009.
"It will be a very different tour in that there will be a lot of security around us and we won't be allowed to leave the hotel", concedes Stokell. "So having an extra distraction of having work and stuff to do will probably help."
And whilst it will be a significant few weeks with regards to college work – particularly for Stokell, who is in her final year – it will also be a very significant tour as relates to their personal hopes of playing in the World Cup. 
"Especially in recent times there's been a lot of competition for places, so you can't take anything for granted", says Stokell. "It'll be the last tour between the World Cup, so that'll be a good opportunity to put your hand up for selection."
Leading that selection process will be head coach Ed Joyce – himself a Trinity alumnus and member of Merrion Cricket Club, for whom both Paul and Stokell also play.
"Ed's been really good for the squad since he came in 2019. We've definitely all improved so much", praises Stokell.
A tour to Zimbabwe last October, Pakistan in November, South Africa in March, Dublin in between and carrying college throughout. From the outside it seems a surreal lifestyle for two girls of twenty-two to be juggling. Only when talking to them does the juxtaposition between touring and Trinity hint of reality – though even then it really is merely a hint due to how grounded both women are.
Whether you see these student sports stars with bat or with book will likely be determined by whether you see them in the Pav or in Pakistan – on campus or in Cape Town. More certain is that you'll see both Paul and Stokell together with a smile on their faces – wherever they happen to be in the world.