There is always music in Dublin. It's in the streets. It's in the walls. It's in our heads. And it has always given Dublin's perimeter on the map a little glow.
Music, whether in the Aviva, The Grand Social or on Grafton St, is constantly driven and inspired by the city of Dublin.                                                               
From inside the cave of Irish artists and bands in my head, I began to think about the idea: 'who is next for Dublin?'. In the small towns of almost every country, we have seen success pulled from modest houses and small schools.
ADVERTISEMENT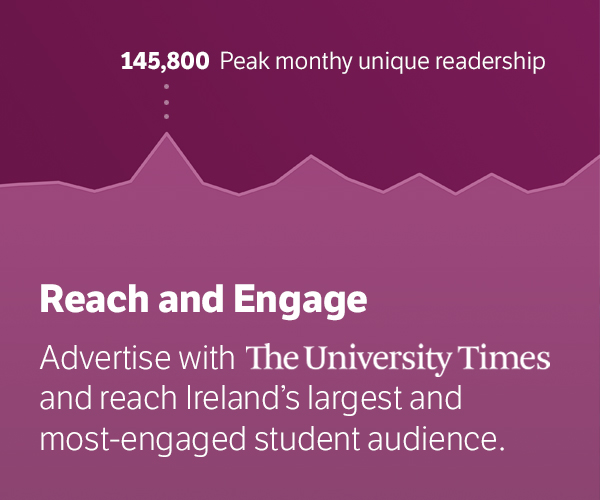 Hozier, a Trinity graduate, recorded and released his first self-titled album from the attic of his parent's home in Bray.
The Academic, which formed at a Westmeath secondary school in 2013, now has over 1.2 million monthly listeners on Spotify. The Cranberries formed in Limerick as teenagers, selling 300 copies of their first demo tape in the 90s. Now, they have sold tens of millions of albums worldwide.
These stories, along with the presence of new Irish independent artists at the top of the charts, drove me to uncover musicians in Ireland today who also emerged from humble beginnings. Who haven't we unearthed yet? And where do they stand with Dublin being a part of their journey?
I had the opportunity to interview two Irish solo artists creating and producing music in Dublin, Lauren Quinn and Stella Hennessy (Stella). 
Surrounded by her passionately creative family in Waterford, Stella led me down her personal path with music, Dublin and the industry challenges of a smaller artist in her late teens. To Stella, 'I've made it' moments aren't defined by the top charts. She said: "success to me is when I have written a song that I love and when I make the music I want". "One of my biggest aspirations has always been to hear people sing my songs with me live", she added.  
In my interviews with Stella and Quinn, both artists picked up on the musically-talented community of Dublin as a crucial aspect of their music. Stella vividly recalls her frequent childhood trips to Dublin for anything arts-inspired, and she pinpoints Dubliners as her biggest supporters.
A breeding ground for creativity since she was a young girl, Dublin is crucial for Stella in creating and pursuing music. While studying in BIMM Institute Dublin, she found inspiration in her surroundings: "I really enjoyed taking inspiration from the music around me in Dublin. It's always important to me to try out different genres and sounds and it was great to be able to do this with my friends." 
For Quinn, Dublin, her home, has always been a muse. In 2021, while she was still 18, she released her first single "Down", the cover featuring the skyline of central Dublin. She wrote, recorded and produced every aspect of this song, along with the rest of her upcoming songs, in her bedroom, moving between her desk, her bed and typically the floor when inspiration truly hit.
"First off it was obviously my first single's cover", Quinn noted. "I grew up there, I spent so much time there while growing up after moving, it's a really comfortable place for me to be in", she added. 
"All the bands I listen to are from there and all the gigs I've been to have been in Dublin. It's a real driving force, and it's like going home", Quinn commented. 
When asked why she makes music, Quinn sees it mostly as a passion: "I don't know. I guess the simplest answer is just because I like it. It's my hobby, honestly, my only hobby. All I do is listen to music or make music or play the guitar". 
Regarding training, Quinn said: "The only training I've had is taking two years of acoustic guitar lessons until I was twelve. I taught myself everything else. I used to listen to bands and songs that I loved and think – 'Jesus, imagine being able to do that'. I think if I can do it, anyone can do it. Dublin seems to be the place of opportunity for me in that sense".
Yet, Dublin may not be the haven it seems for upcoming musicians. For Stella, song releases and collaborations don't translate into a practical ability to live in Dublin. "I've always associated Dublin with the arts, travelling to gigs with my family regularly and going to art galleries", she noted.
"It's really unfortunate to experience the housing crisis in full throttle, though, the struggle to find housing is really disheartening for creatives, students and citizens in general", Stella added.
Furthermore, in recent years, it seems many artists see Dublin as a target audience rather than an inspiration, perhaps in an attempt to go viral on social media platforms. Stella commented: "I think when it goes right for people, the music industry can be utilised in a way that is very beneficial for the artist. But the obsession with virality due to the new wave of overnight success can be quite harmful for new independent artists as it is not sustainable and sometimes this can be encouraged by record labels." 
Throughout my research into artists, the only answer I could find for the question of 'who is next for Dublin' just grew and grew with the more names and music I discovered. The list I managed to round up includes Just Mustard, New Dad, Inhaler, Fontaine's D.C, TroyOkay and Alex Gough, among many others.
Ultimately, Quinn and Stella leave me with the impression that the music and life of Dublin are as vibrant and enticing today as they were decades ago. The flare of talent and determination in young artists who start out with nothing is deeply admirable, at the very least.