The official Trinity College Dublin Youtube channel's 'Introduction to Trinity' has 294,000 views. Soft instrumental music accompanies slow motion shots of the Long Room and alumni talking about the historical importance of the college. Videos titled 'Dublin Diaries' and 'College is hard' by Trinity alum and Youtuber Moya Mawhinney have been viewed nearly twice as many times. Potential students – or anyone else – wanting to know what Trinity is like no longer have to rely on a handful of five minute clips put out by the college five years ago, or course pages featuring little more than CAO requirements. An increasing number of creators on Youtube are making videos centred on Trinity, and for those choosing what college to go to, especially international students, their decisions are more often than not filtered through the lens of a vlogger's camera. 
"The first college week in my life video I made did quite well, views wise", Jane Loughman – Queen of Quirk on Youtube – tells me, "I didn't expect that kind of traction". The vlog, which sees Loughman attend lectures in the Arts Block, work on essays in the Ussher and eat beige food from the Buttery, now has 48,000 views, whilst the video preceding it (made in the same year), has 795. She was making these videos in late 2019 and early 2020. Whilst they were popular pre-pandemic, for the thousands of international students applying to Trinity but unable to visit, they were essential. "There's a lot of people interested out there and there's this gap in information and content about Trinity online", Loughman says. I watched her videos as a seventeen year old applying to Trinity having never been to Ireland, and can understand why she was inundated with questions and comments from international students – pretty much all of the comments under her videos are from those applying to Trinity. Of course, though there might be a lack of information about the daily mundanities of Trinity life, there is no dearth of fiction devoted to it. In her video 'What's it REALLY like to study at Trinity College Dublin', Loughman said she consciously referenced "Normal People all the time". International students weren't just intrigued by the image of Trinity that popular literature represented, they were galvanised: applications to Trinity rose by 11 % the year that the television adaptation of Normal People aired. 
But prospective students want more information than literature and a twelve part fictitious series can provide. However, trying to capture Trinity authentically, Loughman says: "It's hard … sometimes authentic moments you can't really film." Although when vlogging she included most of her day, parts she couldn't document included tutorials, society events and of course times where "I cried over something silly like an assignment". Anyone who goes to Trinity will tell you it's not like Normal People, but the idea that the version of Trinity in novels and on screen is fiction and vlogs are factual is a delineation which doesn't exist. 
ADVERTISEMENT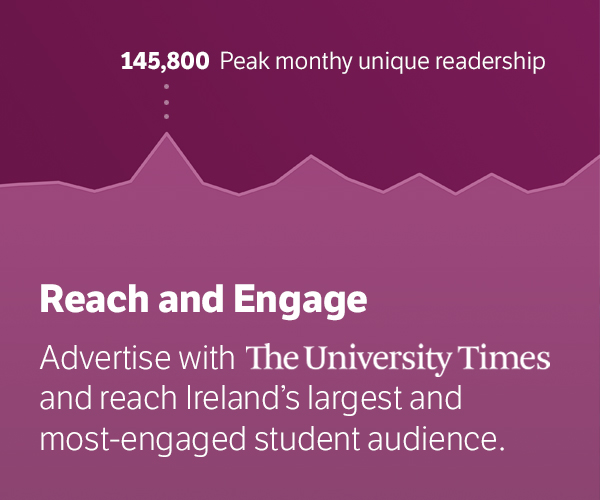 Maisie Greener, a third year English Studies student from England and the Assistant Radius Editor for The University Times, admits that before arriving on College Green, her "Trinity related media consumption consisted of the cult classics: Normal People and Moya Mawhinney's Dublin Diaries". She continues, explaining "I think both were pretty seminal for me in that they personified the place and brought it to life a little. Prior to this, my knowledge of Trinity was pretty one dimensional and limited to whatever was on the website". COVID lockdowns meant that she couldn't visit campus herself before arriving as a Fresher, so vlogs, although "prone to romanticisation, were the closest I could get to actually visiting the college and the city." 
Ellie Smith, a third year Computer Science student, also admits that when she moved to Dublin from America for college, her idea of the city wasn't entirely based in reality: "When I came to Trinity to move in was the first time I ever came to Ireland. I had never visited so I really relied on those Youtube videos". By "those" videos, Smith refers mainly to the 'Queen of Quirk' channel, but for students who are new on campus this week, the phrase may connote vlogs by Smith herself. Her channel, 'Born To Be Ellie', has almost 30,000 subscribers, and she regularly makes videos about college and the experience of being an American in Dublin. Smith explains that "Trinity videos are a lot more popular" than other content she makes – as Loughman also found – and she gets a lot of American students asking her about going to Trinity. Although she does "want to portray it accurately", Smith warns that her vlogs also show life to be "a little bit better" than everyday. As someone who features in one of her videos looking extremely grey and hungover (my friend was her flatmate in Halls), I think she's keeping it fairly real, but she does say that "if I'm vlogging I'm probably doing a little bit more than I usually am". Channels like 'Born To Be Ellie' and 'Queen of Quirk' might depict something closer to the reality of college life than anything else on the Internet, but they still can't fully encompass what it's really like to study here, even if their titles might claim to. 
Unrealistic expectations of university life can be a bad thing, of course. Greener feels of the vlogs she watched that "I don't think the videos really illuminated the financial stresses that come with living in Dublin". Unaware of the housing crisis in Dublin, she "fancied myself living in Marianne's D4 home", but quickly came to realise that "you're lucky if you have a roof over your head". Other students I spoke to were grateful for the romanticised portrayal of somewhere they were nervous about moving to. Audrey Brown decided to apply to Trinity the night before the deadline from thousands of miles away and explains that "at the time it was kind of nice to see a version of Dublin that wasn't completely accurate". In fact, all of the international students I spoke to for this article referenced applying to Trinity involving a "gut feeling" or "impulsive decision". When I first visited Trinity all I knew was that I liked the course, I liked the videos I'd seen online and I liked that no one I knew was going there. But standing in Front Square, having snuck past a barrier,a couple of weeks before CAO offers, marked the first time I felt confident in my decision to apply and my desire to be a student here. There wasn't any logic behind it: it was just a feeling. 
These vlogs might be romanticised, but so are our intuitions, and the inaccuracies of both doesn't mean there is any better way to figure out your path. Whatever information one has about Trinity before arriving, whether all your family members went there or you decided to go on a whim, you can't know or control how you will feel once enrolled. As those watching videos about Trinity become the ones making them – there are already a litany more vloggers in the past couple of years than there were when I was watching them  – a wider look at students' experiences will be captured, which is undoubtedly helpful for people trying to imagine themselves here. Whilst the idea of a YouTube algorithm or a vlogger 'influencing' where someone goes to university might seem daunting to some, it's no less scary than the reality – that no amount of research can control your experience once you actually enrol in a college.