On Tuesday morning, October 17th, pop star and global icon Ellie Goulding was awarded the Praeses Elit Award by the 90th Session of the Trinity College Law Society (LawSoc). The Praeses Elit, founded by former auditor of LawSoc and first female president of Ireland, Mary Robinson, is awarded to those who have excelled in their work and had a vast impact in their respective fields. 
The room was buzzing as students eagerly awaited Goulding's arrival. Among the crowd was first-year Political Science and Social Policy student Isabelle Slentz who said: "I love Ellie Goulding. I've had two of her songs stuck in my head since 2014." Goulding entered – after a slight delay – to applause. She wore a striking black velvet suit, looking every bit the international pop star, as well as the intellectual and thoughtful individual, as the audience would soon come to see her as. 
Secretary Louise Cullen first introduced the history of the award before introducing Goulding herself. Cullen cited not only her "ubiquitous radio presence" but also her work as an ambassador of UN Environment, as well as her philanthropy efforts in addressing homelessness and aiding children in need, as reasons for the prestigious award. Calling Goulding an "icon and inspiration", Cullen and Auditor Eoin Ryan, invited the singer forward to accept the honour. 
ADVERTISEMENT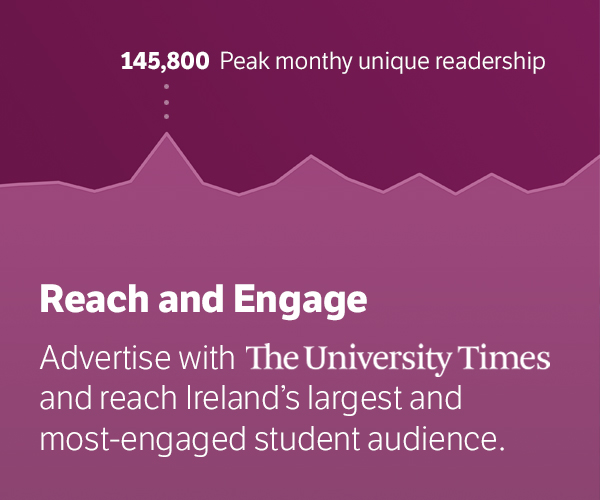 At the podium, Goulding began her speech by telling the audience how good it was to be back in Dublin though it was "not a revelation that musicians love being in Dublin". Goulding had begun the tour of her fifth studio album, Higher Than Heaven, the night before at Dublin's 3Olympia Theatre. She thanked the audience profusely and said it was "such a joy to be identified as someone who inspires people". She also expressed her disbelief at her joining the ranks of the past recipients of the Praeses Elit award, calling founder Mary Robinson a "legend". 
Goulding spoke at length about her passion for nature as well as her commitment to fighting climate change. She credits her childhood, which she described as less than ideal, with her love of the earth, saying she has had a "close bond with the natural world since I was young". Explaining that, in addition to writing songs, nature was her solace and escape during her formative years in a turbulent environment, Goulding said she was often met with aggression when she first began talking about climate change. She didn't let that stop her, saying she sees climate change as the biggest threat to humanity and that it has transformed from a passion to something that she feels she has no choice but to combat. She additionally spoke of her time working with climate change groups, citing the "resilience and fortitude of these communities" as inspiration for her own activism.
Goulding also said she feels she has "become part of a global movement of angry hope", saying it's possible and helpful to be productive in one's anger. Her goal now is to "make sure young people get to choose a future on a functioning planet" as well as "to build others' confidence", especially on social media, calling it her "mission in genuine truth". 
She wrapped up by thanking LawSoc for its "investment and belief in me and my mission", and taking ceremonious photos with Cullen and Ryan before she was whisked away by her team in true pop star fashion. Whatever expectations the audience had for Ellie Goulding she proved herself a deserving recipient of the prestigious award with her professionalism, warmth and intellect.