At 10.06 am on Tuesday 10 October TCDSU, Students4Change and Trinity People Before Profit staged a protest outside an "Promoting Social Mobility Through Education" event being held in the Exam Hall by the law firm Matheson. 
Several students put up three large cardboard cut-outs of cartoon vultures and unfurled a banner which read, "Trinity – Stop Preying On Our Future". Three of the students were dressed in white shirts with fake blood to illustrate the harm they say vulture funds have caused. 
After the students set up their protest, Matheson's banner welcoming people to the event was removed from outside the Exam Hall. 
ADVERTISEMENT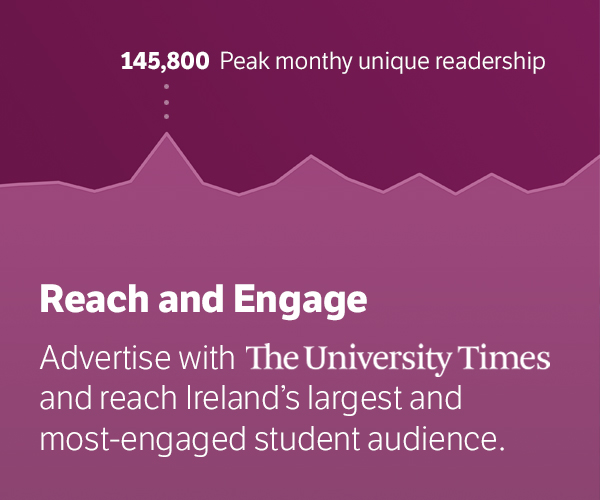 Some protesters spoke through a megaphone to explain why they were protesting Trinity's links to Matheson. They also played vulture sounds through the megaphone. 
Matheson is currently collaborating with Trinity Law for The Trinity Matheson EU Law Partnership. They launched the Cara Scholarship for Trinity students in 2022 and host a variety of events with the college every year.  
The protesters took issue with some of Matheson's past corporate practices which include working closely with so-called "vulture funds", according to The Irish Times. These funds are "registered charities" who "buy distressed property loans" in order to "help the funds avoid Irish tax". 
Speaking at the protest, László Molnárfi – the president of TCDSU – said that vulture funds were, "an absolute human tragedy". He said that they were carrying out this "essentially satirical protest to show the irony of an event that is about equality and diversity and is being sponsored by Matheson: a law firm so complicit in the housing crisis in Ireland". 
Ella Mac Lennan, the Chair of Students4Change TCD, commented that: "TCD's continued support and partnership with Matheson is disgusting, and even more so when they hide behind the guise of "diversity and inclusion". Matheson remains one of the biggest advisors to vulture funds, aiding them in their exploitation of vulnerable individuals and stopping at nothing to meet their needs and maximise their profits, even going as far as exploiting children's charities. Stop preying on our future. Trinity must put an end to their shameful partnership."
The University Times has reached out to Matheson for comment. Matheson and Trinity sent out a press release about the event but made no mention of the protest that took place outside it.