Freshers Week in Trinity is a bit of a hot mess, with over one hundred societies out looking for fun, friendship and maybe more. To help you navigate braying hoards, here's my list of the best societies to join this Freshers Week.
The Best
The Phil: Trinity's biggest, oldest and phabbest student society has something for everyone. Their main draw is the insanely high quality guests they pull in every year, everyone from Whoopi Goldberg, Hugh Laurie & Conan O'Brien to Angela Merkel & Jane Goodall. The Phil's staple event is their Thursday night chamber debate where experts and students thrash out a topical issue (like when former international drug smuggler Howard Marks took the brave step of advocating drug use to college students). They always have unbelievable deals for the misers out there and the most generous receptions in college. That's all only the tip of the iceberg (think parties, a special debating competition for freshers, trips and everything else), so watch out for the veritable army of people in maroon.
ADVERTISEMENT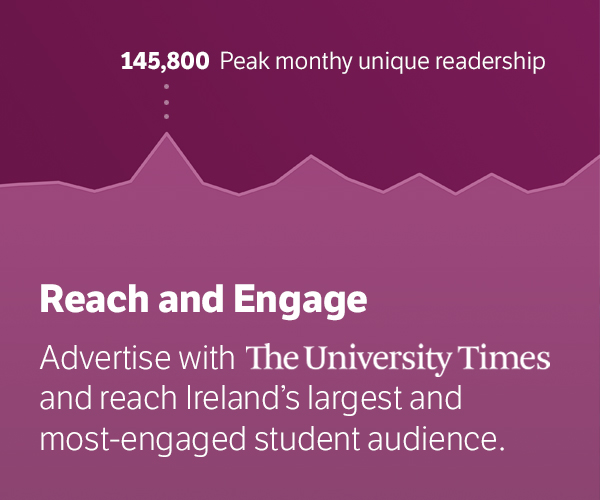 TAF: Trinity Arts Festival is a little bit of everything; from traditional mediums like photography, poetry and sculpture to more unconventional expressions such as knit bombing, graffiti, experimental theatre and whatever else you can think of. The festival offers a dynamic approach to the arts, so whether you prefer to create or to admire, there's room for you too. Particularly during the main festival, TAF has the wonderful ability to bring Trinity to life and distract you so wonderfully you won't even care you've missed a whole week of college for no real reason. Imagine being really drunk and carefree and dancing in a circle, that's exactly what it feels like.
DU History Soc: The people who brought us The Wind That Shakes The Party (the best club night in all the land), the Apollo Ball & a whole host of top notch academic events. History Soc isn't just fun and excellent at covering conventional history, they also explore the "other side" of history (i.e. graffiti, football, music, and LGBT culture). They've got a new publication in the pipeline, unreal deals with Uber & the IFI as well as some cool war themed events already announced for next term. With their liberal use of words like hootenannie and doozie, they are one of Trinity's most beloved societies, and deservedly so.
Players: Empirically the best drama society in the country (based on them winning all of the awards ever) and outrageously productive, Players offers you a sea of shows, nights out and men from the country awkwardly in drag. You'll find the cutting edge of Irish theatre and some truly excellent professional quality right on your doorstep with DU Players. So, if you like theatre, Rave Aerobics or a combination of the two, this is your new home.
Cumann Gaelach: Funnily enough I say this despite having negative interest in the Irish language, but Cumman Gaelach are just like an objectively excellent society. While I've struggled to get over the harrowing memory of actually watching Clare Sa Speir multiple times and a vicious Galwegian dictator beating irregular verbs into us, those who have ventured over to Cumann Gaelach wax lyrically about making new friends, nights out, writing for the magazine and engaging in all things Irish. They win lots of awards and their success extends well beyond that so they're certainly one of the better shouts this Freshers Week.
Highly Recommended
Law Soc: Not just for law students, a wonderful mix of notoriously good nights out (see a swing dancing ball and a masked rave in a castle) and great speakers. They're one of Trinity's biggest societies and there's a very good reason for that.
DUPA: Apparently photography exists beyond snapchatting various images of your face to people who've already seen your face before. DUPA make that cold, scary reality actually quite fun with unreal trips abroad, classes, talks and beautiful exhibitions.
QSoc: A place for anyone with an interest in LGBT* issues or just a place to meet very nice people who all seem to really like Harry Potter. A nice mix of social and political events and, with the year that's in it, it'll probably be an interesting place to be.
Lit Soc: Writing workshops, book clubs and open readings are as regular as guest speakers and readers at the literary society and it's a great place to meet people who also actually enjoyed Eavan Boland & Brian Friel at school.
Soc Soc: They're new, they do loads of cool stuff on everything from capitalism, feminism and the environment to Mexican circus, film and globalisation. They've had a great first year and they look set to have another one.
Hiking Soc: A chill, healthy way to prove that you're better than everyone else around you and good for you in more sense than one. Benefits include subtly but frequently dropping hints that you do in fact hike and ergo are a super human to those cretinous non-hikers among us. Also, fun.
What I'm trying this year
Food & Drink: Running consistently successful, sold out events and appealing to my never ending love for cheese are two excellent ways to get me on board. I expect delicious, delicious things.
Dance Soc: Having all the grace, rhythm and coordination of a turkey caught on an electric fence I've decided to try my hand at becoming a dancer. I hear the classes are quite good so my nobody-puts-Paul-in-a-corner 80's themed victory montage seems inevitable. Watch this space (or rather, please don't).
Honorable Mentions
(Think of inclusion here as like getting to the judge's houses stage on X-Factor or someone likening you to Kelly Rowland rather than Michelle Williams or Beyoncé)
Vis Arts (think arts that are visual as opposed to not being so), FLAC (a charity promoting access to justice), Music Soc (great facilities for members), The Theo (the Theological society, great guests), The Hist (debating), Society for International Affairs (SoFIA) (lots of cool diplomatic guests), International Student's Soc (a great place for Erasmus and exchange students to meet people) , Architectural Soc (art's built older brother hahaha), Europa (hot arts block language hipsters), Cancer Soc & St. Vincent De Paul (two wonderful charities that always have events on).
Your Definitive Freshers' Week Timetable
Everyday!
History Soc – Tea, Cake & Books all day every day in the Atrium

If History Soc is as good in person as it is on the internet then you're in for treat. If not then you've basically been catfished.

Sci Fi Soc – Film Screenings from 9am every day in the Bunker

The promise of Scott Pilgrim and Wall-E among others could certainly lure me down to any menacingly named "Bunker".

The Phil – Free Breakfast in the Phil Conversation Room (9am -12pm)

If you're paying for food during Freshers Week you're doing something wrong.

Dance Soc – Sample Classes in the Fitness Studio (4pm Tuesday, 3pm every other day)

Hip-hop, ballet, contemporary, Irish and Jazz. Realistically it's everything you could want and Irish dancing.
Tuesday
Law Soc – Comedy Debate & Drinks Reception at the GMB followed by Law Soc and DJ Soc at the Pav (4.30pm / 7pm)

Patrick Kielty, free wine and DJ soc. What dreams are made of.

TAF with Jazz, Juggling, DUPA, Arch Soc, Players, Dance Soc, Vis Arts, Afro-Carribean & Lit Soc – Trinity Arts Tour starting from the Campanile (6.30pm)

The definitive tour of Trinity. Think drums, dance, acting and everything else wonderful that Trinity has to offer.

Cumann Gaelach & Dance Soc – Ceili followed by a Pub Crawl starting at Front Square then heading to the Pav (5pm / 7pm)

Because nothing says romance like guttural pipe music and cans of Druids. For the romantics among us.

Food & Drink and the Phil – Food & Drink Gets Philty at the GMB (5.30pm)

The sauciest event head to head event this Freshers Week (hahahahaha pun!)

Q-Soc – Speed Friending at Panitbar (7.30pm)

Trinity's biggest, best LGBT+ friendly event this Freshers Week.

Animation Soc – Animation Medley at the Eliz Rooms (5pm)

Scribbling and nibbling to your favourite animations. V.G.

Zoo Soc – Lion King Screening at the Auk Room, Zoology Building (5pm)

No explanation necessary.

DU Comedy – Rock Paper Scissors Tournament at the Pav (3pm)

More and more like Mortal Kombat with every passing can of Bavaria.
Wednesday 
TAF, Vis Arts & DUPA – Art Attack at the Atrium (12pm)

A huge art extravaganza, words cannot do it justice.

Knit Soc – PicKnit at the Rose Garden (12pm)

So cute I can't even say anything mean about this.

Music Soc – Classical Music Recital in House 5 (6pm)

Like a concert except you don't actually have to pay for the talent on display, so much better than a concert.

The Phil – Cable Tie Adventure at the GMB (5pm)

One of the very few times in life a smiling stranger with cable ties isn't a bad thing.

FLAC – Free Lunch at the GSU Common Room (12.30pm)

Delicious, delicious social justice.

The Hist – Freshers Week Debate This House Would Get High at the GMB (7pm)

Drugs are like really cool in college.

Players – Let's Party Like It's 1999 – Live 90's Tribute Acts

Live 90's Tribute Acts is all one needs to read.

Sinn Féin – Historical Walking Tour starting in Front Square (2pm)

Arch Soc – Grand Design Screening in Atrium Room 3 (All day)

Trinity TV – TV Pub Quiz at Chaplins (6pm)

Nostalgia over Friends and cheap pints.
Thursday
The Phil – Freshers Week Debate This House Would Live Fast & Die Alone at the GMB (7pm)

Free wine and a room full of people afraid they're going to die alone. The funniest event of the week.

Cumann Gaelach & International Student Soc – Freshers Gig with O Emperor & Tandem Felix at the Workman's Club (8pm)

Two great societies, one great bop.

Europa – Pub Crawl starting at the Pav (8pm)

This one actually sounds fun because all the hot arts block language students will be there. A great tactical choice.

Comedy Soc & Trinity VDP – Comedy Night at Peadar Kearney's Pub (8pm)

Either it'll be a great night to remember or you can get so drunk at Peadar Kearney's that you don't. Win-win.

Players – Hangover Breakfast with Yoga, Raverobics and Meditation at Players Theatre (10am)

TCD Christian Union – Hot Chocolate Crawl from Front Arch (2pm)

Trinity Entrepreneurial Society – Networking Reception at the Grafton Lounge (7pm)

Essential for those who love synergy because they won't find love elsewhere.

The Theo – Visit to the Masonic Grand Lodge from Nassau Street Gate (2.15pm)

My understanding is that you literally like meet the illuminati.
Friday
Players – Murder Mystery at Players Theatre (7pm)
o   Infamous and excellent. An annual delight.
The Phil & Film Soc – Movie Marathon at the GMB (10am onwards)
o   Exactly what your corpse will need come Friday.
Horse Racing Soc – Friday Night Cans at the Pav (7pm)
o   For those who still have the will to drink, this is a great shout.
Korean Soc – KPOP Evening at the Global Room (5pm)
o   The best thing to come out of Asia since Lucy Liu's ancestors.
SUAS – Bubble Football 5-a-side Tournament at Botany Bay (2pm)