Art and activism have long been associated together. Music, especially, has long been the soundtrack to social movements. From singer-songwriters like Bob Dylan and Billy Bragg to the ska sounds of the Specials, music has always been able to both inspire and amplify frustration with the powers that be.
The interconnection between arts and activism is still important in Ireland today. Gigs and club nights were a key part of mobilising the younger population to vote in the marriage equality referendum, while the repeal the eighth campaign are increasingly attempting to use artists and musicians to get their message across. For a long time, the student and trade union movement have been the uncool cousins of such arts-driven campaigns. Slowly, however, this seems to be changing.
Trinity students who attended the March for Education today will be able to attend at free gig in the College Chapel, organised by Trinity College Dublin Students' Union (TCDSU) in conjunction with Metropolis. Speaking to The University Times, TCDSU Ents Officer, Padraic Rowley, said: "I think the important part of it is when people want to engage with something it should appear fun and enjoyable as well, it doesn't just have to be a protest or march."
ADVERTISEMENT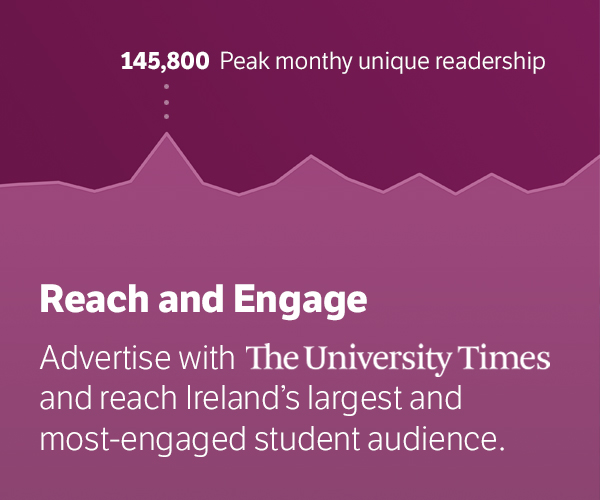 The march today, which was attended by over 10,000 students, saw Blindboy Boatclub, one half of hip-hop comedy duo Rubberbandits, address the crowd. The support of groups like Rubberbandits does make a difference. The group, known for their satirical take on Irish society, adds considerable "cool" to the movement for publicly funded education. "Let's not create education lines defined by class and how much money you have", Boatclub told the crowd earlier.
For a long time, the student and trade union movement have been the uncool cousins of such arts-driven campaigns
The Union of Students in Ireland (USI) Vice President for Campaigns, Daniel Waugh, acknowledged that the union were attempting to to develop the link between art and activism within the student movement. Speaking to The University Times, Waugh said: "Artists can also be activists as well, and sometimes people can't really see the difference between entertainment and activism. So we're very lucky to get Blindboy on board with something like this. He can get involved and use his platform as a way to get the platform out there as well."
Such artistic endorsement has traditionally been lacking in student politics. While the water protesters were able to attract support from the likes of Glen Hansard and repeal the eighth has already attracted support from across the artistic world, student politics until now has lacked any real cultural endorsement.
There are signs, however, that progress is being made. With festivals like Metropolis backing the march today, and Rubberbandits lending support, discussions around higher education funding are slowly being pushed into the mainstream. "I think even the idea of Metropolis supporting the campaign is something that no one would really think about, that a festival or an artist want to get behind the campaign", Waugh said.
One of the issues, perhaps, is that higher education policy, even with something as significant as funding, is quite a nuanced area. Waugh admits that compared to campaigns like marriage equality and repeal the eighth, third-level funding is a much harder sell.
This might perhaps be surprising. Pointing to colleges like IADT and the National College of Art and Design (NCAD), Waugh suggests that the problems and issues around higher education funding might be obvious for artists: "No artist wants to leave college with 20,000 worth of debt. That's an area or career that's not as secure as many other careers in Ireland. A lot of artists can get behind this campaign, and it can be relevant to them."
"Our events are driven by student causes, and that's how it should be and that's how it works on paper. If the public eye perceives it differently, then that needs to be rectified"
Reaching a wider audience is vital for unions like USI as the Oireachtas Committee for Education and Skills sit down and begin discussing a new funding model for the sector. Amidst all the discussions around fee increases and student loans, USI are attempting to reach an audience beyond simply students. "A big part of the campaign is trying to get different perspectives and different communities on board, and using them as platforms for us to get our message out", Waugh said.
The Trinity Ents gig in the College Chapel, followed by the club night in the Button Factory, perform two roles, according to Rowley: "On one end it's kind of an encouragement for people to get more involved, and on the other, it's a reward for those who do, to positively reinforce that this is something that is appreciated in the SU as a whole."
Rowley sees the role of Ents as intrinsically linked to the campaigns the union runs. "Our events are driven by student causes, and that's how it should be and that's how it works on paper. If the public eye perceives it differently, then that needs to be rectified", he said. The hybrid of arts, culture and nightlife, it seems, should mesh seamlessly with the more campaign-driven focus traditionally associated with TCDSU.
This approach is perhaps best captured in Trinity Ents's upcoming festival in Fitzwilliam Square, which Rowley described as possibly the biggest event of the year, with the exception of Trinity Ball. Highlighting and celebrating the Fossil Free TCD divestment campaign, the outdoor event will see comedy shows, music and art installations scattered across the square. The centrepiece of the event will see what Rowley describes as a "visual representation of an oil fight that is quite striking and quite potent".
Such an event follows the long history of larger festivals, such as Glastonbury and Electric Picnic, being associated with something vaguely political and somewhat radical. For Rowley, the aim of the night is simple – allowing people to campaign while at the same time enjoying themselves. "The two go hand in hand", he says, "You can drive a good event, but also have it about a good cause."