Rev Julian Hamilton, the Methodist Chaplain for Trinity, has a gained something of a legendary status on campus. For students, staff and colleagues alike, Hamilton has a profound effect on everyone he comes into contact with.
Born in Belfast, and after spending many of his teenage years in Bangor, Hamilton – often referred to affectionately as "Jools" – trained to become a teacher before deciding it was not for him. He then went on to work in youth ministry for a number of years before he was called to serve as a minister. "I had a very intense and unmistakable call to ministry", explains Hamilton, speaking to The University Times, "a very intense, religious, mystical experience, and that lead me down the path to become a minister. Then I went back to the 'minister factory', did my masters and then nine years ago I was sent to Dublin".
Over the last nine years, Hamilton has made an impression on those he has come into contact with. Trinity's Chaplaincy, located in House 27, is known for its welcoming atmosphere and perhaps is best known for its generosity when it comes to giving free food, a staple in any hungry student's diet. Speaking to The University Times, Hamilton says: "There's always students hanging around the Chaplaincy common room, it's great to get to know those guys better, they're always taking our tea and our coffee and our biscuits." Hamilton enjoys having the students around, saying that it creates an atmosphere of having a family in college, something that many people often say is lacking in the anonymous environment of being a student in a big city: "There's a lovely kind of family in the common room. We also feed students every Tuesday, with our free lunch, so there can be up to a hundred people or more coming every Tuesday for the lunch."
ADVERTISEMENT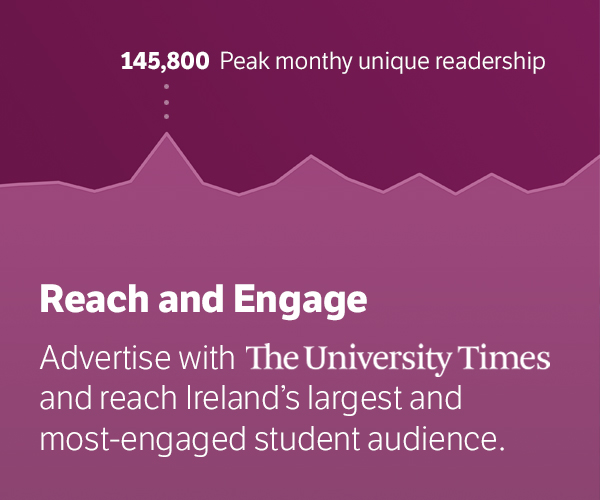 The worst day in the Chaplaincy in nine years? The day I ran out of tissues in my office
The Chaplaincy also has a pastoral role to play, as many students visit to discuss any issues they may have. Hamilton explains to The University Times: "You can just be sitting at the desk, and someone will walk in the door, look at you and burst out crying. The worst day in the Chaplaincy in nine years? The day I ran out of tissues in my office." Hamilton's role, however, isn't just about comforting and providing solace to people when they're feeling down: "Sometimes there are also people that just want to talk about joy and life and just want to share the craic too. There is literally everything you can imagine and more here, there is no typical day."
In addition to this, the Chaplaincy also hold a number of regular events each week, where each of the chaplains from each denomination host something different, generally a religious practice of some description. "The Catholic chaplains have mass every day, the Anglican chaplain holds morning prayer and evening song, so the Methodist view is that there's enough religion coming out of the Chaplaincy. So our regular events are 'God on Tap' and the 'Breathe' prayer space," explains Hamilton. "God on Tap" is an event in which people ask the question "where is God?" in relation to a particular conversation or topic. Last week, the question was "why would people of faith vote for Donald Trump?" and each Thursday there is a new topic. On Wednesdays, the "Breathe" prayer space is held at midday. Here, people are given the opportunity to sit together and be still. "There's only two things we do in the 'Breathe' group," Hamilton continues, "and that is when we ask the question 'where do you think you've seen God this week?' then we chat for maybe fifteen or twenty minutes and then for twenty minutes we're just silent together and it's glorious." Hamilton feels that in the midst of such a busy and hectic learning environment, it is important to give students the opportunity to relax and feel at peace together.
If you want someone to be the smiling face or to be a rock to depend upon in time of crisis then Jools is your man
Hamilton is also well known for his work as a house warden in Trinity Hall. Speaking to The University Times via email, Prof Brendan Tangney, Warden of Trinity Hall, attests to Hamilton's jovial attitude. "If you are trying to supervise 700 students who are in 'good form' to get onto buses to head into town from Hall, then Assistant Warden Reverend Julian Hamilton is the last person to put at the top of the queue. This is because he will be chatting with the half of the crowd whom he knows by name and will want to stop the other half to engage them in conversation and make a connection with them." While Tangney jokes that Hamilton's talkative and friendly nature can sometimes delay proceedings, he argues that it is a huge asset in other regards: "However, if you want someone to be the smiling face, which welcomes people to college on their first day, and to engage with people in a truly friendly fashion, or to be a rock to depend upon in time of crisis then Jools is your man."
This is certainly felt among the students living in Trinity Hall too. Speaking to The University Times, JCR Communications Officer, Lisa Murray, describes Hamilton as being one of the key figures in making halls feel like a community for students:  "He's really welcoming to all students in Halls. He really facilitates the whole community aspect here really well. He's a friendly face, any student would feel comfortable going to talk to or confide in, and I think that's really important."
Murray is also a House 85 resident, the house for which Hamilton acts as an assistant warden. "As an assistant warden, he has made a big effort to get to know each individual resident in his building, which isn't something that's always done, so that's a really nice touch. It's especially good considering most people in Halls come from small rural areas and smaller communities, and his welcoming really makes everyone feel at home in their new environment."
Coupled with his work in the Chaplaincy, Hamilton also founded the concept Space to Breathe, a project Hamilton himself describes as "very worthwhile", but "nothing mindblowing". "It's getting people together, it's human engagement across barriers". The project brings together young Irish people with their counterparts in Palestine and Israel. The two groups meet in Corrymeela, Co Antrim and in Israel and Palestine to hold discussions and share their experiences together. Laura Rankin, a third-year geography and sociology student, was one of a number of students to take part in the Space to Breathe programme last year, a programme she describes when speaking to The University Times as "an interfaith dialogue between Irish Catholics, Protestants, Agnostics, Atheists, from the north and south of Ireland with Israeli and Palestinian young people."
He just brings people together in such a meaningful way. He has such an infectious enthusiasm about him that makes people feel comfortable
As both the founder and an active participant in the programme, Hamilton is integral to the success of it. "He is such a wonderful facilitator and leader with such an incredible positive energy", remarks Rankin, "He just brings people together in such a meaningful way. He has such an infectious enthusiasm about him that makes people feel comfortable, and if that wasn't the case, I don't think this project would be possible."
Hamilton also speaks at conferences all around the world and hosts workshops, particularly as part of the "The Art of Hosting" movement, of which he is an apprentice. Over the course of the next year, he and a recent Trinity graduate are working on developing a new event. "We're starting an event based on corporate social responsibility and social enterprise, called 'The Good Summit'," Hamilton reveals. "It's about trying to change how the Western imagination does business, to create positive change for a positive world."
Rev Steve Brunn, the Anglican Chaplain of College, took up his post in January, and remarks that Hamilton has been very helpful in introducing him to people around campus. Speaking to The University Times, Brunn says: "That's one great thing about Jools, he pretty much knows everybody on campus, which I suppose shows his dedication to the staff and the students. Everybody knows Jools, and Jools knows everybody." Brunn also commends Hamilton for his energy and vivacious nature, a recurring theme when describing the Methodist Chaplain. "He's fun to work with, he's always very excited about whatever he's doing, he puts all of his energy into whatever he's doing."
Nobody would be blamed for thinking that, after nine years in Trinity, and with all of the work Hamilton does around the College, be it in the Chaplaincy, in Trinity Hall or on other projects, he might want to slow down a little bit. But this seems unlikely for Hamilton. "I love it here, it's brilliant", he says. "Trinity is an absolutely glorious place to hang out". For the sake of current and future students, it's hoped by many around college that he continues to hang out here for many years to come.