Founded in 1960, DU Dance is a large and highly active society which offers members the opportunity to take part in diverse and ever-evolving styles of dance. However, it has recently come to the fore that the society's resources are under strain. As recently reported in The University Times, the society is actively struggling to find available space on campus in which to rehearse. In the past, DU Dance have held daily dance classes, catering for five different styles of dance every week in a fitness studio on campus. Recently, the group have been unable to hold these daily classes since the studio they were based in was renovated.
The society also trains four competitive dance teams who compete annually in an esteemed intervarsity competition, in which institutions from all around the country come together to compete. As the current IV Officer, fourth-year clinical speech and language studies student Ashley Carroll is in charge of organising participation in this competition. Last year, the competition was held in Trinity and proved a great success, with all four Trinity teams placing for the first time. However, the competition was plagued with further organisational difficulties. The society were allowed to hold the competition in the gym but, as Carroll puts it, "had to pay a crazy amount of money to rent the gym because we don't have anywhere on campus". She said this differs from a number of other colleges where they have their own dance studios.
Limited resources have forced the society to limit classes and focus on training for the intervarsity competition, which Carroll says is a shame, as it limits the more social aspect of the society and excludes dancers who want to dance but not compete. This year, the intervarsities will be held in Galway and will feature teams performing hip-hop, contemporary, jazz, Irish and a mix piece. While rehearsals for this year's competition are well underway, they continue to present challenges. Carroll tells me that hip-hop training is taking place in the tiny Room 50, which has no mirrors, and also in the Liffey Trust Studios, which members have to pay for out of their own pockets. The contemporary and jazz teams are renting in Temple Bar, while the mix piece team has yet to start rehearsals, in part because of the difficulty finding an extra space to do so.
ADVERTISEMENT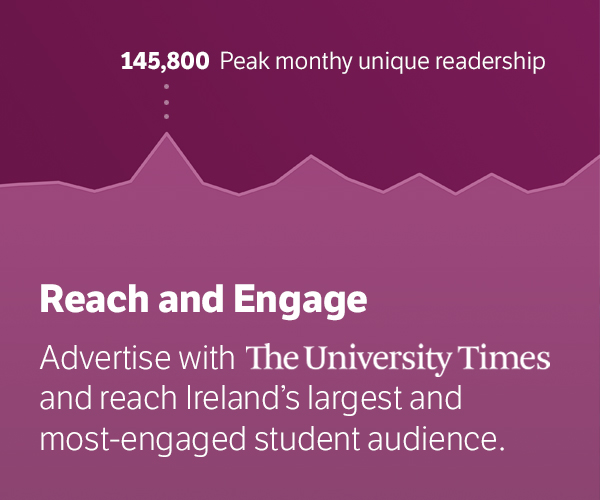 As the challenge of finding rehearsal space shows no sign of being resolved anytime soon, the society continues to try everything in their power to find practice space. At the start of the year, the group visited multiple studios in Dublin, including Dance House, Liffey Trust, Cois Ceim, the Lir, Temple Lane Studios and others outside the city centre, but quickly found that these venues were too often fully booked. The members also have to use their own money to pay for these spaces as the society can't afford to pay for everything in full. They have also taken some more unusual measures: their treasurer, Lauren Keogh, has entered them into the #LiveYourAmbition competition, with the hope of winning £5,000 to spend on practice spaces.
Reassuringly, however, Carroll does emphasise that several college bodies have been working hard to help them. She says the Lir have been "really accommodating" and allowed them to use the dance studio to hold weekly workshops every Wednesday. However, this means that the studio can only cater for two styles per week. Carroll also says the Central Societies Committee (CSC) have been particularly helpful. The society met with them last Thursday to discuss using Regent House. They had previously used this space to hold Bar and Latin classes, but the building has been under development to be used as a tourist centre. Now that it's back in action, the CSC said they will try and help the society get rolling mirrors to use there. As Carroll puts it, "College needs student space more than tourist space", emphasising that College needs to "accommodate students first".
Despite all the difficulties, the society is very active with a number of high-profile events. In November, they held a Winter Showcase in the Powerscourt Centre with DU Music, Trinity Belles and Trinity Musical Theatre Society. This was a bigger showcase than in previous years, and Carroll describes the event as a complete success. During Raise and Give (RAG) Week, DU Dance hosted Trinity's Best Dance Crew in the Button Factory. This event saw An Cumann Gaelach, choreographed by Aidan Kelly, crowned the winners. Carroll revealed that the team had had to rehearse in classrooms in the Arts Block due to lack of practice space. They have also collaborated with societies such as the Afro-Caribbean Society and Trinity Musical Theatre Society to host themed workshops. Carroll hints at a dancehall workshop lined up as well as a voguing workshop possibly in the works.
To continue providing such high quality activities requires support from College. Carroll says the society's ask is simple: "We just need somewhere to be able to train, somewhere we're guaranteed to have." She is very aware that they are coming to the end of term, with the AGM at the end of March, so explains that a lot of the committee are in their final year and feel the pressure to leave behind a positive legacy: "We don't want to leave Dance Soc with nowhere. We want to leave on a high so the society can continue while we're gone." She adds: "The last thing we want is for the society to be run to the ground. We want it to be as good as possible for all of the members." It is clear that the drive of DU Dance's members to see their society succeed is unrivalled, and it is this commitment to success that will surely see the society overcome the challenges that they are currently facing over the months to come.