As part of a national campaign on one of the most political International Women's Days in history, students are taking place in today's Strike 4 Repeal by walking out of lectures, wearing black in solidarity and taking part in marches and rallies throughout the day.
With no students' union in the country mandated to oppose a repeal of the eighth amendment of the Irish constitution, which gives explicit recognition to the right to life of an unborn child, unions are supporting the national Strike 4 Repeal campaign, encouraging students to take part in today's action by providing materials, transport to this evening march and encouraging them to take part in the planned walkout at 12.30pm.
"I think it's going to be incredibly effective, I think a lot of people didn't see this coming. I don't think people thought it was going to be as big", Síona Cahill, Vice President for Equality and Citizenship of the Union of Students in Ireland (USI) said, speaking to The University Times.
ADVERTISEMENT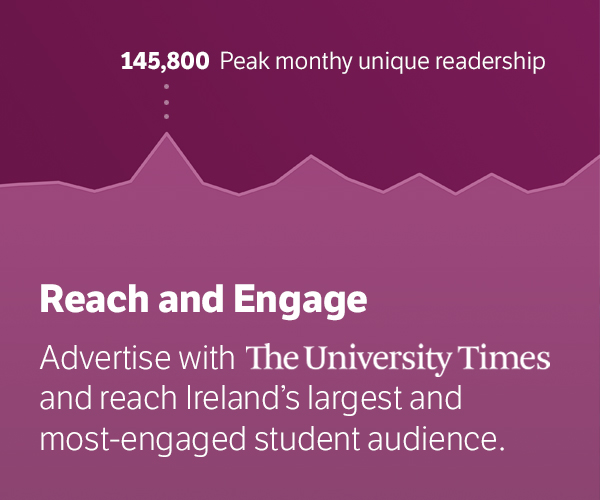 "We went back to a lot of our unions to find out what students wanted on the ground and there was a groundswell of support for the Strike 4 Repeal", Cahill continued.
The strike coincides with this year's International Women's Day, which looks set to be one of the most political yet. Women in more than 50 countries are to go on strike from paid and unpaid labour as part of the International Women's Strike, aiming to raise awareness of the role women play in society and act to in solidarity with marginalised women around the world.
In addition to the planned walkout at 12.30pm, a march, leaving the Garden of Remembrance at 5.30pm, is to take over the streets of Dublin.
Trinity College Dublin Students' Union (TCDSU) is sending a delegation to today's march, with the union mandated to support the campaign after an overwhelming vote at a meeting of the union's council in February. In addition to the match, the union today has stands in the Arts Block and Hamilton buildings, where students can get information and materials, and is hosting pre-assembly tea and coffee in House Six from 11.30am before leaving to join the assembly on O'Connell bridge.
In a statement to The University Times , Kieran McNulty, President of TCDSU, said: "We're supporting the strike because it's important to stand up and say that our students deserve a referendum. Ireland is breaching international human rights law. We in the SU will always campaign on engaging people in the conversation on abortion because it is a topic that is difficult. People have different stances, and that is okay. We are standing in solidarity today because we believe that the women (and trans men and non-binary individuals) of Ireland deserve to be respected by our Constitution and that this law should be removed."
Such efforts have been undertaken by union's across Ireland, with a host of unions including Cork Institute of Technology Students' Union (CITSU) bringing students to march and the Institute of Art, Design and Technology Students' Union (IADT) and University College Cork Students' Union (UCCSU) organising on-campus demonstrations.
Maynooth University's Fem Soc, alongside the Maynooth Students' Union (MSU) Strike 4 Repeal group, have co-ordinated a strike to take place at 12pm on the university's North Campus, where MSU will be speaking "on behalf of all the students we represent". Students will then meet the organisation for Reproductive rights, against Oppression, Sexism & Austerity (ROSA) and travel to Dublin for the march. The first 20 students to sign an online form were given a free return train ticket by the union.
Speaking to The University Times via email, Dillon Grace, President of MSU, explained: "MSU have been running different social media campaigns and working with fem soc and strike for repeal to collect Anonymous Maynooth Students Stories". These stories will then be "used for various upcoming social media campaigns".
University College Dublin Students' Union (UCDSU), alongside UCD for Choice, are encouraging students to wear black, walk out of class at 12.30pm and to rally outside of the James Joyce library at 1pm, having provided students with materials to design placards, banners and t-shirts. In an email statement to The University Times, Conor Viscardi, President of UCDSU, stated: "This is an issue which our generation has been pro-actively engaged with. By facilitating our membership to participate in the strike, it affords us the opportunity to interact with other key groups striving for the same goal. The student voice, plays a significant role on advocating for repeal, working and campaigning in collaboration with other representative groups."
"The Strike, coinciding with International women's day provides the organisations and individuals who engage with the demonstration to reflect on Women's rights in an international context, acknowledging the progress already achieved, while highlighting the scope and need to facilitate women's rights even further", Viscardi continued.
Speaking to The University Times by email, Sadhbh Sheeran of Trinity Strike 4 Repeal stated: "The vast majority of Trinity students have never been given the chance to vote on the 8th Amendment, it wasn't our choice but it is directly affecting our lives. By striking we are saying that we deserve a choice, demand a choice and will not support the 8th Amendment."
Áine Palmer, also of Trinity Strike 4 Repeal, added: "On its most basic level, working at organising TCD Strike 4 Repeal has been about trying to tell as many people as possible about the strike, and getting everyone just as enthusiastic as possible about taking action on the 8th."
---
Dominic McGrath contributed reporting to this piece.