Dominic McGrath, the Editor of The University Times, has appointed Eleanor O'Mahony as Deputy Editor. O'Mahony, who has in the past served as Chair of the Editorial Board and Assistant News Editor, also helped lead the paper's coverage of the Trinity College Dublin Students' Union (TCDSU) elections in 2016.
Commenting on her appointment, McGrath said: "Eleanor is one of the most capable and talented journalists I've encountered in The University Times."
"Her tireless passion for student journalism makes her an invaluable part of the paper and I'm looking forward to seeing what she can achieve in the role", he said.
ADVERTISEMENT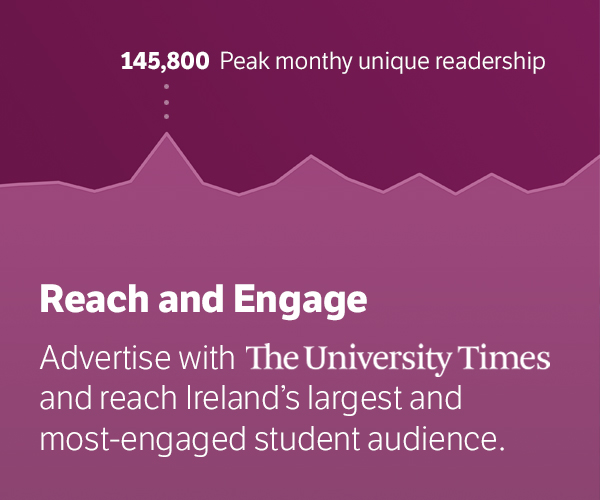 McGrath has increased the number of assistant editors to two, appointing Róisín Power and Dillon Hennessy to Senior Masthead. Power, a fourth-year computer engineering student, is the outgoing News Editor, a role she took on after excelling in her work covering the TCDSU elections in 2016.
"Róisín has a real passion for news, something I'm excited to see her bring to the role", McGrath said. "As one of the most talented reporters working in student journalism, I'm sure she'll continue finding the stories that matter to students."
Dillon Hennessy, a fourth-year law and political science student and outgoing Sports Editor, joined the paper two years ago. Since then, he has helped expand the paper's coverage of sport in Trinity and led a large team of sports writers. "Dillon is one of the most committed members of staff in the paper", McGrath said. "His leadership skills, alongside his exceptional writing ability, made him a clear choice for the role."
"I think the need for two assistant editors is a testament to how The University Times has grown over the last year and I look forward to working closely with both assistant editors over the next year", he added.
Outgoing Features Editor and third-year law student Kathleen McNamee will take on the role of News Editor. "Kathleen displayed all the talents needed in a news editor this year", McGrath said. "She goes into the role with a wealth of experience and I can't wait to see what she achieves."
Jake O'Donnell, a third-year history student, will serve as Features Editor. The outgoing Deputy Sports Editor, O'Donnell was a key part of growing the sports section this year. "Jake has a relentless curiosity that'll serve him well in his new role, McGrath said.
Ciannait Khan will assume the role of Opinion Editor this year. Khan is returning to Trinity to complete a master's in film, after having completed her undergraduate degree in philosophy and sociology. She has previously served as staff writer for both the opinion section and The University Times Magazine. Khan, McGrath said, has a "wealth of experience in the paper" and will be an excellent addition to the team.
Dónal MacNamee, a third-year history and English student, was appointed as Sports Editor. "Donal is a versatile writer", McGrath said. "Very few people know Trinity's sports clubs as well as him."
Taking over The University Times Magazine will be Ciarán Molloy, a second-year PPES student who has previously served as the magazine's Chief Sub-Editor, as well as leading the paper's coverage of the JCR elections in March.
Radius will next year be edited by a former Deputy Editor of The University Times Magazine, Julianne Flynn, a student of sociology and social policy.
The position of Irish Language Editor will be filled by Philip McGuinness, a third-year student of history and Spanish. McGuinness will also sit on the Editorial Board of the paper as part of his role.
After serving as Opinion Editor for the past year, final-year history student Simon Foy will take his extensive experience of higher education to the role of Editor-at-Large.
Ivan Rakhmanin, a first-year law and political science student, will serve as Photo Editor, after cutting his teeth covering the TCDSU and Graduate Students' Union (GSU) elections with the paper.
Colm Ó Néill returns this year to the staff of The University Times. Ó Néill, a final-year student of law and political science, was the paper's first Irish Language Editor. He also previously served as Irish Language Officer of the Union of Students in Ireland (USI). This year, he returns to take on the role of Special Projects Editor.
Rachael Kilduff, a third-year English student, will continue in her role as Copy Editor, developing a section she has led over the last year.
Stephen Paul Paclibar has been appointed as Illustrations Editor. Paclibar, a final-year history of art student, became involved with the paper last year as Deputy Illustrations Editor.
Holly Ann Foley, a final-year PhD candidate in Trinity's Children's Research Centre, will take on the role of Higher Education Editor. Foley came to Trinity through the Trinity Access Programme and now holds an undergraduate degree in European studies and a master's in European economic and public affairs.
Jack Schofield, a fourth-year biochemistry student, will become the second-ever person to take the position of Science and Research Correspondent.
McGrath has also decided to revive the role of Podcast Editor, appointing Isla Hoe, a fourth-year computer and electronic engineering student. A new position, that of Investigative Editor, will be filled by final-year European studies student Sophie Andrews-McCarroll.
Edmund Heaphy, former Editor of The University Times and the first to be independently elected, will return to the paper's staff as Chair of the Editorial Board. The role will see Heaphy, who founded the paper's editorial board, oversee the weekly publication of two editorials. Heaphy, who is a student of philosophy and Jewish and Islamic civilisations, previously worked as a journalist for the Sunday Business Post.
Speaking about the departure of Sinéad Baker, the outgoing Editor of the eighth volume of The University Times and who has twice been named as journalist of the year at the annual Student Achievement Awards, McGrath said: "Sinéad is one of the most talented people to have ever worked for the paper. Her departure will leave a gap not just in The University Times, but also in student life in Trinity."
During her time at the paper, Baker led the paper's coverage of everything from student union autonomy to the higher education funding crisis.
"Many senior editors in the new team learnt all they know about journalism from watching Sinéad's dedication and commitment throughout the year. It was an honour to have worked with her this year and I'm confident she'll go on to achieve great things in journalism."
McGrath also paid tribute to some of the long-standing staff members who are leaving the paper this year. He praised the work of Gillian Murtagh, outgoing Radius Editor: "Gillian turned Radius into a fixture of campus life that day in, day out, students turned to as their definitive guide on the latest society news and the best of Dublin's trends and fashions."
Also leaving the paper is Charlotte Ryan, the outgoing Magazine Editor who previously served as Features Editor. "Quite simply", McGrath said, "Charlotte is one of the most talented writers I know. Her boundless enthusiasm and dedication to the paper made her a pleasure to work with."
McGrath praised the work of Anna Moran, who will leave the paper after two years as Photo Editor and after serving as last year's Special Projects Editor. McGrath said that Moran "was an example to all staff members for her energy and passion for the paper". She was the first photo editor, he said, "to really change the way the paper approaches photography", growing and leading a large photography team.
Aisling Curtis, outgoing Chair of the Editorial Board and former Opinion Editor, is also set to leave the paper. McGrath praised her "concise turn of phrase" and passion for student issues.
James Shaw, the paper's outgoing Editor-at-Large, also received praise from McGrath. "James was one of the hardest working writers in the paper", he said, "always willing to highlight student issues and articulate students' concerns".