University College Dublin Students' Union (UCDSU) President Katie Ascough's unilateral decision to remove a page about access to abortion from the union's freshers' guide was not a "moral issue, but a legal one".
The decision has cost the union €8,000 and has been rebuked by her fellow sabbatical officers.
Talking to The University Times today, four sabbatical officers condemned her decision to reprint the annual guide, after learning that a section of it contained some illegal information about access to abortion. The decision to reprint, decided by Ascough alone, cost the union thousands of euro, union officers have said.
ADVERTISEMENT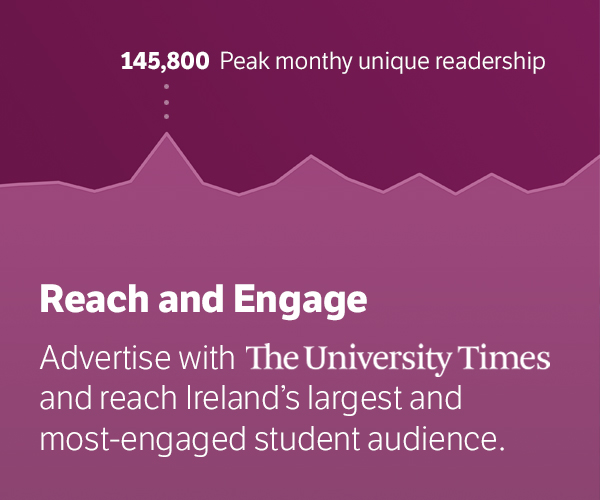 Ascough, who is pro-life, sought legal advice from the union's lawyer, Richard Hammond, after it was flagged to her that providing unsolicited information on how to access abortion abroad was illegal. Following further advice from the Board of Directors of UCDSU, which is made up of previous presidents of the union, Ascough made the "executive order" to not include the information, and rewrote page 59 of the guide herself. In March, Ascough was elected promising to remain neutral on the issue and to delegate to other officers any tasks in relation to the repeal of the eighth amendment.
Speaking to The University Times by email, Ascough said that UCDSU "regrets the waste in monetary terms and will work to find areas where we can make up such losses".
When speaking to The University Times, Robert Sweeney, the UCDSU Education Officer, said that one of his greatest concerns was the fact that Ascough delivered the legal advice: "How could I take the legal information if it wasn't direct? I felt when the original conversation was had…The lawyer should have been on the phone and on the case and it shouldn't have been Katie presenting the case."
Eoghan MacDomhnaill, the Welfare Officer of UCDSU, told The University Times that "whenever the legalities point was brought up", he, UCDSU Campaigns and Communications Officer Barry Murphy and UCDSU Graduate Officer Niall Torris "all said that we were happy to give it out".
The information that was removed included two women's help websites, the prices of abortion during different gestation periods in other countries, which is legal to provide, as long as the information is asked for, and a paragraph relating to how to obtain an abortion pill to use in Ireland, which is illegal information to provide. Speaking to The University Times, Murphy said that he told Ascough that this information was not illegal but that "Katie did not want to entertain that despite it was legal".
Murphy, Sweeney, Torris, and MacDomhnaill all condemned the removal of the information, with Murphy saying that omitting the information about abortion was a "win" for Ascough and for "strong circles and her family".
An email to union officers by Ascough, seen by The University Times, said: "Any queries on this matter should be directed to myself. No comments other than those signed off by myself, in communication with Barry, should be posted on any UCDSU media outlets in relation to this issue."
MacDomhnaill also said that the removal of the information was "bullshit" and while sympathising that she was in a difficult position, he did say that "she didn't delegate it. She fucked up".
In November 2016, UCDSU voted decisively, 64 per cent of voters in UCDSU supported retaining the union's pro-choice stance from 2014. In March 2017, Ascough was elected and, facing questions about her role as an activist for pro-life organisations, promised to "facilitate" the union's stance pro-choice stance. After her election, Ascough told The University Times that while would "facilitate" the union's mandate while keeping her own opinions, she did not commit to attending pro-choice marches with UCDSU or rule out the possibility of campaigning to save the eighth amendment. Ascough's decision to remove the page in the union's handbook was first reported by the University Observer.
Speaking to The University Times about Ascough's campaign promise to delegate, Torris said: "The problem I have is that whether that claim was made because they believed that that was true or it was a good-sounding line. Either way a falsity was presented to the electorate. Whether that was done in ignorance or cynicism doesn't really matter. It was a core election promise."
Murphy was disappointed at how things had turned out, saying that he was "impressed" with her campaign in March and that she could "leave [her]moral obligations at the door and act professionally": "I voted for her on that. I believed her."
The freshers' guide, Winging it, available to students from the union's freshers' week stand, also contained illegal information about how to remove a clamp from a car, but this information remains in the reprinted edition of the guide.
As per the legal advice given to Ascough, the maximum amount of money the union may be liable to were they found in breach of the Regulation of Information Act of 1995: "The penalty for breaches of the act are a class B fine not exceeding €4000 and forfeiture of the offending material."
Trinity College Dublin Students' Union (TCDSU) posted an instagram story this evening featuring the president of the union Kevin Keane, mocking UCDSU. Speaking to The University Times, Keane wouldn't comment on the criticism of Ascough. "Their internal politics is not something I have any role in. I'm willing to work with the leaders of the students' movement and the progressive aims we share", he said.
The first-ever publication of Winging It was published last year by Murphy's predecessor, Luke Fitzpatrick, and contained the removed information from this year's handbook, but also extensively detailed information about how UCDSU was mandated back in 1988 to continue to provide information to women who requested it on the issue of abortion.
Murphy told The University Times: "I always knew it was illegal." Murphy, who wrote the book, said that before showing it to Ascough, he "knew as soon as she saw a certain page that she would be morally objected to it".
Ascough rebuffed any suggestion that the decision made was a personal one. "I do hope students appreciate the decision was made on legal grounds alone…This is not a personal moral issue but a legal one", she said.
"I will continue to delegate as required but stand firm that this issue was not in the realms of my delegating an abortion issue but was my stepping up and leading as the President to ensure we are not putting ourselves and students at risk", Ascough continued.
In a statement to The University Times, Katie Cundelan from UCD for Choice said the group was "extremely disappointed with the decision of our SU President to delete such vital abortion information, against the will of the sabbatical officers", continuing to say that the act was "disgraceful".
Cundelan also said that the information was "previously given out this information in the knowledge that it was illegal, because they prioritised student welfare".
Speaking about the pro-choice campaigning for the year, Murphy said: "We receded in our efforts because we have a pro-life president." While UCD for Choice was at the UCDSU stand last year, Murphy said that Ascough did not want them there this year: "She wanted them to be shoved in the corner". In her response, Ascough said that she had "asked questions about spacing and resources in the tent, but these questions were answered".
Cundelan said that University College Dublin (UCD) is "a pro-choice university, this decision goes against our mandate and the will of the student body. However, UCD for Choice remain enthusiastic about working with the SU this year".
However, they are currently set up beside the union stall. He also said that she tried to stop him "recruiting pro-choice" class reps even though they post on their Facebook page appealing for class reps interested in certain campaign issues.
Currently, Murphy says he is trying to distribute more books but there are still 5,000 of them left: "She's not getting the books out at the minute… she will not touch them because of a certain page even though it's pretty much neutral now."
However, Ascough said that this "week is one of our busiest in the year, and as such I have been actively engaged in handing out several of the Union's leaflets, talking to students, and attending meetings".
UCDSU, like other Irish students' unions, have long been at the forefront of the campaign for increased abortion access.
Correction: 15:09, September 20th, 2017
A previous version of this article incorrectly stated that the fine for contravening sections three, four, five, six, seven, eight or nine of the Abortion Information Act will be €1,905, under today's inflation rate. However, following additional legal advice, the correct figure is in fact €4,000 under the Fines Act of 2010.
---
Róisín Power was reporting from University College Dublin.