Katie Ascough, a prominent pro-life campaigner today elected President of the pro-choice University College Dublin Students' Union (UCDSU), has said she will "facilitate" the union's mandate while keeping her own opinions, but did not commit to attending pro-choice marches with UCDSU or rule out the possibility of campaigning to save the eighth amendment.
Ascough was elected today with over 35 per cent of first-preference votes. A total of 3,237 valid votes were cast.
UCDSU represents over 30,000 students and is mandated by students to be a pro-choice body. Last year, in a referendum in which 4,726 votes were cast, UCD students voted overwhelming to maintain the union's pro-choice position, which it has held since 2014, rejecting calls for a neutral stance on the issue.
ADVERTISEMENT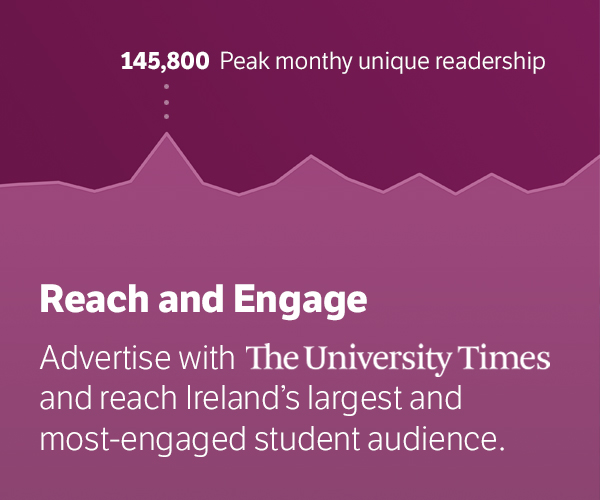 In an interview with The University Times today, Ascough stated that she will "be communicating with the rest of the SU team, as to what my position should be in the repeal the eighth campaign" and that she "would like to delegate the campaign to the welfare officer and to the [campaigns and communications] officer where appropriate".
Noting that her role as president is "to represent the students who have voted me in", she stated: "I will be upholding and facilitating and making sure everything runs smoothly for those campaigns."
In an interview with the University Observer earlier this week, Ascough refused to rule out canvassing to save the eighth amendment if a referendum were called during her presidency. When questioned by The University Times over whether she would do so if the other officers on the team were opposed to it, she stated that there is a "fine line between where should the president not have to actively campaign versus uphold the mandate and the policy of the union".
"All I can say is that I will be doing everything that I have to do to represent students on this issue. I can't say I'm going to throw away my own personal views, that's not something I intend on doing", she continued. "I have absolutely no intention of doing anything that will overtly misrepresent students on that issue."
Ascough is a regular columnist in the conservative Catholic magazine Alive!, which holds a staunchly conservative attitude to feminism, abortion, LGBT rights and climate change, and has also worked for Vatican Radio in the past.
In the magazine's July/August edition last year, Ascough discussed her support for the pro-life movement and her experience in America that summer, where people were "unashamedly pro-life".
"If we believe something but do not act on it, there is no sense of achievement or development of character. Secondly, for those around us. If we hold a truth, but do not share it, we are denying others the joy of that truth", she said.
Ascough defended her decision not to include any mention of the eighth amendment in her manifesto, stating that "the focus of my campaign was domestic issues first".
She added, however, that she realised that the issue "is particularly relevant, especially this year", stating that she promised to "facilitate, uphold and make sure that the campaigns have what they need".
Ascough's approach to the union's pro-choice stance places her at odds with the majority of sabbatical officers and student leaders across the country, many of whom have been active campaigners in the repeal the eighth movement. Speaking to The University Times yesterday ahead of the pro-repeal demonstrations, current UCDSU President, Conor Viscardi, said the "student voice plays a significant role on advocating for repeal, working and campaigning in collaboration with other representative groups".
Speaking to the Irish Times last September, during a counter demonstration to the March for Choice, Ascough, who is a member of campaign group Students for Life, described UCDSU as "very much in your face pro-choice", before criticising TCDSU, who, she stated, "has said its number one priority is to have the eighth amendment repealed".
Speaking to those assembled in UCD's student centre after her win was announced, Ascough addressed what she referred to as a "somewhat [sic] of an elephant in the room". "I am going to be a president for everyone", she continued, "I love UCD, it's an inclusive place. I came here with opinions that might not be the norm, I understand that. I have run for this election knowing that", before encouraging those with questions to speak to her.
Yesterday, between 8,000 and 10,000 students, activist groups and NGOs attended the March for Choice in Dublin, as well as the Strike 4 Repeal gathering, which obstructed O'Connell Bridge for a number of hours. Numerous students' unions, including UCDSU and Trinity College Dublin Students' Union (TCDSU), attended the demonstration, one of the largest pro-choice demonstrations seen in Dublin in recent years.
Speaking to The University Times last year ahead of the referendum calling for the union to take a neutral stance, one of the organisers of the group calling for a neutral stance, UCD for Fair Representation, Roger Berkeley, said his group were not a "pro-life organisation", but instead resented the idea that the union was not properly representing students on the "divisive" issue of abortion.
Ascough, who was involved with the campaign for neutrality, faced questions on social media in recent weeks over whether she would effectively maintain the union's pro-choice position, considering her own personal support for pro-life groups.
The union, despite disaffiliation from the Union of Students in Ireland (USI), in 2013, has campaigned alongside it at numerous pro-choice marches over the years. USI, which represents the majority of students in Ireland, spoke last week at the Citizens' Assembly, calling for a repeal of the eighth amendment and the introduction of free, safe and legal abortion services in Ireland. Last year, students once again rejected reaffiliation with USI in a referendum. In her speech to the assembly, President of USI, Annie Hoey, stated that not a single students' union on the island of Ireland had a mandate to actively campaign against a repeal of the eighth amendment.
TCDSU has held a pro-choice mandate since a referendum in February 2014, with 73 per cent of students voting for the position that TCDSU advocate abortion under any circumstances.
In two referendums also held today, students voted to mandate UCDSU to campaign for significantly reduced third-level fees and for Irish unity.
---
Róisín Power contributed reporting to this piece.