In this year's race for entertainment officer, a role that faces extreme difficulties given the uncertainty surrounding the reopening of college and return to nightlife, two candidates will seek to convince voters they have the energy and experience to take that challenge on.
The issues brought under the spotlight will no doubt attract the attention of many given the current context of a pandemic having slaughtered all in-person events in the last year. Candidates will have to navigate their campaigns by balancing the hope for a brighter year of events ahead with the need to prove themselves capable of adapting online while the coronavirus remains at large.
Speaking with The University Times, candidate Greg Arrowsmith, a third-year political science and economics student, says he has "always wanted to run for ents", revealing a desire to increase the inclusivity and efficiency of ents events.
ADVERTISEMENT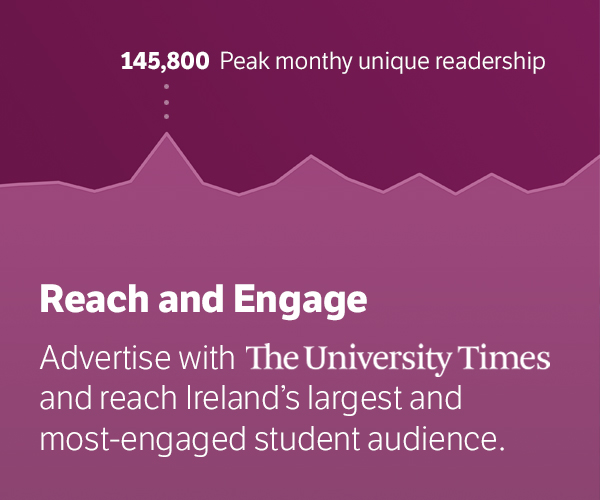 Running against Arrowsmith is Antonia Brady, a final-year drama and modern Irish student. Having spent the past year as ents officer of DU Players and another year on DU Players' ents sub-committee, Brady explains that the enjoyment she experienced while in these positions was a driving force behind her decision to enter the race.
Arrowsmith says that the motivation for throwing his hat in the ring is purely to give back: "I really enjoy the social aspect of college and it makes me a bit sad that not everyone is having as good a time as I might be having and worried that someone might be feeling left out and not involved."
It is this line of thinking that Arrowsmith has focused on as both social secretary of Dublin University Hockey Club (DUHC) and events secretary for Dublin University Sailing Club (DUSC), organizing both in-person and virtual events over the last two years. In his CV as an event organiser there includes nights out, a trip to Belfast and a ball for 350 people prior to the start of the pandemic.
The largest event Arrowsmith organized was to raise money for the suicide prevention organization Pieta House, a cause close to his heart after a member of DUHC took his own life in May, 2019.
"That kind of lit a fire under me to try and change the conversation around mental health and get people talking about it, because it's such a tragic thing that just is so avoidable", Arrowsmith says.
The event, called the Shit Shirt Shindig, was a live music event in the Workman's Club for 400 people in November 2019. Arrowsmith says it taught him a lot about organizing events and inspired him to incorporate a charitable aspect into his ideas for the ents officer role.
"I think it's a platform that could be bringing up the causes that are important to students, so not just mental health but also environmentalism and political activism", says Arrowsmith.
Some of his ideas to this end include organizing more charity nights out like the Shit Shirt Shindig and a suggestion that if Trinity Ball was to go virtual, to donate profits from online ticket sales to charity as well.
Virtual events will likely be a common talking point in this year's election. Brady's past year as ents officer for DU Players has certainly made her well equipped to organise virtual events in the possibility that things remain online heading into the start of next term.
Brady is grateful for the experience she gained and is confident it will serve her well should she be elected to the role: "To be honest, I feel extremely prepared if it is a situation that freshers week were online. I've already done a full freshers week schedule of events for Players online… and [the events] were extremely well attended."
While Brady acknowledges that "you probably couldn't compare the standard of [DU] Players ents to SU ents", she discusses the advantages that online events bring – such as increased accessibility – and has sought to make the most of a challenging year. During her time as ents officer for DU Players, she has organised over 30 virtual night-time events and collaborated with several societies including Law Soc, the University Philosophical Society (the Phil) and the College Historical Society (the Hist).
Society collaboration is something Brady is eager to carry with her to the role. She explains that although this is not a new idea, she wants to "platform [it] on a larger scale". Brady also explains her plan to make events "large scale yet low cost" and to be conscious that, when it comes to black-tie events, "student's economical situations might not be able to stretch that far".
Since the pandemic, Arrowsmith has also adapted to organizing virtual events, which he acknowledges can be particularly difficult to involve first years in. He says one successful type of event has been a virtual games night, playing versions of games like Code Names and Pictionary over Zoom.
"We had 50 people on our first one and about 35 freshers and they all really enjoyed it, the feedback was really positive", says Arrowsmith about the first games night he organized.
In terms of future virtual events, Arrowsmith pointed out that large, college-wide ents Zoom events can be impersonal. He suggests that having that common interest of a club or society makes it easier, especially for first years, to meet people virtually, so wants to create resources to support societies and class reps to organize more successful, inclusive events.
One of Arrowsmith's ideas as ents officer is to create a kind of "Zoom playbook" as a resource for clubs, societies and class reps of all of the most enjoyable, engaging and successful virtual events people have discovered this year.
While Arrowsmith is aware of the challenges facing an ents officer during a pandemic, he is optimistic that there will be some return to in-person college social life. However, he recognizes that a return to in-person events post-coronavirus will have its own set of difficulties.
"I think the biggest challenge is going to be managing expectations for the people that are ready and raring to go, which may not be possible straight away, while at the same time balancing the people that may not be ready to go."
"I think this has taken a huge toll on a lot of people. I don't know about other people, but I wouldn't be ready to step straight into a busy nightclub", Arrowsmith adds.
This comes back to Arrowsmith's desire to listen to other students to create social events for everyone, including sober events and booking venues that are more physically accessible.
"I've talked to the Mature Students' Society and I've talked to the disability officer and to QSoc as well", Arrowsmith says. "It hadn't crossed my mind before, how exclusive nights out can be or events can be if you're in a wheelchair, or if you don't drink, but talking to these people has opened my eyes to that."
Arrowsmith does indeed appear determined to make accessibility a cornerstone of his campaign: "I get a lot of pleasure out of seeing someone who wouldn't otherwise go to an event, be at an event and have a good time. And likewise, I get pleasure out of seeing an event run well."
Catering events to everyone on campus appears to be at the core of Brady's campaign. Aware that "[for] students who commute, students with disabilities, students who have placements, literally students even who work long hours…it's not as easy to come to an ents event". Brady outlines her plan to move ents' focus beyond Trinity Hall and the JCR, and to ensure everyone is catered for.
Achieving this may not be an easy feat but Brady is full of ideas – she plans to make event spaces more accessible, host more events throughout the day and target first years. Moreover, if events do remain online, ensuring all students can take part without financial barriers: "For virtual events, I think it's entirely realistic to say that we can put them out for free. I wouldn't want to charge people to come onto a Zoom."
While Brady is aware that free events may make ents less profitable, that is a sacrifice she is willing to make: "I think primarily ents is a service for students. It's there to help students find community [and] have fun."
Perhaps one of the biggest things that Brady has to offer is her passion: "I really am passionate about the position and I just think I want to get in there and do the coolest job I can."
Indeed, for both Brady and Arrowsmith a high level of passion as well as a swathe of experience is evident. The electorate may have to wait until deep in the campaign before it becomes clear which of these two candidates, who both offer similar visions of accessibility and adaptability, stand out the most.
---
Jane Cook is the Science & Research Editor of The University Times and Naoise D'Arcy is the Deputy Features Editor. Both will co-lead coverage of the ents race during the upcoming TCDSU elections. Gillian O'Neill, an assistant features editor, and Emma Donohoe, deputy news editor, will act as correspondents on the race.