With the announcement of candidates last week for the 2021 Trinity College Dublin Students' Union (TCDSU) elections, there came the news that for the third time in the newspaper's history, the race to become the next editor of The University Times is contested.
Emer Moreau, a third-year english and psychology student, is one of two candidates vying for the job. Moreau is currently the deputy editor of The University Times, taking on the role before Christmas, and a veteran of the paper, having begun writing as a contributing writer in her first year.
The race has also seen the emergence of an unorthodox competitor, Burkean writer and final-year philosophy student Peter Caddle.
ADVERTISEMENT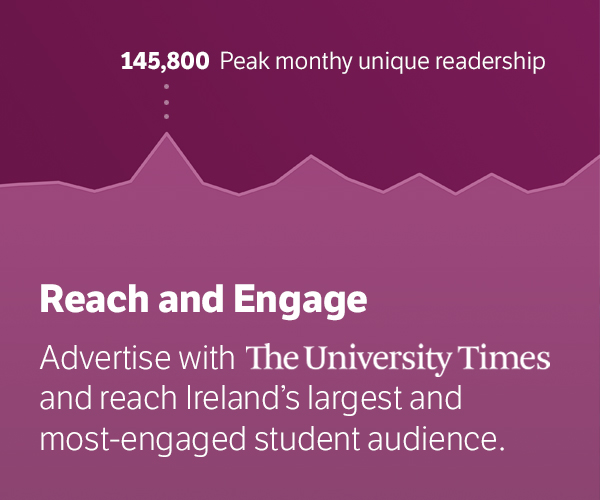 Caddle declined to do a face-to-face interview for this article, in a highly unusual move from a TCDSU candidate. He did ask that the newspaper send him questions instead of doing an interview. However, it was decided that this would be unfair on other candidates and would contradict the paper's existing practise.
Speaking to The University Times, Moreau explains the dual purpose of the paper, saying that keeping students informed "in the past year, with the pandemic, has become even more apparent and important both in UT and on a national level".
She also notes that, while she was news editor, she learned how to hold capitated bodies to account by "constantly having a presence and reminding them that you're there". Moreau is currently leading the coverage of the provost elections also – however, she will step down from her position in the paper for the duration of the election.
The University Times has been criticised in the past for being at times intimidating for new writers. Moreau outlines what makes the transition easier: "Feedback is hugely important when it comes to mentoring and I think that's something we do really well." She also aims to hold more social events for the staff next year, pandemic permitting.
"I want UT to be a place where you can meet like-minded people and have fun, as well as being in a newspaper that has a job to do", Moreau says, arguing that the social aspect of a newspaper doesn't have to come at the expense of high standards.
Moreau also plans to introduce the role of ethnic minorities correspondent. "The most important thing you can do giving a platform and a voice to minorities is give it to them themselves, rather than have people in more privileged positions report on their behalf", she says.
"Journalism in Ireland is mostly white, and we are contributing to the next generation of journalists so it's really important to me that we are as diverse as we can be", Moreau adds.
She also plans to set up a Diversity and Inclusion Committee to further improve coverage of issues that affect marginalised groups.
On her reason for running, Moreau says she wants to "maintain the high standards that UT has", arguing that her background puts her in the best position to do that. "I've seen and done so many things with the paper. I've learned about advertising, I've learned about layout, I've learned about the website."
This year, The University Times decided to discontinue its print issues, focusing completely on an online-first approach. For Moreau her plan is to bring back print but reduce the number of print issues: "I want to reduce it from what we have, which is nine issues [per year] to maybe six". The newspaper traditionally publishes eight or nine issues a year, and is constitutionally mandated to bring out a paper once a month in both teaching terms, so a reduction of this sort may require a student-wide referendum, depending on how the months pan out in a given year.
She adds that print is important for "reaching as many people as possible", explaining that "a lot of academics read UT, but they would not necessarily be on Facebook or Twitter". The return of print, how the newspaper can develop online and how best to involve new writers will likely be key talking points in this year's elections, as the pandemic turns much of what the paper does on its head.
While it is unclear what Caddle's plans for the newspaper would be if he was to be elected, it would appear likely that the tone of the paper's opinion pages could change dramatically. As a writer for the Burkean, an online student publication that has in the past been condemned for promoting eugenics, Caddle has written about climate change, hate speech laws and – most recently – the Wall St controversy surrounding Gamestop stocks.
However, Caddle has never written for, contributed to or held a position in The University Times. He is branded as the Burkean's resident expert on all things popular and cultural and is currently its chief project coordinator.
Caddle's writing generally orbits around far-right ideas. For example, in 2019, Caddle wrote an article for the Burkean, arguing that "Ireland is wasting time tackling climate change". In it, he argued that Ireland "cannot make a difference in the grander scheme of things, and would be much better off spending her resources elsewhere or preparing for the inevitable rather than trying to prevent the impossible".
Other articles of his include a post reprimanding "the politicians of our ever-weakening neoliberal ruling class" for their efforts on legislation banning hate speech, which he argued could lead "us down this dangerous but well-trodden path towards rampant political violence".
"While the entirety of the Irish Right at the moment has an unwavering commitment to peace", he added, "if these movements are crushed under the boot of tyranny, far more extreme actors will come to prominence".
On culture, Caddle has written that Dublin group Versatile – a group who have been criticised over racist lyrics – "in the grand scheme of things, is inoffensive", explaining, "mainly because their songs are faker than the tans you'll find on most inner-city girls".
The Burkean has been controversial since its inception. However, that controversy boiled over in 2019, after its former editor Michael O'Dwyer Connolly published an article entitled "Not All Are Born Equal", leading to prominent conservatives such as John McGuirk and Declan Ganley distancing themselves from the Burkean.
In the article, O'Dwyer Connolly argued that global economic inequalities are largely down to the genetics of people with different ethnicities, adding: "Obviously all people deserve to be equal in the eyes of the law and in regards their rights, but when the conversation turns to national and socio-economic inequalities, we are faced with the question of innate potential."
One of the biggest undertakings of the Burkean – which, Caddle told this newspaper, he led the editing and publication of – was the antifa project last year, in which the website impersonated an anti-fascist student group and reached out to prominent student leaders asking them to provide names of right-wing students, leading to the resignation of then Deputy President of the Union of Students in Ireland Michelle Byrne.
Writing about the project – which proved highly controversial – the publication said: "The road ahead for the radical right in Ireland in dealing with these groups will involve a lot more guerrilla journalism in the years to come."
"During the past half-century, our opponents have built themselves ivory towers in which to lord over this country, and the prior tactics of open opposition have exhausted themselves. It is time to abandon old methods and instead look to the philosophy of Barry and Collins."
Aside from previously being condemned for promoting eugenics, the Burkean has also made demeaning comments about women. For example, a recent post on the site criticised one Irish female authors' looks, saying: "Appearance-wise, she wears fake tan and cakes her face in makeup; a symptom of decay all too common amongst contemporary Irish women. I should also add that she's overweight, though the true and horrifying extent of her bloat is difficult to discern since she's skilled at mitigating her girth using dresses."
It is unclear how well some of these sentiments will go down among Trinity students, but it is clear that the electorate will have to make a decision between two very different candidates.
---
Mairead Maguire is Societies Editor of The University Times, and will edit the editor race during the upcoming TCDSU elections. Assistant Societies Editor Maitiú Charleton will act a correspondent on the race.
Emer Moreau has stepped down from the position of Deputy Editor until the end of the TCDSU elections.