Last year's race for Trinity College Dublin Students Union (TCDSU) communications and marketing officer was a tricky one to decipher. While one could forgive voters for being unable to distinguish between the main policy points of Hiram Harrington and the incumbent Philly Holmes, it was perhaps Holmes's increased online presence which allowed him to eke out a narrow win, claiming 51 per cent of the votes.
In this year's race the sole candidate for the position, fourth-year sociology student Aoife Cronin, will not face that unenviable task of having to distinguish herself from other candidates. It does seem, however, that Cronin is not looking to reinvent the wheel, and will base her campaign around issues that were commonplace during last year's race for both candidates, focusing on accessibility, while leaving marketing on the backburner.
Cronin points to her role in the University Philosophical Society (the Phil) as part of their public relations team as particularly formative when it comes to developing her skills in graphic design and marketing, describing it as "a baptism of fire". The following year, Cronin became the head of that same PRO team.
ADVERTISEMENT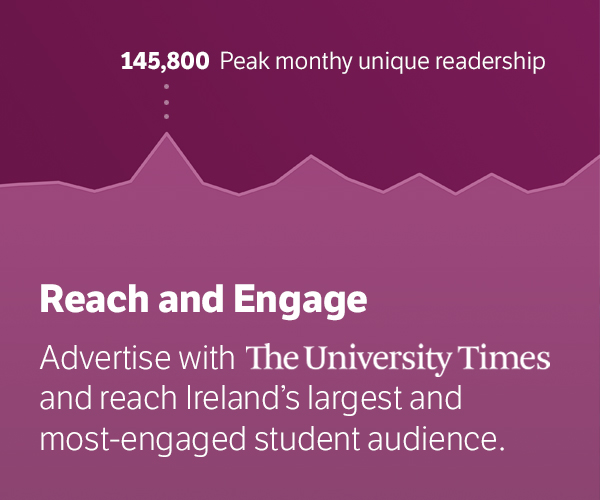 "In that time, I created like, over 200 graphics. And it was basically just like, continuously, week by week, forcing you to get better at all of the aspects of the role."
Using those skills, Cronin secured a job working with an international tech company as a content specialist, where she primarily focused on digital advertising and marketing up until the time of the pandemic. Cronin has also ran for PRO of Trinity Arts Festival and Icarus Magazine, as well as for design editor for the Social Political Review. Cronin cites her time with Icarus Magazine as particularly important for her, as she was given "total control".
Cronin is effusive in her praise of the work done by Holmes and looks to build off of the foundation that he has laid down, further developing the role of communications and marketing officer. Cronin points towards Holmes's changes to the weekly email and his work to make it more accessible. She sees the email as the primary method of communication with students and is keen to continue with new additions brought in by Holmes, such as the inclusion of the audio version and Irish phrases sprinkled in. "Even if you're not fluent, even if you're not a Gaeilgeoir, you would still be interested in this", Cronin asserts.
The issue of student engagement is one that arises annually, and is a primary pillar of Cronin's campaign. For Cronin, the way to achieve increased student engagement is by making TCDSU itself more relatable and accessible for students. Cronin hopes that students feel that they can talk to the union, and supports "the idea of our DMs [always being] open. We aren't just a series of hacks. You can come to us".
Cronin does, however, understand that not everyone wants to engage with the union: "Student engagement is good, and we need student engagement, but not every student is going to like or care about the union and I think that's OK!"
"Not every student needs to care about the inner workings of every single student union hack drama, but every student needs to be able to access the services that the union provides and they need to have a quick and easy way to do that", she explains.
Cronin describes her campaign as being "two-pronged" with regards to student engagement, where she will be trying to come up with new ways to promote engagement, like working with the different schools on campus or working with part-time officers, along with making sure that all of the TCDSU services and content are available for any student in need.
A tentative wish for Cronin is that by the end of her potential term as communications and marketing officer, "most students will be able to name the president and the welfare officer and the education officer", as she hopes to put more of a face on the union.
If Cronin is assured on the problem of student engagement, she is considerably less so on how to go about tackling the union's deficit, with uncertainty surrounding the coronavirus pandemic making it difficult for Cronin to have any concrete plans: "A huge part comes down to where we are with COVID next year and it's really difficult to say with that."
"I know having looked back at the finances for the last few years, when we had the surplus in 2018/19 – a lot of that came down to things like the SU café and campus services that make money", Cronin explains.
"If things are bad for another while, I think that the comms officer can try and work sponsorships and try to secure it as early and – not as much of it but try to secure the best sponsorship possible and maintain our relationships with existing sponsors is one way", she adds.
Indeed, Cronin has identified sponsorship as another core policy in her campaign describing it as "The most important thing, the most pressing thing" for the union. While she has no particular brands in mind, echoing the ideas of both Holmes and Harrington last year, she seeks to work with local, Irish businesses. Cronin is more concrete in terms of finding new ways in which the union can work with advertisers: "I want to make greater use of the social media analytics and email responses that we can get to market to these sponsors."
"And I also want to work with UT and Ents to kind of basically be able to offer sponsors a wider variety of places that they can advertise."
Of course, when one hears of an uncontested race for the communications and marketing officer, they can't help but cast their mind back to the 2019 election, when Muireann Kane narrowly beat out re-open nominations (RON) by just 78 votes. For Cronin and her team, this is a potential threat they are acutely aware of and see the competition of RON as a good thing: "I'm absolutely thinking about it. From the moment I knew I was uncontested the one thing we all reminded ourselves of was it's not over yet, you can't take anything for granted."
"I think it's a good thing, tentatively. This could definitely come back to bite me, but I think it's a good thing that you can't just walk into these roles, that there is a threat of RON."
Cronin reckons they can avoid many of the pitfalls that plagued Kane by treating it like a contested race from the very beginning and intends to run her campaign as if she were contested and fighting for people's votes. "Not getting complacent. That's what the mantra is", she asserts.
It's clear that, while Cronin bears considerable similarities to the current communications and marketing officer, she is prepared in her campaign despite a perceived lack of competition. Whether or not RON becomes a threat will be determined by the electorate who must decide if they are happy with a candidate who, although qualified, proposes continuity more so than change.
---
Jody Druce also contributed reporting to this piece.
John Keenan is the Assistant Sports Editor of The University Times, and will edit the communications and marketing race during the upcoming TCDSU elections. Jody Druce, a science and research correspondent, will act as a correspondent on the race.