In the second hustings of this year's Trinity College Dublin Students' Union (TCDSU) campaign period, pressure ramped up from yesterday as candidates looked to build momentum as the races have now well and truly come flying out of the gates.
Some candidates in tonight's Council Hustings had to stay constantly on the ball as they faced a blitz of questions following their opening speeches and were challenged to respond in just 45 seconds. Other candidates, however, were hardly questioned or not questioned at all outside of the opening two questions.
The chaotic format of the debate did exclude some candidates on the one hand, but on the other hand, the candidates who did receive questions were challenged comprehensively and some handled that challenge better than others.
ADVERTISEMENT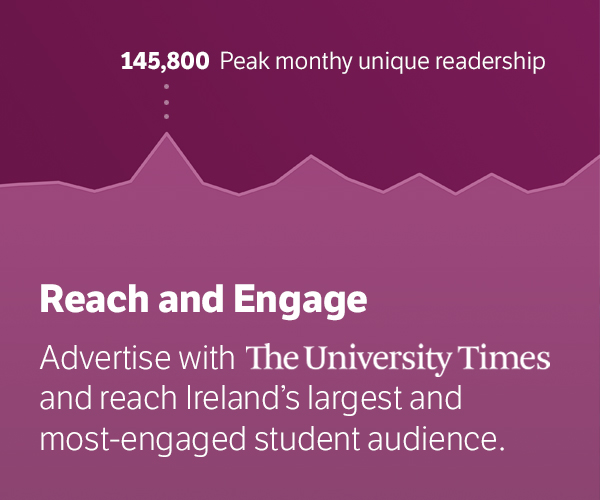 President
The presidential candidates had their first chance to present more diverse visions for what their respective terms in office would look like – Leah Keogh, however, was the clear winner as her institutional experience as this year's welfare and equality officer paid dividends.
Cummins, on the other hand, definitely struggled, tripping up on questions that at times were admittedly harsh and specific. MacQuillan, meanwhile, could only have improved his chances tonight as he came across as well-rehearsed, though stuck to playing it safe for the most part and did not shy away from his inexperience in the union.
Keogh's core pitch that she is "ready to hit the ground running" seemed apt tonight with her policy knowledge coming to the fore, though it remains uncertain as to whether her vision will offer anything substantially different to the current set up.
For Cummins, when asked about the new residential tenancies bill, supported by the Union of Students in Ireland (USI), he admitted to not having "had the chance to formalise myself with the Bill itself" and chose not to comment further on the wider problem of student accommodation and struggled on the subject of student representation on the College Board. He was on firmer ground discussing the effect of the coronavirus of the student experience, drawing on his manifesto pledge to "put forward a fund to support class reps to allow them to easily plan events for their respective course".
MacQuillan tried to turn his lack of union experience into an advantage this evening as he stated that his position as a former "disengaged student" demonstrated that "by putting myself forward, it shows you can get involved in any year." MacQuillan also stated that he was "flabbergasted" to discover that there are student spaces not being utilised in the Hamilton, stating the "STEM students always seem to be forgotten about". However, MacQuillan did succumb to the classic presidential cliches as he repeatedly referenced the need for an "open dialogue" between the union and college.
Presidential candidates were challenged tonight, and all will likely come away from the debate feeling hard done by, even if – at times – all of them shone.
Education
While last night's introduction to TCDSU hustings may have provided relatively smooth sailing for the education candidates, this evening plunged both Bev Genockey and Daniel O'Reilly into the icy deep-end.
Battling it out in a series of policy-heavy questions, the two found themselves interrogated on almost every facet of their campaigns, from diverging attitudes on union engagement to their shared exclusive experience in the STEM Faculty.
On amplifying the student voice and promoting greater inclusion, Genockey flourished. Noting her bank of experience in this already, the candidate noted that "amplifying the voice of students is really important. And I think that that's something I will do. I've done it in diversity in STEM, I've done it through the positions I've held already".
In further anatomising the core principles of each campaign, candidates identified the cornerstone of each of their hopes for the role, with Genockey emphasising the need for a "roadmap for a safe and valuable return to the classroom, one, which is digestible and easy to understand". For O'Reilly, the resolute pattern of delayed feedback remained the mainstay of his campaign.
Yet on Genockey's proposed open module on biodiversity, climate change and sustainability the candidate seemed to err on the side of reverie. While O'Reilly remained robust throughout the evening, his focus on creating a "physical map" of the campus appeared somewhat out of touch for a student body who may have greater priorities in a post-pandemic return to education.
Second only to the presidential race, the candidates for the role of TCDSU education officer confronted some of the most vigorous interrogations of the night. While each may have triumphed on well-rehearsed manifesto points, candidates hesitated on the more fickle queries of the evening.
Welfare and Equality
With Cathal O'Riordan dropping out from the election altogether, the role of Welfare and Equalities Officer has now become a two-horse race with Sierra Mueller-Owens and Dylan Krug battling it out. The gaps in policy and outlook that became apparent between the candidates Sierra Mueller-Owens and Dylan Krug during dining hall hustings held strong tonight.
In terms of tackling engagement, Krug laid out plans to explore a variety of online platforms and archive events online, while Mueller-Owens prioritised the organisation of a wide-ranging array of events. She highlighted plans to continue a diverse range of events such as sex toy bingo and the multicultural women's symposium, with a focus on student involvement.
On key issues facing students today, both candidates agreed that isolation and loneliness were a priority. However, their plans to tackle this differed. Krug emphasised the importance of putting "the information in students' hands", referring to his proposed "what do we do now" documents and placing the emphasis back on existing student welfare services.
In stark contrast to her opponent, Mueller-Owens looked towards the transition back to campus, stating aspirations to "create a balance" between a swift return to normalcy and protecting students who are vulnerable to coronavirus.
When asked how they planned to see their campaign promises realised, even if not elected, Krug's passion shone through. The third-year student promised to continue working under Mueller-Owens, if unelected, complimenting her ongoing work as gender equality officer. The unbalanced question, however, meant that final-year student Mueller-Owens was forced to discuss her aspirations to work with the Graduate Students Union and her planned involvement with the International Centre for Migration.
In response to a question about supporting off-campus students, Mueller-Owens promised to introduce extended office hours, a proposal that was notably lacking from Krug.
In future, the two candidates will need to give a more invigorating performance to win over voters. While both candidates share the same priorities for student welfare, what sets them apart are their differing approaches to tackling student issues.
Ents
With questions for these candidates centring around accessibility and diversity, Brady and Arrowsmith struggled to distinguish between themselves this evening. Both candidates laid out similar visions, preoccupied with the unique challenges Ents will face emerging from the pandemic next year.
In terms of accessibility, both candidates spoke of the shift toward online events in recent months and what it will mean to possibly return to in-person events. Brady spoke of her plans to improve the captioning service for Zoom events, saying that it was the "most important thing about making events available online".
Arrowsmith focused more heavily on the possibility of in-person events and his plan to fill an "Easing Into It" month with non-alcoholic events and workshops concerning consent and drug use. He proposed a radical addition to his "five-point Plan": that clubs and venues would be placed on a black-list for future Ents events in cases of misconduct or negative experiences, with a focus on LGBTQ+ social safety.
When asked about the affordability of events, again, neither candidate pushed out in front. Brady was quick to reiterate her manifesto points, and spoke about the importance of improving affordability by ensuring free online events and in-person events that cost €5. Arrowsmith spoke about contacting campus offices regarding future affordable events in the dining hall, exam hall, and Pav.
Where the two candidates differed, however, was on the question of freshers' week. While Brady did not see the need to host a second week of events for prospective second years who missed out on their first freshers' week this year, Arrowsmith struck out in disagreement. With little else differing between the two, this was a significant moment of opposition.
Ultimately, with both of these consistent candidates promising to make "Ents for Everyone", either Brady or Arrowsmith will want to do something radical to set themselves apart in the coming days.
Communications and Marketing
As would be expected of the only uncontested race in this year's elections, communications and marketing certainly took a back-seat at tonight's hustings, with Aoife Cronin fielding significantly fewer questions than any other candidate. Nevertheless, Cronin put forward yet another self-assured performance, building on her strong display from yesterday.
In response to the perennial question of student engagement, Cronin did not propose any grand plans to combat the issue once and for all. Perhaps trying to lower expectations, she began by suggesting that "engagement is often thrown around cynically," adding that "every SU candidate has dreams of fixing the problem".
Nevertheless, Cronin provided precise metrics for defining success on what engagement as a student body looks like, saying that students need to know exactly who its union is and what it does for them. "I want students to know what the union is worth."
On rebranding, Cronin was once again prepared in her answer, rejecting the prospect of wholesale changes. She pointed out that "part of good branding is continuity, recognisable colours and logos".
Cronin offered considerable praise of incumbent Communications and Marketing Officer Philly Holmes and his work with rebranding this year, planning to build on his work during campaign weeks and "slowly introduce new colours and fonts, while still maintaining a recognisable identity".
While the lack of interest in an uncontested race is unsurprising, Cronin's assured approach to the questions she did receive suggests that she continues to take the race seriously.
However, she will hope to receive more opportunities to present her candidacy at future events. But with no slip-ups or blunders so far, it seems unlikely that a lack of face time during these hustings will hurt Cronin's eventual chances at the polls.
Editor of The University Times
The two candidates for Editor, Emer Moreau and Peter Caddle, tonight faced questions on diversity and direction, in relation to the paper's future.
Moreau named the New York Times and the Washington Post as newspapers she hopes to emulate during her editorship, highlighting the success of their multimedia formats and online-first approach.
"I think the New York Times particularly has adapted so well to the changing nature of journalism in the era of the internet", said Moreau. This ties into one of her campaign promises which is to reduce the number of print issues from nine to six.
When asked about his editorial inspiration, Caddle named the Burkean, a far-right student-led publication.
"I think that we should be emulating the Burkean in that we should be moving away from the 19th century and into the 21st", said Caddle – a phrase fast becoming a campaign slogan of sorts.
He restated his plans to completely discontinue print issues of The University Times, saying that "if the physical edition is just going to be a collection of the best hits of the past month then I highly question why we need it at all".
Moreau laid out her plans to boost diversity in the paper's staff, restating her intentions to hire an ethnic minorities correspondent and create a Diversity and Inclusion Committee. Moreau explained: "as a white journalist, you can't tell someone else's story better than they can themselves".
Caddle did not address how he would cover race issues or directly deal with improving diversity in the paper's ranks, instead saying that engagement with The University Times had to be improved first and claiming that there was a "writer problem".
The race to become editor of The University Times tapered off somewhat tonight. Caddle said that his only policy is to cut the print issue of the newspaper, severely limiting the scope of conversation around the future of the paper. Meanwhile, Moreau – while articulate and clear when she did speak – was not asked any questions outside of the two provided by the current editor at the start of the hustings.
---
Cormac Watson, Aoife Kearins, Molly Furey, Faye Curran, Emma Donohoe, Sárán Fogarty, Amy Cox, Ella Connolly, Jessica Allen, Emer Tyrrell, Jody Druce, John Keenan, Mairead Maguire, Maitiú Charleton, Jane Cook, Gillian O'Neill and Naoise D'Arcy also contributed reporting to this piece.