I can only describe walking through the gates of Trinity for the first time as a culture shock. It felt as though I was transcending from the busy capital city into a town of its own, insulated within the city's centre. The sounds of the puffing buses, chugging cars and the chime of the Luas ceded into the background to be filled by a different kind of bustle – the freshers' fair.
Despite it being orientation week, disorientation was the first feeling I experienced. I stood for a few seconds taking in the expanse, the sheer amount of people and the general ambience of a brave new world. I suddenly felt tinier than when I navigated Dublin from Eden Quay to Trinity using Google Maps after successfully undertaking my bus journey from humble Carlow. If people were crashing into me at this point, I was oblivious to it. Where do I go? Straight? Right? Left?
"Hiiiiiiii", an overly pleasant voice called to me from the left. I turned to find the TCDSU stand (not yet knowing what TCDSU stood for) and cautiously tread along the cobblestone blocks that scatter the ground.
ADVERTISEMENT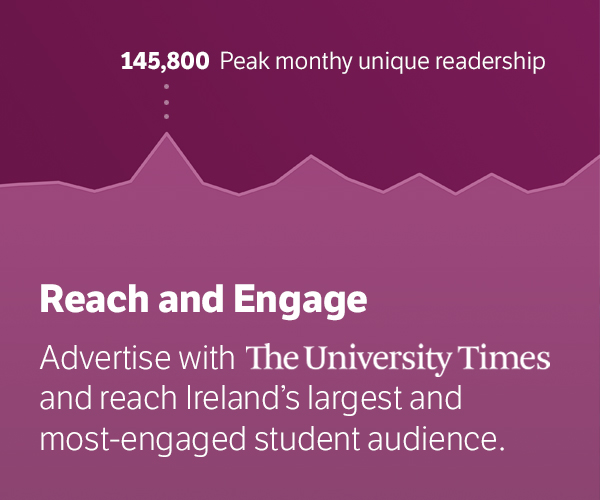 "Would you like to grab a bag?", the voice asked. Stunned by the immediate act of charity, I grabbed a goodie bag, without managing to exude a sentiment of gratitude, or speech of any sort for that matter. At this stage I felt somewhat childlike, ready to fulfil any command and be guided in any which way. That voice was already being directed to someone else, leaving me to endeavour on my own once again.
Despite it being orientation week, disorientation was the first feeling I experienced
Coming from a rural town of just over 20,000 people, there was no way I couldn't have been intimidated by this new environment I found myself in.
I made my way around to the individual stalls and attempted to begin conversations, while I offered to sign up to societies by way of bribes of whatever freebies were on offer. My main worry coming into Trinity was the fear of not making any friends. However, after my first jaunt around freshers' fair, this concern was largely subdued by the variety of hospitable people I was making acquaintance with.
This couldn't be Trinity? At least not the stereotypical Trinity I had envisioned: a land of pretentious and confidently intelligent characters. Everyone I talked to was bubbly, welcoming -– and I think these traits extended beyond trying to be a good representative of their respective clubs and societies.
I was dragged in to do a 60kg deadlift just because I looked at a stall, while similar scenarios occurred with five-a-side soccer as happened with Trinity Vincent De Paul – despite my making it explicit that no, I really have no interest in some of these things. Still, in true fresher fashion I did whatever I was coerced into, all made easier by the kind people I talked to who won't be forgotten for their helping my navigate this new world. Who knows, maybe I do have a hidden passion to lift weights like the benevolent Bruce Wayne when he isn't the justice-seeking Batman.
In true fresher fashion I did whatever I was coerced into
Away from these stalls, I wasn't safe still. Somehow, I got asked if I liked rowing before quickly being led 20 or 30 metres to the rowing stall where I received a form to sign up to the mailing list. Since then, I've actually duly attended the rowing club's events, finding myself to be very, very sore after each one. There are so many people in the club that I'll come to a slot and each time seem to meet people I haven't seen at all before. Ten minutes in, knowing only half of the small group's names, we'd be heaving together, rowing in synchrony on the machines, listening to the satisfying uniform "whoosh" from the fans.
Similarly in tennis training, I could be playing a match with someone without knowing as much as their name, since it isn't exactly easy to communicate across the court. Later, I would be surprised to find out that these people were anywhere from being fellow freshers to second-year PhD students, anywhere from molecular sciences to law.
I have thought to myself that all these figures roaming around Trinity, doing their own thing, going to society events and training sessions and all the rest have one thing in common – they want to be here. They want to study here. Anything beyond this doesn't matter. We might as well be those immaterial "forms" Plato theorised about. In here, everything is living, everything is alien, everything is personal. It all depends on if you want to approach these forms and get to know them.
Alternatively, you could just ask them where the LTEE2 lecture theatre is, as it evidently isn't in the biomed lab as the Trinity Live app would lead you to believe. I knew something didn't feel right, being an arts student surrounded by lab coats. Seriously, does no one here know where LTEE2 is?
You could just ask them where the LTEE2 lecture theatre is, as it evidently isn't in the biomed lab as the Trinity Live app would lead you to believe
The worst part, I have to admit, is that everyone seems all settled in. Everyone is busy doing their own little important things, walking towards their little important places with or without their friends. There doesn't seem to be anyone searching for any interaction apart from clubs and societies, generating an atmosphere of mutual isolation which can be quite depressing. In my class of around 50, I still haven't properly talked to around half of them.
It is difficult to be spontaneous and try to organise plans after a lecture when everyone seems to be fully embracing an independent lifestyle and has their own plans, going off in their own directions. Everything needs to be organised and planned and prepared. No one stopped me in the bio-med lab because I wore this same cloak of confidence of doing my own little important things. I think all of us wear it at times, particularly my fellow first years when we're just tired and not in want of permitting any human interaction.
What I suppose I have concluded from my first weeks at Trinity, is that it is a place of infinite potential friendships. However difficult it is in certain college contexts, the pool is certainly bigger than that of my Carlow hometown. And each day, I am offered the same privilege of this opportunity.