In a Dublin derby at the Trinity Sports Centre this weekend, the Trinity Meteors were no match for Dublin City University (DCU), last year's all Ireland champions. DCU dominated throughout the game, leading by double digits for the most part before eventually winning 59-67. Though there were bright spots for the Meteors, an inability to defend against DCUs dominance in the paint was ultimately to be their downfall.
DCU found success throughout the game in broken play, quick outlets, and accurate passing – all generally run by captain Nicole Clancy and playmaker Lindsey Abed. Down low, DCU were also immensely dominant, primarily through centre Brittany Roberts but substitute Maeve O'Seaghdha was also effective both inside and as a stretch big. Roberts' strength proved difficult for the Meteors to counter. Her rebounding and the challenge of guarding her in the post were tasks seemingly too great for all but Sarah Kenny, Trinity's star player of the match.
Kenny played the entirety of the match, providing a strong defensive presence. Her dribbling the ball up court in a fashion not dissimilar to Serbian National Basketball Association (NBA) star Nikola Jokic was also effective as she sought to give the team some structure. Strong shooting was on show from Ciara Mulligan, however, Mulligan's ability beyond the arch could have been better used by running some floppy plays which would have stretched DCU's defence more. Niamh Kenny showed great hustle throughout the game, haring down the court on fastbreaks for Trinity before haring back again to contest at the basket when it was DCU's turn to break quickly.
ADVERTISEMENT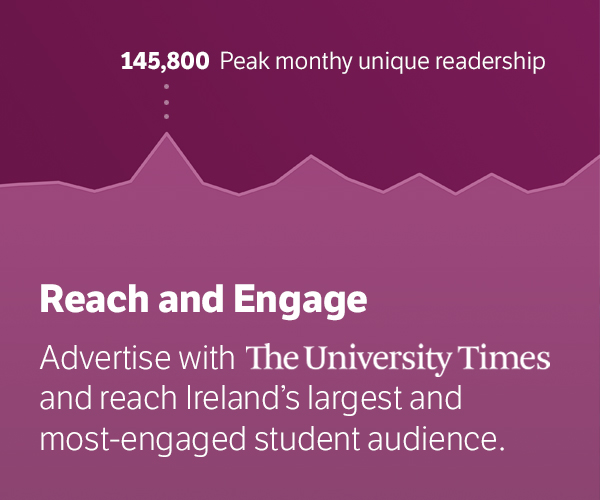 Dual athlete Dayna Finn who also plays GAA initiated most of the Meteors' offense, as well as providing good perimeter defence. However, Finn did not have the greatest shooting display, scoring only seven points and shooting air-balls from three on multiple occasions. Trinity gave almost all their players a run out but constantly kept Finn and Sarah Kenny on the floor, which shows the latter two's importance to the team.
The game began with an "and one" opportunity for DCU from the jump, converted by Clancy. Trinity started with two shots at the line for Mulligan, followed soon after by a corner three for Murphy. DCU's fast break offense was kicked into gear by Trinity settling for long, low percentage shots. The following rebound was always secured by Roberts. Defensive lapses in half court defence by Trinity allowed DCU to feed the ball into Roberts on multiple occasions. Although Sarah Kenny provided good defence down low (blocking multiple shots throughout the game), Roberts still managed to score 16 points and gather multiple rebounds.
Roberts did find herself in early foul trouble, committing two fouls in the first. DCU Coach Mark Ingle opted not to take her out of the game. Trinity missed an opportunity here as attacking Roberts early on could have negated her impact late in the game. Trinity struggled to box out, offering Roberts multiple offensive rebounds and a great many second chance opportunities for DCU as a whole. As a result, DCU finished the first quarter ahead by 11-18.
At the interval, Meteors Head Coach Niall Berry stressed that Trinity needed to take away DCU's first pass, effectively trying to cut DCU off from getting the ball inside. Speaking after the game, Coach Berry recognised that the away side were strong inside. Berry also stressed the fact that DCU had two professional Americans in their line up and that they were the defending champions – both of which meant that victory was going to be a tall order.
Even so, the second quarter started promisingly enough from a Meteors perspective with two blocks in quick succession by Sarah Kenny. After some strong offensive possessions – in which Mulligan and Finn were instrumental – Trinity managed to cut the deficit to three points (22-25) following a Niamh Kenny layup. This was the closest Trinity came to DCU for the remainder of the game. The remainder of the second quarter consisted of both teams chucking up threes and getting to the free throw line, not unlike a modern-day NBA game. DCU were far more successful in this regard and closed the half comfortably ahead at 24-38.
Sarah Kenny started off the second with a step-back mid-range. Soon afterwards, the other Kenny (Niamh) also showed great skill with a eurostep finish. Trinity closed the lead to seven midway through the third, but whenever Trinity got close, DCU found a momentum-killing three. Roberts showed her dominance inside in the third, with Trinity unable to box her out. Other fundamental issues including wayward passing and travelling were further killing any fightback Trinity were trying to accomplish. The third quarter would finish with Trinity on 44, DCU on 56.
Fatigue was obvious among most of the players in the fourth quarter. Shots were hitting the front rim, sometimes not hitting the rim at all. Trinity found most of their success in the fourth quarter with layups at the basket. Both Kenny's scored well inside, with Sarah in particular scoring a nice reverse layup. With ten seconds left and DCU leading 59 – 67, Coach Hugh called a timeout. The following play would not end in a score but instead a miss and rebound for Roberts – a fitting end.
Trinity now have two more games remaining in the regular season. Win both – as Coach Berry expects they will – and an all-Ireland semi-final is on the cards. With two key players scheduled to return in time for the semi-final, Trinity will be hoping that they can challenge for a national championship this year.