Dublin University Football Club (DUFC) Women were narrowly edged out of a win with a 15-14 defeat away at Blackrock College RFC on Sunday.
Five tries in the final twenty-five minutes of the second half blew the lid off what had otherwise been a turgid contest, where the first half ended 0-0.
Blustery coastal winds and dogged defence were not conducive to incisive rugby as both sides refused to lie down.
ADVERTISEMENT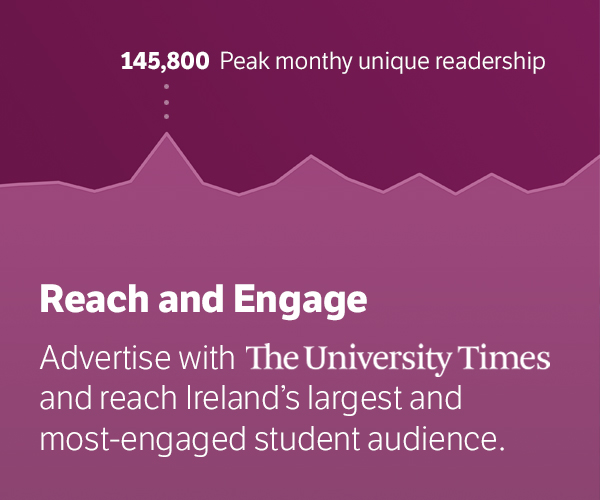 Fatigue may also have played a part in the initial lack of scoring. Breathlessly long passages of play were accentuated by the fact that neither side was playing with fifteen players for the contest.
Blackrock's lack of loosehead prop meant that both sides played with thirteen women in a fixture marked by uncontested scrums.
Trinity dominated the early exchanges, anchoring in the Blackrock twenty-two for much of the opening twenty minutes. Whilst their decision not to redeem this pressure into three points after being awarded a penalty may ultimately have proved costly, it very nearly paid off.
Trinity second-row Ashley Palermo was dumped into touch just inches from the try line by Blackrock's fullback. The same try-saver proved to be a force in attack for the home side too, scoring the third of their three second half tries.
It was not long before the boot was on the other foot. This time it was Trinity fullback Emelia Deane who proved the heroine, producing an excellent tackle to bring down the powerful Blackrock winger despite the former being isolated in a two on one by the corner flag.
This was the beginning of a bout of Blackrock bulldozing in the final minutes of the first half. Trinity held firm however – winger Aisling Slater was particularly punitive in the tackle, uncorking some audible hits which drew winces from several spectators.
Encapsulating Trinity's determination was when they held-up a Blackrock try, with four black and red shirts engulfing and then burrowing beneath the blue and white ball carrier.
Both sides wrought changes in the second half as the fatigue of fighting with thirteen players apiece took its toll. The loss of Trinity captain and totem Tricia Doyle to injury was an unfortunate event which proved to bear porous consequences for the defence.
The first twelve minutes for the second half saw Blackrock camped on Trinity's twenty-two, accumulating penalties, though still without much penetration.
To the neutral the eventual try would likely be deemed just reward for this territorial advantage. Fast hands through the backline punctured Trinity's own line, Blackrock's outside centre exploiting the overlap and finishing off a slick move in the corner.
The same centre and both Blackrock locks were both destructive runners in the loose, often dragging three defenders with each carry.
This wearied Trinity's tired limbs further and it wasn't long before another try was conceded, Blackrock's inside centre registering her name on the scoresheet this time.
This conversion – as with the first try – was narrowly missed, leaving Trinity still only needing ten points to draw level.
However, even with the gusts still blowing strong, the speed of Blackrock's successive tries seemed to have rendered any of the otherwise prevalent wind absent from Trinity sails. For just minutes later the home side crashed over again, another powerful runner off the bench this time.
This latter scorer reflected the difference between the two teams. Where Trinity were able to call on reliable quality students from their reserves, Blackrock were instead drawing on All-Ireland-League (AIL) talent fresh from their first team.
In this light, the growing gap in quality as more of these star-studded subs were introduced is less surprising.
However, despite going 15-0 down with only ten minutes to play, Trinity's spirit remained unextinguished.
A blistering break from Palermo punched Trinity from deep in their own half into Blackrock territory before a similarly abrupt and lengthy incision from inside centre Juliet Byrne dragged Trinity to within three metres of the line.
Indeed, only a superb chase from Blackrock's seemingly inexhaustible inside centre prevented Byrne's break becoming a try. However, it only delayed the eventual try by a mere minute, as shortly after Byrne received the ball at close range and touched down under the posts.
Fly-half Jill O'Toole's conversion made the score 15-7 with five minutes to go, and unease amongst the locals was apparent both on and off the field. "They always come back late, Trinity" muttered one of the disgruntled Blackrock faithful.
Nerves may have been enhanced by the fact that Blackrock were only one place above Trinity in the league table, with both sides knowing much was at stake in the clash. And this was now a game whose stakes were very much there for the taking.
The smell of blood – likely diffused by the wind – was not lost on Trinity. DUFC surged forward after receiving the kick off before two quick penalties propelled them to the Blackrock twenty-two with just two minutes to go.
Though proper Alanna Fusciardi Wallace bundled over following a lineout and several phases – a try convincingly converted by O'Toole – it proved too late, with the referee duly calling time with the score tantalisingly at 15-14.
In what was nonetheless a remarkable turnaround, Doyle's return to the fray for the final ten minutes may not have been unrelated to the resurgence, underlining her importance to the team.
DUFC Women as a whole will have to be on their game as the Division 1 Leinster League approaches its final quarter, and Trinity look to secure a second consecutive year in these highly competitive surroundings.