On February 25th, Trinity Sport announced the launch of a new strategy for sport, entitled "Raising Our Game". In the words of the Trinity Sport website, the "Strategy aims to re-establish the University as a leading force in all aspects of third level sport".
In light of this new initiative, it's worth examining attitudes toward sport in various colleges throughout Ireland, as well as the reality of sporting life for students in those same institutions, from those participating with clubs to those performing at the very highest levels.
Reputation is an intangible thing, earned with effort over time but, once earned, easily lost. For hundreds of years Trinity has been the most prestigious college in Ireland by default. Consistently ranked in the top 100 in the world for academic performance, it holds a special place in Irish cultural, social and political history as the springboard for many of this country's leading lights. While this may be well and good for the tour guides to work with, however, students have to deal with the options in front of them today.
ADVERTISEMENT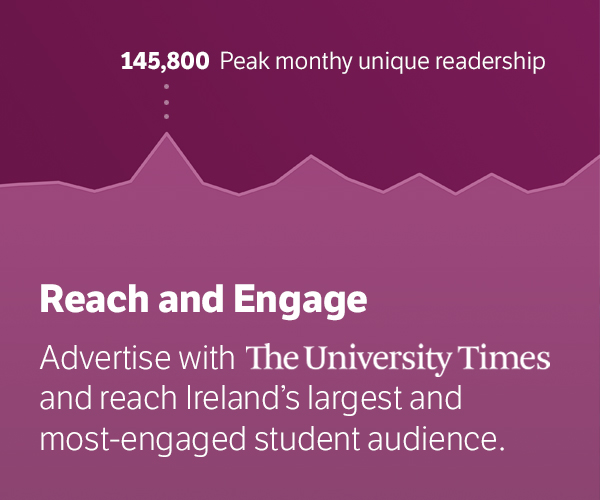 Between Ireland's universities and technical institutes there are now so many options for prospective graduates to choose from that Trinity cannot afford to rest on its laurels when it comes to attracting them. This is where sport comes into play – pardon the pun. While obtaining a degree is obviously the primary purpose of most students attending university, a good name will only go so far in turning people's heads and especially with talk of rising student contributions and income-contingent loan-schemes. Now, more than ever, the market is competitive. People will be seeking value for money, bang for their buck. Faced with a choice between two similar courses, it is the extra attractions a college boasts that that can swing the issue.
Trinity, nestled in the centre of town, has always faced a unique challenge when it comes to developing sporting facilities. Space is at a premium
This means looking beyond reputation – at the facilities on offer, the scholarships, the supports for students and the extracurricular activities that are available. All of those criteria can be applied to the sporting life of a college. I use the term sporting life to refer broadly to all of the sporting activities one could conceivably participate in while in college, from fun runs to targeted physiotherapy sessions. It is exactly because the competition to attract students is hotting up that the announcement by Trinity Sport of the "Raising Our Game" strategy is so welcome. The policy document, co-authored by Trinity's Director of Sports, Michelle Tanner, and the Dean of Students, Prof Kevin O'Kelly, represents the culmination of years of hard work on behalf of the authors and their colleagues. Most importantly for students, it represents a comprehensive effort to overhaul the sporting side of life here in Trinity and guarantee us value for money. In the words of the Provost himself: "Sport is a significant co-curricular activity that can provide for many learning opportunities outside of the classroom. We want to encourage as many students as possible to participate in sport and physical activity so they can develop the resources, such as life skills and friendships, which they can continue to draw upon in the future."
While there has been a traditional hierarchy amongst college sports teams, for reasons I will address, and Trinity have long been praised/patronised for "punching above their weight" in a sporting context, all this is set to change with the introduction of the new sports strategy. Trinity, nestled in the centre of town, has always faced a unique challenge when it comes to developing sporting facilities. Space is at a premium. As a result, Trinity Sport have had to use ingenuity in the past to make the most of the physical restrictions. There are tennis courts and a five a side pitch tucked away in Botany Bay, and we've all seen College Park and the Cricket Pitch. The latter even serves to accommodate overspill from the Pav in the summer. But it is in the Sports Centre that the maxim "every little helps" holds true. With rowing machines lined up on the viewing platform and the Keiser weight resistance room packed with equipment, space is maximised to good effect so that, most of the time, students have access to the facilities they want, even on busy days. The new sports strategy isn't going to alleviate the strain on campus facilities entirely, but it does set out a clear path towards expansion, both within Trinity and outside its walls.
As previously reported in this paper, the plans will see Trinity's sport infrastructure improved with an investment of approximately €13 million. In an email statement to The University Times, Trinity's Director of Sports and co-author of the Strategy for Sports, Michelle Tanner, highlighted the importance of improving the College facilities: "Trinity Sport is in a really good place and we have achieved so many successes on and off the pitches/arenas and there has been investment in facilities in recent years".
The first phase of the strategy, Phase 1A, was completed in December 2014,and saw the development of an international standard hockey pitch in the Santry Sports Grounds. Following a successful application for implementation of Phase 1B, construction of a new GAA pitch at the Santry site began in early 2015 and is expected to open in June of this year. Phase 1B also envisages the development of three synthetic 5-a-side pitches at the Santry Sports Grounds and the construction of a Pavilion.
The strategy also includes plans to upgrade the Islandbridge Boathouse, used by both the Men's and Women's Boat Clubs, so that state of the art social and training facilities are available for both teams.
The Iveagh Sports Grounds, which the College is in the advanced stages of acquiring, is a further example of the expansion of the College's off-campus sporting facilities and will serve to complement the "existing portfolio of sports pitches at the Santry Sports Grounds" with a number of artificial floodlit training pitches.
Prospective developments would bring Trinity in line with both DCU and UCD in Dublin and UCC in Cork who, for years, have been ahead of the curve when it comes to developing high-class student facilities for sport
The current indoor and on-campus facilities will also be reassessed to identify potential areas in need of refurbishment in light of the "anticipated increase in student population and diversity." The soon-to-be-built on-campus site at Oisín House has been mooted as a possible home for the Squash, Racquetball/Handball and Rifle clubs as well as the Orthopaedics and Sports Medicine Clinic, which will be linked with the Health Centre.
These prospective developments would bring Trinity in line with both DCU and UCD in Dublin and UCC in Cork who, for years, have been ahead of the curve when it comes to developing high-class student facilities for sport. DCU and UCD, built on greenfield sites, have always had room to expand with their student body and respond more dynamically to demand so, as a result, they have a lot more flexibility when it comes to providing on-campus sporting facilities. The completion of the UCD Gym sees the Belfield campus equipped with a 50m Olympic Swimming Pool featuring UV-filtered water and award-winning gym facilities, a Sports Injuries Clinic, 12 grass pitches – including the UCD Bowl and Devlin Park – a floodlit hockey pitch, tennis courts and six synthetic five a side pitches. This makes it incredibly easy for students to balance study and sport when pitches are just as accessible as libraries and lecture theatres.
DCU have some impressive assets too, from their Sports Complex which provides on-campus access to a 25 metre deck level pool, tepidarium, sauna, steam room, squash courts and three basketball pitches. The DCU Sports Campus, where the pitches are located, is a ten minute walk from campus, just off the Ballymun Road. Along with two grass pitches for GAA, two for football and one for rugby, there is also an all-weather 3G GAA pitch and a Pavilion housing changing rooms, a 50 seater meeting room and a high performance gym. Again, the fact that the amenities are all clustered together so close to campus definitely improves student participation and engagement in sport.
UCC have as their crown jewel the Mardyke Arena, just outside the College itself. A state-of-the-art facility, it has recently been renovated and had the fitness areas extended. It boasts three sports halls for basketball and badminton, a 25m Swimming pool, a Fitness Centre, two squash courts, a Climbing Wall, a Dance Studio and, most interestingly, the UCC Human Performance Laboratory, one of the most advanced laboratories of its kind. Established in 1990, the lab has screened UCC sports scholarship students as well as provincial players and possesses the capability to carry out a battery of performance analyses, from isokinetic strength assessments to blood lactate profiles.
The mention of sports scholarships is worth pursuing because the second strand of the "Raising Our Game" strategy is the development of improved supports for sports scholars in Trinity. As the policy document puts it: "The creation of the Strategy challenges the current approach to the delivery of performance sport within Trinity, to being a proactive, innovative and strategic approach that reaches outward. Sport can be an influencing factor in the decision of students to join Trinity and this objective identifies actions that maximise this benefit to the student, the University and student sport."
The section entitled "Performance" in strategy outlines several actions which will "provide a structured programme and a supporting environment for individual athletes and focus teams to perform and compete successfully, at high levels."
These actions include the establishment of a "schools programme" in order to attract the most talented secondary level students to study at Trinity and represent the College in competition. Furthermore, the College is aware that these individuals are highly sought after and so "appropriate scholarship packages will be required to out-compete other universities and colleges" for their signatures, so to speak. This commitment will in turn require a proposal to ring fence funding from College authorities to finance the scholarship packages. As a part of the packages, improvements to the accommodation, healthcare and catering offered to athletes have been recommended. Building on the requirement for better sports health care, the authors suggest a partnership with the Programme for Orthopaedic & Sports Medicine, with the intention of providing "a robust medical pathway for Sports Scholarships and Focus athletes." Should that proposal become a reality, Trinity would join the likes of UCD and DCU who can boast a Sports Medicine and Chartered Physiotherapy Centre and the Exwell Medical Centre respectively.
The strategy also states that efforts will be made to develop "focus sports", which will benefit from direct investment and attention from the college to help the sides compete at varsity, national and international levels. However, the strategy does not specify exactly how the focus sports will be chosen or particular types of support to be provided, but if the model in DCU was to be adopted then we might see the likes of specific sports academies, perhaps for rugby and hockey, which would allow for dedicated coaching and access to training facilities. In an email statement to The University Times, Tanner, had no further details to add: "The outturn will be attractive and suitable supports for current and future student athletes and a club development model that provides a pathway for our clubs to achieve successes at a high level." Finally, the strategy also emphasises the importance of attracting and retaining high-performing athletes through the creation of a Student Club Development Model.
While the specific structure of the Student Club Development Model has yet to be finalised, the offer of a range of international scholarships to try to ensure that Trinity attract the best international students is one option that is being considered.
Leinster Hockey Vice-Captain, Rachel O'Brien, is a sports scholar in Trinity who spoke to The University Times about her experience of sport in Trinity with the scholarship program: "I was contacted by the Trinity coaches and the captain and invited to training, you really get the personal touch here, everybody is on a first name basis." On top of that, she was full of praise for the staff at Trinity Sport, who would contact her the day before important matches to wish her good luck and help her out with any requests she had: "I feel like if you asked for anything they would help you out, you have to ask for things as part of your scholarship, like personal trainers".
UCD will make accommodations for your CAO points if you obtain and Ad Astra scholarship but fail to attain sufficient points for your course
She continued: "It's very accommodating." When I asked her if she had heard about the "Raising Our Game" initiative O'Brien commented that there is a "lot of hype about it" and that it "looks set to improve Trinity across the board."
It's worth mentioning, however, that it wasn't the promise of a scholarship that attracted her to play in Trinity. Rather, it was that "the social side of the sport was really good, everyone was so friendly and tightly knit." O'Brien made the point that this sense of community was a strength for Trinity in the long term because it makes developing and retaining athletes much easier. She spoke of the difficulties scholars might face in bigger colleges with more athletes like UCD, where one can get lost in the system. "There's no one coming to you, the standard is very high so the teams are happy to wait".
Indeed, UCD have two forms of scholarship, a sports scholarship and an Ad Astra scholarship for ELite Athletes. DCU also have a similar system in place with two scholarship tracks, one for sports scholars and one for those who play GAA, the GAA academy. The UCD sports scholarship path is much the same as the scholarship path in Trinity, with a the level of support and engagement from the college almost identical. However, for those athletes who perform at the very highest levels, there is the AdAstra scholarship. Reserved for those who compete at international or provincial level in their chosen sport, the Ad Astra program has many unique features. Most interestingly, UCD will make accommodations for your CAO points if you obtain and Ad Astra scholarship but fail to attain sufficient points for your course. A candidate must obtain a minimum number of points before the accommodations kick in, around 300, and then the Ad Astra scholarship managers can allow leeway of up to 30 points at their discretion. Neither DCU nor Trinity have a similar mechanism in place yet. As well as the allowances for the CAO, Ad Astra scholars also enjoy perks such as a dedicated academic mentor, direct access to expert training, coaching and discipline specific facilities, the benefit of Sport Science Mentoring in the sports laboratory, free access to all UCD sports facilities and tailored advice on a the continuation or pursuit of a career after graduation.
While Trinity have no plans as of yet to introduce an Ad Astra style scholarship program, O'Brien did have one suggestion as to how Trinity could improve the scholarship in its current form: "Maybe you'd need to offer some accommodation on campus, really big perks like that, to attract top athletes". She's also well aware of the problem: the shortage of space both on and off-campus has tied Trinity Sports hands. Hopefully now, with the strategy in place, space off-campus will become more accessible and the improvements to the scholarship packages will include some provision for accommodation. Then, as O'Brien did not add, we would really be raising our game.