Today's march for education saw over 10,000 people march to call for government investment in higher education and again the possible introduction of a student loan scheme. After weeks of fervent promotion, today's March for Education, organised by the Union of Students of Ireland (USI), saw students march alongside groups including education unions, youth groups and mental health organisations.
With the Cassells report putting forward the possibility of a loan scheme to solve the ongoing and severe funding crisis in higher education, students' unions from all over the country are marching at 1pm from the Garden of Remembrance.
An early commitment to jointly advocating for public funding was made in July, when all 30 presidents of USI-affiliated unions signed an open letter stating their support for public funding. The highly symbolic move came in light of the higher education working group proposing a loan scheme as one of their three options, alongside the abolition of the student contribution charge coupled with increased state funding and the maintenance of the current charge alongside increased state funding.
ADVERTISEMENT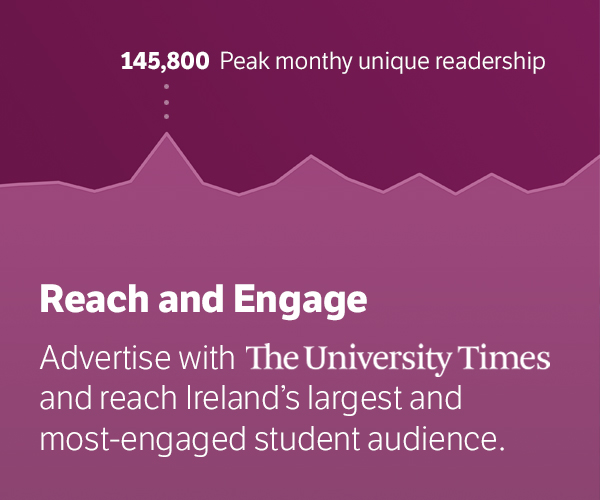 The march represents an even greater act of student protest, encompassing as it does an even wider range of unions, from Trinity College Dublin Students' Union (TCDSU) and to the Irish Rugby Union Players Association.
The University Times spoke to leaders within these organisations, both student and otherwise, about why they're marching, and they have put such an effort into bringing members of their institutions to Dublin today.
The Importance of Collective Voices

"

It's incredibly important that we get as many students on the ground to make a statement. So, if you look out your front door and you see twelve individuals talking about something, you would probably listen for a bit, and close the blinds again. But if there's 20,000 students on the street, if there's 1,000 students on the street… People are like 'wow, this is serious, we should probably listen to this', because together we're stronger. We're stronger united, and if all of our individual voices can make the same sound, it'll make a louder sound.

So it's important that whoever is in the Dáil or whoever sees us realises we're serious about this, this is a really serious issue for us. We will not stand for loan schemes. It is not feasible, it is going to cause huge class divide, it'll be the detriment to education, it really will.
—
Kate Moriarty, Deputy President and Campaigns Officer, University College Cork Students' Union
Students' Time for Action

"

I think the marriage equality referendum has taught people the idea that, as a collective, youth and students can be mobilised. Even with the Right2Water, Right2Change movement, or the repeal the eighth movement, we see the idea of activism be mobilised and protesting… We were saying that there's so many people now going on strike, that the idea of an agitated group isn't unknown to students. But I think it is this matter, that all students have gone through austerity and they're almost used to this idea that oh, that's just how things are. We're trying to come up with how we can stop this idea from happening. We can come together and march, and we can do more actions after October 19th to show that we're kind of done with this idea of austerity… It is our time now to take action and stand up for what we believe in.
—
Daniel Waugh, USI Vice-President for Campaigns
Students Standing up for Themselves

"

At the end of the day, there's a farmers march for farmers rights, the nurses march for nurses rights. Who is going to march for students' rights? Only the student.

The students have to get out and show that they're going to stand up for what they believe in, and that the government should be taking students seriously.
—
Amy Kelly, President of Galway-Mayo Institute of Technology Students' Union
The Resistance Against the Possibility of Student Loans

"

It's great to see the sheer numbers of people out representing both second and third level, and it's great to see a mixture of students, staff and parents. It shows a resistance against the possibility of student loans, and also shows the disappointment among students of where the education sector is now. Hopefully the parties will take not and see that education should be free.
—
Lynn Ruane, Trinity Senator and former President of TCDSU
Keeping Education Accessible

"

We are marching for every student and family who would be affected by debts if the loan scheme were to be introduced. We are marching for those who will be excluded from education at the thought of outrageous loans. We are marching for access for all students to third level education. We want to remove all barriers and ensure everyone has the opportunity to access third level education
—
Michelle Byrne, President, Waterford Institute of Technology Students' Union
From Personal Experience, Enough is Enough

"

Our union is marching for free education, publicly funded. I've been doing this since I entered college. I've had to drop out once already because of money, because of finance and debt. I've rallied our students and encouraged them to go, simply because enough is enough. I think it's already too expensive, especially in bigger cities where accommodation is scarce and when it is available, it's far too expensive
—
Steve Clifford, President of IT Tralee Students' Union
On the Government Creating Entrepreneurs

"

How can the government expect you to take any sort of risk if you leave with €20,000 debt. It doesn't work like that.
—
Blindboy Boatclub, Rubberbandits
Support from All Students

"

This is an issue for both undergraduate and postgraduate students, and we need to be united in our fight for a restoration to appropriate levels, so the universities can function. At the moment, it is nowhere near the level it needs to be at. Budget 2017 has not addressed it. There has been no decisiveness over what type of action needs to be taken.

Many postgraduate students will have come through free fees, and have received the benefits of that. And now, looking back on it, in reflection, it's about ensuring that the community as a whole are supporting the type of supports that were there for them when they needed it
—
Shane Collins, President of Trinity's Graduate Students' Union (GSU)
Understanding the Effects Beyond Students

"

This is one of the pivotal moments to go out, for students to show their support for publicly funded higher education.

We need to start taking down the barriers that students and families face to go to education. This is just not a cost that is borne by the student, but the cost borne by the parents and families that send their sons and daughters to college. Great sacrifices are made by many families across the country to allow their sons and daughters to progress to higher education, and really we need the government to listen.

If we start playing politics with this issue, the issue is going to get lost. We don't really need politicians. What we need is our public representatives listening to the students, and listening to the voice that we have collectively. There's a large, large number of us that are saying publicly funded higher education is the way to go. They need to start listening to that call, and actually make action on it. This issue is not one that's new. It's been around for quite some time, and the inactivity by governments to allow its citizens, its students, to attend third-level education, is really hampering progress, and we should be trying to encourage the generations to come to get educated, to seek knowledge.
—
Dillion Grace, President of MSU
An Uncertain Future

"

I think this year is different to other years. There have been other years with national campaigns and rallies and voter registration. Obviously some years have been closer to the government making a decision than others. But I think this year is especially important because we won't have the chance again. There won't be this amount of preparation time, or this amount of consensus. I think there's a lot of groups marching with USI. I don't think that's happened in a long time. I think there's a lot of scope to actually influence the government, because there aren't many parties out there actively considering loans… But yet a lot of people seem to think it might happen.
—
Kieran McNulty, President of TCDSU
Not Just Students

"

This is the start of a national campaign to demonstrate to the government that it's not just students, it's teachers, second-level students, staff, parents, anyone with a stake in the public interest.
—
Jack Leahy, Deputy President and Vice President for Academic Affairs for USI
Pushing the Government to Back Their Promises

"

It's fantastic to see such a great turn out today from staff and students, coming together as one voice, to demonstrate the need there is for public funded education. We are here together totally in agreement with USI, who we've been working with for the last few months. The government have the tendency to talk big and act small when it comes to education and we need to push them to back their promises up with the levels of investment required. They've been kicking the can down the road for far too long, and staff and students are acting now.
—
Joe O'Connor, Organiser (Health) at Impact and former USI President
Realities Must be Accepted by Both Sides

"

This is one of the most monumental changes that'll be made to third-level education. And access to education is essentially under threat with a loan scheme. And anyone who's coming into first year now, if a decision is taken to take a loan scheme now next year, this will adversely affect students.

[Publicly funded education] is the option that should be taken on by this government if they really care about education, if they care about the future of the young generation of this country.
—
Kieron Pierson, VP for Education, Dublin Institute of Technology Students' Union (DITSIU)
Thirst in Higher Education

"

We are 100 per cent behind the campaign for a significant increase in higher education funding and remaining funded through progressive taxation…[the budget] was like putting a wet sponge to the lips of a man dying of thirst.
—
Mike Jennings, General Secretary of Irish Federations of University Teachers (IFUT)