Construction efforts underway on either side of the Campanile will be unveiled next Thursday as an art installation, as part of the launch of Trinity's new philanthropy campaign, "the largest and most ambitious" ever undertaken in Ireland.
In an email statement to The University Times, Trinity's Press Officer, Caoimhe Ní Lochlainn, said that "all will be revealed next week" in relation to the nature of the artwork.
"The installation is part of the overall celebration marking the philanthropic campaign with the College community and the people of Dublin", she said.
ADVERTISEMENT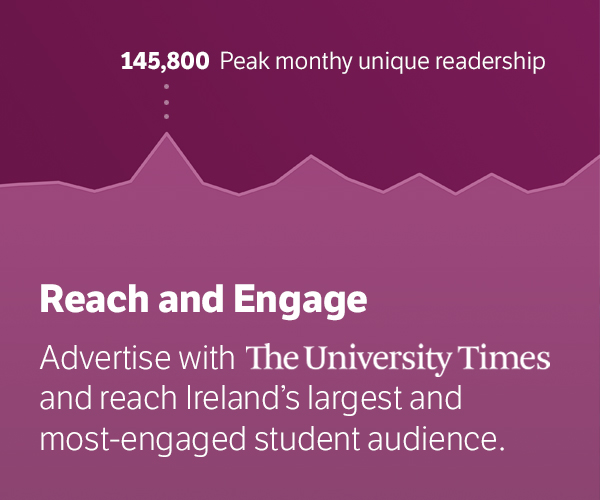 The philanthropy campaign is called "Inspiring Generations – The Campaign for Trinity" and will launch at 11am in the Dining Hall on Thursday, May 2nd, according to the event page.
The event page encourages patrons to attend in order to "hear about the priority projects for the campaign, and how you can support Trinity's ambitious plans".
The University Times revealed in 2018 that the philanthropy campaign will involve Trinity pitching itself to potential donors with the aim of securing private funding to supplement backing from the government.
The plan is being spearheaded by Trinity Development and Alumni. Upcoming development plans such as the Engineering, Environment and Emerging Technologies (E3) Institute and the Grand Canal Innovation District likely to be used as examples to encourage alumni and other donors to invest in Trinity.
In October, in an email statement to The University Times, Kate Bond, the Director of Advancement of Trinity Development and Alumni, said: "Higher education campaigns and developing the philanthropic culture of a university is something that is deeply ingrained within leading universities, particularly in the US but increasingly in the UK, and in Trinity we will follow in their footsteps and take our first step on this journey to ensure we remain a globally competitive and leading research-intensive university."
The role of philanthropy in Trinity has become more and more pronounced in recent years. In 2016, at an address marking the midpoint of his tenure, Provost Patrick Prendergast identified "fees, philanthropy and commercial activities" as the way forward for Trinity.
In May 2018, the E3 Institute received the largest-ever private donation in the history of Ireland – a €25 million gift from longtime College donor Martin Naughton.
In 2015/16, College brought in €73 million in pledged donations as 2,552 Trinity alumni donated money to the university.
Trinity has also experimented with other ways of increasing funding, with College increasingly focusing on developing commercial revenue streams and boosting tourism to the university. This strategy has involved improving visitors' experiences in the College, increasing Trinity's brand and working with corporations.