Growing up in rural Clare, there wasn't much of an outlet for acting for Lir graduate Frank Blake, who recently starred in Normal People as Marianne's brother, Alan. "You play hurling or sports or else you do nothing", he jokingly tells me.
For Blake, Normal People embodies his own experience of moving from a small rural town to a big city: "There can be a disconnect, I suppose, and it can be difficult, but I had a very positive experience." He notes that the year he spent in Galway prior to Dublin was "a nice transition to somewhere a bit bigger", so when he got to Dublin he already had a year's experience of living in a city.
That said, he describes Dublin as "a different kettle of fish altogether" – he had previously only been to Dublin a few times but was excited to live there. His advice to students coming into Dublin for the first time is to "be curious" and take the time to explore the city and the university.
ADVERTISEMENT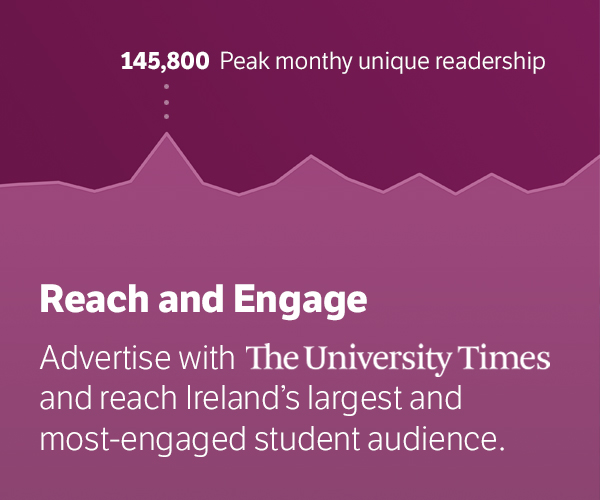 "I started to make a point for a little while of trying to do something every weekend", he says. "You have great things there, and you don't really explore what's on your doorstep very often and delve into the history and culture of the city".
"You have a chance to really become part of the city and the university as well. There's so much going on, there's so much to explore through those great opportunities."
His gateway into acting came in the form of the NUI Galway Drama Society, where he was in numerous plays throughout the year while doing an arts degree.
"I kind of have that [Drama Society] to thank for so much, really, because I kind of went: 'Well, this is class, and everyone's really lovely and we get to do all these plays.'"
"I did something like nine or 10 plays in my first year in DramSoc there, which was a bit mad. I found something there I didn't know was such a big interest, which is why I think societies and clubs are so important – they give you that opportunity."
The Lir was established in 2011 with the help of the UK's Royal Academy of Dramatic Arts (RADA), which made Blake feel that it would be "a pretty good course". However, there hadn't been any graduates when he applied, and he was "a bit apprehensive going for all the auditions, but once I did the auditions I kind of realised just from being there and meeting the few people I did that this is the place you want to be, it'll give you the tools you need".
However, arriving in Trinity in 2013 to begin his training was a different experience for the actor. Being based in the Lir in Grand Canal Dock, Blake explains how they weren't on campus for most of freshers' week, though they did get a tour of the main campus.
"We went down around the first week and Brian Singleton [drama professor and academic director of the Lir] took us for a walk around campus, and it was so exciting seeing the front square and such a hive of activity."
It was even more exciting for Blake and his fellow acting students because freshers' week at the Lir – and indeed, the Lir itself – was, to use his words, somewhat of a "different kettle of fish".
He tells me: "[W]e were so busy with the training that we didn't have a lot of time to go down to the campus and get involved in that way. You're under the body of Trinity alright, but I think the Lir has its own identity, really."
"It's not like a normal university course: there's people from all backgrounds and ages. There's less of a student mindset and more like you're training to do your job."
Nevertheless, the year group did grow quite close since they were already working on their training, making his time as a fresher there easier. "You get to know people so intimately when you spend that much time together", he says. "You have this almost sibling relationship where you're tearing each other's hair out one minute but having a great laugh the next."
Discussing Normal People and how it felt seeing Trinity from Connell and Marianne's perspective, Blake says he didn't think filming the series would hit so close to home and be such a big part of his life and the lives of his fellow students.
"You're starting out your training and dreaming of being in a successful show like that, but we couldn't have thought that we'd get to do it with all our friends."
"So many of the cast of Normal People were my best friends in college. To have made something like that with people like that was something special."
He strongly relates to the book and tries to get friends from home to read it since he feels Rooney captures the experience of coming from rural Ireland to Trinity so well. One scene in particular he related to – in episode four, features Connell walking down Dame St and through the front gates of Trinity for the first time, seeing it as a student and taking in the moment. This feeling of amazement and delight at being a student and belonging to Trinity is something Blake shared, as have many students both Irish and international, no doubt.
Asked about his advice for incoming students who may be nervous about starting university this year of all years, he is hopeful.
"This might be one of the best times to do it because you're out of all the madness for a while – you don't have the pressure of jobs and things like that. The education authorities in universities want you to have the best experience you can, the best education you can, and I think it's a great place to be during this unsettling time. You have the safe space of College to be in."