Less than seven per cent of purpose-built student accommodation developed in Dublin since 2016 is available for less than €840 per month.
The government today announced that 6,691 student beds have been created in Ireland since 2016, as part of its National Student Accommodation Strategy.
But cost analysis of this accommodation, carried out by The University Times, shows that almost all advertises itself at prices north of €800 per month.
ADVERTISEMENT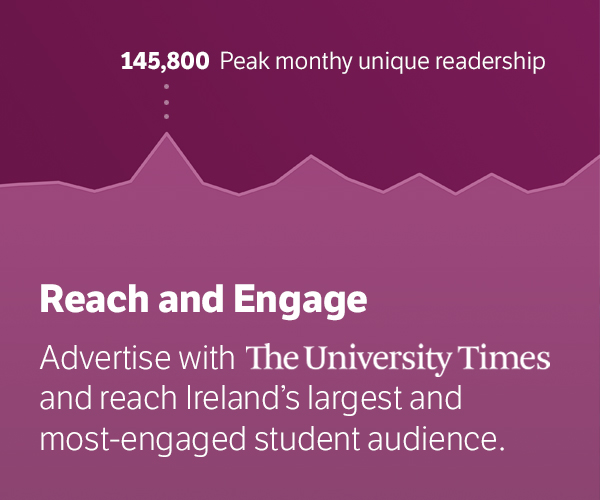 More than 80 per cent of the purpose-built student accommodation – 5,465 beds – made available in Ireland since 2016 is situated in Dublin.
Price listings show that fewer than 385 of these beds are available for less than €840 per month.
In a press statement today, Minister for Higher Education Mary Mitchell O'Connor said: "I welcome the continued increase in availability of student accommodation."
Mitchell O'Connor said that "the National Student Accommodation strategy was designed to increase supply and so assist in moderating rental costs for students. As the figures show the strategy is working and we are on track to exceed the target set at the outset".
But of the student accommodation complexes developed in the last three years, only two – LIV Student accommodation on Church St and Swuite student accommodation in Grangegorman – today advertise student accommodation for less than €800 per month. Both companies offer twin rooms for €780 monthly.
Speaking to The University Times, Laura Beston, the President of Trinity College Dublin Students' Union (TCDSU), called the figures "unacceptable".
"Those statistics are incredibly worrying", she said. "This is putting unnecessary boundaries in place for students."
"If we care about access to education as a country, we should be doing all we can to remove those barriers", she added.
Lorna Fitzpatrick, the President of the Union of Students in Ireland (USI), told The University Times that the figures are "shocking but not surprising".
Fitzpatrick said "we always had the fear that what has happened would happen – that private developers would come in and build, and charge extortionate amounts".
This, she said, "coupled with the fact that we have the second highest fees in Europe, shows how much of a financial barrier there is for students and their families to get to education".
The University Times was able to gather price details for all but 2 of the 16 accommodation complexes that the government said have been created in Dublin since the launch of a national strategy to combat the student accommodation crisis in July 2016.
The two complexes for which The University Times could not gather price information housed 21 beds between them – less than one per cent of the 5,465 total.
Dublin has seen a big increase in the amount of accommodation made available to students in recent years, with multinational corporations investing millions in the sector in answer to a citywide shortage.
Government data shows that more than 95 per cent of Dublin's purpose-built student accommodation developed since 2016 is run by private companies.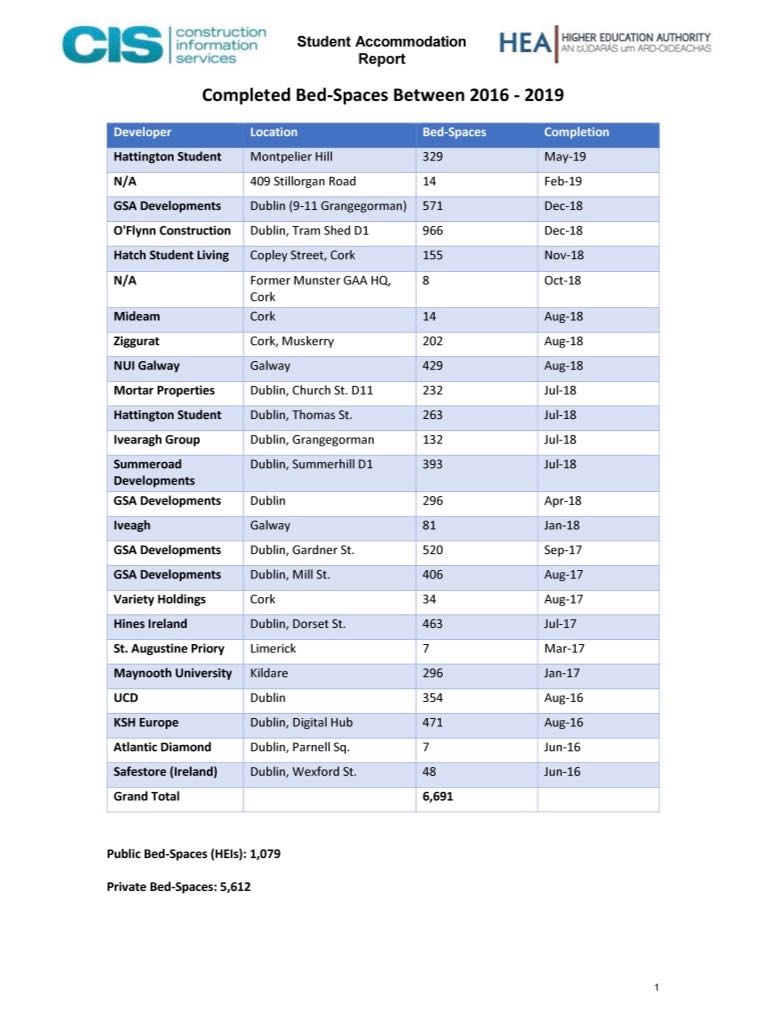 Only University College Dublin (UCD) – whose Ashfield residency costs around €245 a week – developed public student accommodation between 2016 and the second quarter of 2019.
Trinity's Printing House Square, which is scheduled to open later this year, was listed by the government on a separate list of 18 purpose-built student accommodation complexes currently under construction.
Printing House Square, when completed, will create 250 beds for students. In March, The University Times reported that College had announced a "significant risk" of delays to its opening.
Originally, the building was meant to be ready to admit students in September, but this has since been ruled out.
Several of the companies offering purpose-built student accommodation advertise "studio" accommodation, with prices often more than €1,200 per month.
The Mill Point accommodation complex – situated on Mill St and owned by multinational accommodation company Global Student Accommodation – offers a "deluxe studio" for €380 per week, working out at €19,380 for a 51-week occupancy.
New legislation introduced by the government means rent increases for student accommodation will now be capped at four per cent a year, after changes to the Residential Tenancies Act.
Licensed student accommodation will now be classified as rent pressure zones. The changes will also ensure that students in licensed student accommodation will have access to dispute resolution mechanisms under the act.
Last month, the Irish Times reported that the Irish Universities Association (IUA) had lobbied for an exemption to the legislation for college-run student accommodation.
In a letter sent to Minister for Housing Eoghan Murphy, IUA head Jim Miley said the legislation would cost universities, as well as complicating the process of handling cases of alleged sexual assault in campus accommodation.